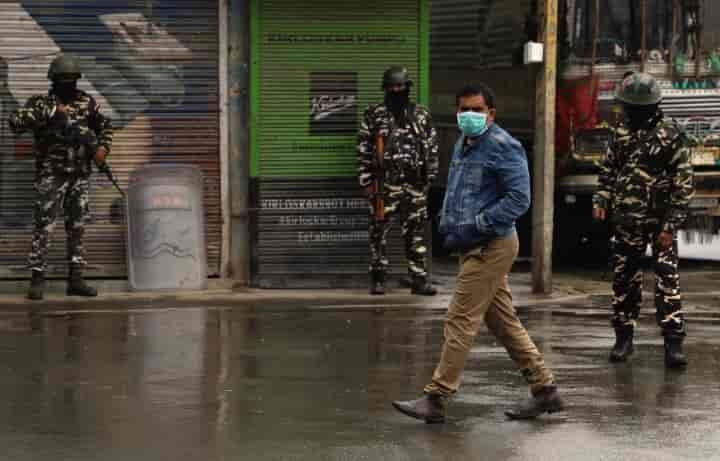 In the bone-chilling cold, a family draped in pherans rubbing their hands over the amber of personal kang'ir is a norm during Kashmir's famed and equally feared winters; so is of friends, encircling a bonfire on the streetside.
This winter would have been the same but a novel coronavirus has swept the globe and changed the way people socialize–social distancing becoming an important aspect of daily lives.
But when winter comes and people settle in close proximity within enclosed spaces without proper ventilation in a society facing community-spread–is a COVID-19 disaster coming?
In Kashmir, the virus' outbreak was reported in March, three months after it reportedly broke out in China's Wuhan province in December 2019. An abrupt lockdown was imposed, barring all movements — except essentials — to curb the spread of the virus.
So far, the virus has infected more than 7.12 million people in India and killed nearly 1,10,000 among them. The virus's impact had been pretty bad in Jammu and Kashmir (J-K) too: more than 84,000 people have tested positive for the COVID-19, while more than 900 have died. Last month, September, was the deadliest since the outbreak in Kashmir: 37,000 persons tested positive and over 475 died, as per the official data provided by the government of J-K.
Although the numbers have gone down in October's first week, with the winter settling in, "we have every possibility of another second spike," said Dr. Mir Faisal, a pulmonologist based in Srinagar, practicing in a reputed private hospital.
"Our lifestyle in Kashmir: how we stay together in closed spaces will impact the situation too," he added. However, the internalisation of COVID-19 in the community worries Dr. Faisal more. He said: "People are still testing positive for COVID-19, people are still dying."
A recent study by Australian scientists has found that the virus, Sars-CoV-2, that causes COVID-19 can survive — in laboratory conditions — for up to twenty-eight days on surfaces such as the glass on mobile phones, stainless steel, vinyl, and paper banknotes. The National Science Agency said the research was undertaken at the Australian Centre for Disease Preparedness (ACDP) in Geelong also found that the virus survived longer at lower temperatures.
Another study by Riken and Kobe University in Japan found that contagion risks increase in dry, indoor conditions during winter months.
But to Syed Ruhullah, a 26-year-old resident of Srinagar, who recovered from COVID-19 last month, the winter holds another major problem: the flu season. Fearing a fatal impact on his immune system — if he catches flu — he got a vaccine shot on the advice of his doctor.
Not only him, 60 percent of his extended family got one too, he claimed. "We are afraid. That's it," he exclaimed.
His doctor's fears arise from the warnings by the researchers and experts of several varying post-coronavirus syndromes that impact a patient's health. Though the flu season is a recurring phenomenon in Kashmir, this time it has left many people, including doctors, worrying due to its overlapping symptoms with common cold and COVID-19 — including fever, fatigue, cough, and loss of sense of taste or smell.
Only one thing can give a solid distinction between them, explained Dr. Nissar Ul Hassan, an associated professor at Government Medical College (GMC), and an expert in influenza studies: a COVID-19 test.
"The flu shots will be all the more important this season. Now, people will have to be tested for both, that's our best chance," he said, adding that "our labs are overwhelmed with COVID-19 samples right now". The unprecedented burden has also stopped the GMC from testing patients for flu, the doctor claimed.
A spike in flu cases will burden the already ailing healthcare infrastructure in Kashmir. Research conducted by the National Center for Biotechnology Information in 2015 — titled: "The 2015 Outbreak of Severe Influenza in Kashmir" — showed that 30 per cent (540 out of 1780) of the patients required hospitalization.
But, alas, that is not all that scares about the winter this year. Every winter, Dr. Hassan stated, hospitals in Kashmir also witness a surge in patients suffering from Chronic Obstructive Pulmonary Disease (COPD) — an entity that causes breathing difficulties. This is also one of the comorbidities among COVID-19 infected patients, added the doctor.
"The cold is the triggering factor [in COPD]," said Dr. Hassan. "So in the season, these patients will flood the hospitals too."
"I don't think our healthcare infrastructure can cope with it. We'll be having a scenario … it will be really difficult for us to cope with such a magnitude of COVID-19, flu, heart attack, strokes. We must prepare for a bad winter."
The trends and graphs are not in our favor. And without a vaccine — despite the falling mortality rate — more and more people are dying. So, what to do? "Use the same precautions, nothing extra: social distancing, handwashing, and masks — the crux of it," Dr. Faisal told this reporter over the phone.
"We were about to collapse … we saw full capacity in August-September," he lamented. "Unfortunately, COVID-19 has been internalised. … we can have another spike in winters and it'll be a disaster."
The story originally appeared in our 18 – 24 October 2020 print edition.
---
The Kashmir Walla needs you, urgently. Only you can do it.
We have always come to you for help: The Kashmir Walla is battling at multiple fronts — and if you don't act now, it would be too late. 2020 was a year like no other and we walked into it already battered. The freedom of the press in Kashmir was touching new lows as the entire population was gradually coming out of one of the longest communication blackouts in the world.
We are not a big organization. A few thousand rupees from each one of you would make a huge difference.
The Kashmir Walla plans to extensively and honestly cover — break, report, and analyze — everything that matters to you. You can help us.
Choose a plan as per your location