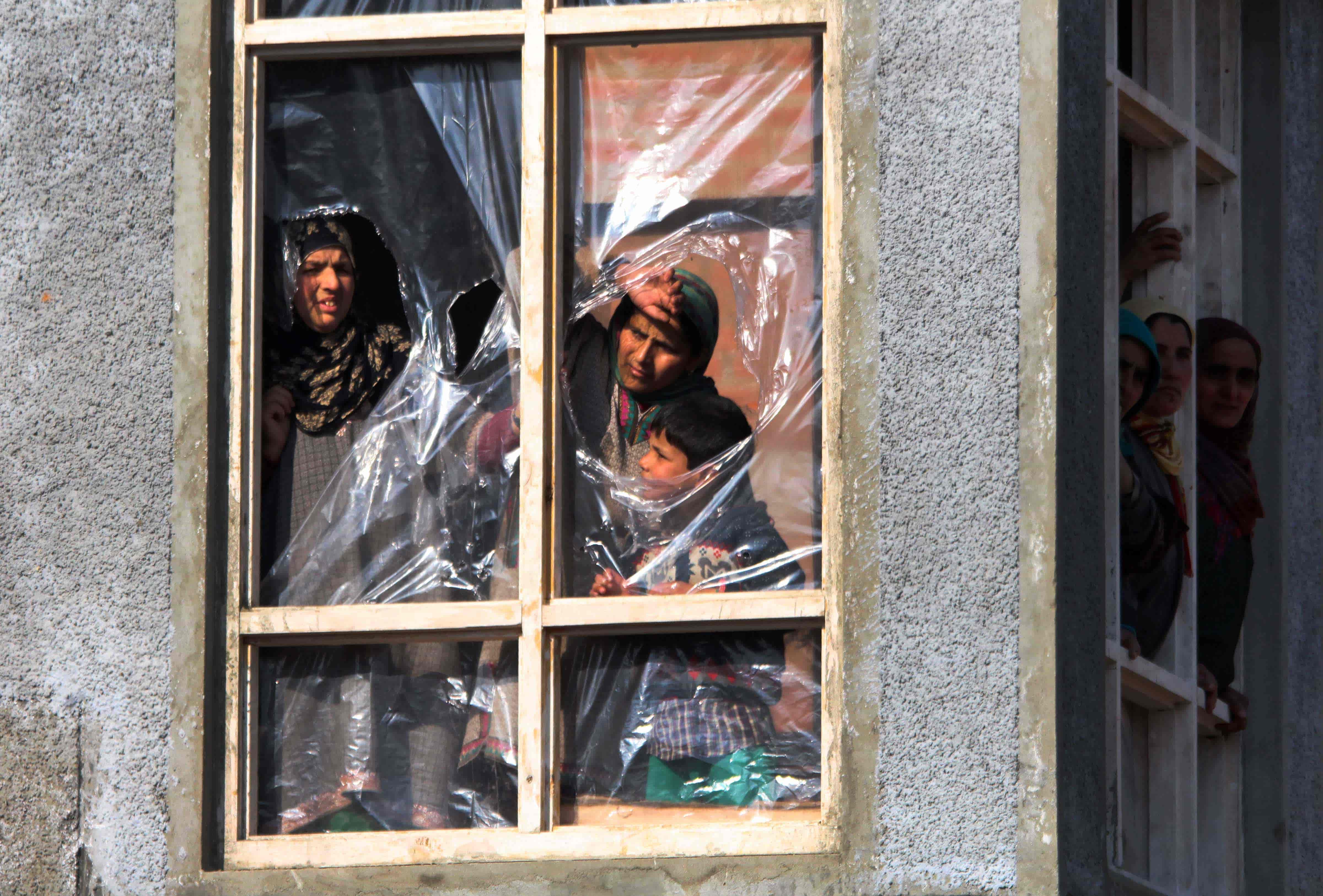 On 31 March 2018, a loud knock on the front door of Yousuf Malik's modest house frightened his family. As the knocking became louder, the fifty-five-year-old farmer nervously walked towards the door, followed by his eldest daughter, Jameela.
"There was a single army man standing with a gun," who, recalled Ms. Jameela, ordered everyone out of the house. The trooper then singled out Jameela's brother, Muzaffar Malik, 25. "You come with us," the trooper directed him.
The Malik family protested but the trooper told them that they needed Mr. Muzaffar's "help" in searching some houses in the village. "He will be back in ten minutes," the trooper had told Ms. Jameela. "I didn't trust him. So I decided to walk along."
Outside their house in the Arwani village of south Kashmir's Anantnag district, Ms. Jameela witnessed over fifty troopers, guarding the small lane leading to her house, who ushered her brother into a vehicle and drove away. "I could do nothing but watch them take him," said Ms. Jameela.
A Kashmiri dilemma
The Malik family spent the night waiting for daybreak. At dawn, Ms. Jameela called her younger brother, Owais Malik, who was not home at the time of the raid. He had gone to his friend's house. "When I told him about Muzaffar, he was confused and scared," recalled Ms. Jameela, adding that he had assured her that he would be home soon.
At 8am, Ms. Jameela along with her paternal aunt and uncle visited the Bijbehara police station, about five kilometers away, to seek the whereabouts of her brother from the police that denied any knowledge of it.
On the suggestion of a police officer, the family also inquired at the Joint Interrogation Centre (JIC) in the district's Khanabal area but they too denied having Mr. Muzaffar in their custody.
The next day, when Ms. Jameela once again reached the police station, the officer in-charge forthrightly told her: "Bring your younger brother Owais and take Muzaffar. We want Owais, he is wanted in a case". Mr. Muzaffar, it turned out, was held at the JIC after all.
Clueless, Ms. Jameela sought help from relatives, who insisted that she seek the help of local politicians to plead with the police. But police refused to budge from the trade-off they had already made clear: Mr. Muzaffar would be freed only when Mr. Owais – who was then a 23-years-old college student – surrendered.
Shortly after leaving the office of a senior police official, Ms. Jameela called her younger brother, who now admitted that he had been named in an incident of stone-throwing. "If I surrender, they will not let me out ever," he told her.
Torn between choosing a terrible fate between her two brothers—one already in detention and the police intent on locking up the other—Ms. Jameela faced a dilemma.
'An item for an item'
Ms. Jameela said that Mr. Owais refused to surrender, believing that the police would eventually release their other brother. She went to the JIC once again, along with a local politician, but was not allowed to see her brother. "They wanted Owais desperately," she said.
Five days later, officials at the JIC had shifted her brother to the Sadar Police Station in Anantnag, after he complained of "heartache"—on the day the police had promised to set him free, said Ms. Jameela, recalling being deeply anxious as she and her aunt rushed to the police station. "After five hours wait I was finally allowed to see my brother."
Mr. Muzaffar looked pale, said Ms. Jameela. "Did they beat you inside the lock-up," she had asked him; he said "no" in a feeble voice, his eyes fixed at the police officer who was monitoring the meeting.
Instantly, Ms. Jameela asked the police officer why they were not letting her brother go. "naeg ke badle naeg ha yeh (An item for an item)," Ms. Jameela recalled the police officer having said candidly.
That evening, her younger brother asked her why the police hadn't released Mr. Muzaffar. "They won't set him free unless you surrender," Ms Jameela responded. Mr. Owais had quietly gone back to his room.
The next morning Ms. Jameela once again visited Sadar Police station with a politician and, in frustration, had told the in-charge officer to arrest her younger brother anytime but let Mr. Muzaffar go. "I told them let things settle a bit, and we will ourselves inform you when Owais is home," she told the officer. "But they didn't trust me. They wanted Owais anyhow."
Mr. Owais spent most of his time hiding at his friend's house but stayed in touch with Ms. Jameela through the phone. He also came to see Ms. Jameela knowing police wouldn't raid his home again till they had his elder brother.
For the next five days neither the police nor Mr. Owais relented. "My only solace was I could manage two more meetings with Muzaffar," said Ms. Jameela, the eldest among four siblings.
Ms. Jameela was closest to Mr. Owais, the younger of her two brothers. "But the safety of both was my priority," she said, not knowing that her priorities would soon change.
Crossing the threshold
On 13 April 2018, on the eleventh day, Ms. Jameela was waiting outside the police station when Mr. Owais called her to ask about their brother, assuring her that "sakhti cheh neh dohai rozan (bad times don't last forever)", before disconnecting the call.
Ms. Jameela could sense a strange helplessness in Mr. Owais, who was pained at his older brother's plight but still refused to surrender. "He was torn between love for his brother and some secret," she said, adding that she found him crying later in the evening, feeling "both helpless and guilty for his brother Muzaffar."
After an early dinner Mr. Owais stepped out for prayers in the local masjid, a five minutes' walk from their home. An hour later, Ms. Jameela called him to ask his whereabouts, to which he responded: "Don't worry, I will be back soon." He never returned.
The next morning, his phone was switched off. "I started shaking instantly," said Ms. Jameela, sensing what had happened. "I knew why boys switch their phones off in such a situation."
For the next two days, the Malik family frantically searched for their youngest son, in the militancy hot-beds of south Kashmir; they also reached out to the five other families, in Arwani, whose sons had joined the militancy around the same time, including a distant relative—Azad Malik, who went on to become the Lashkar-e-Toiba's district commander. "But they were as clueless about their sons as we were," said Ms. Jameela.
On the third day, a picture showing Mr. Owais wearing an ammunition pouch across his chest and holding a Kalashnikov rifle in his hand, circulated on social media. It announced that he had joined the Pakistan-based Jaish-e-Mohammad outfit. "I was heartbroken," said Ms. Jameela.
The same evening, the Malik family—including Ms. Jameela—met with the district police's chief, Altaf Khan, and told him about Mr. Owais. "The look on [Mr. Khan's] face changed immediately. He couldn't look me in the eye," said Ms. Jameela, adding that she "could see guilt on his face."
Within a moment, Mr. Khan had ordered the release of Mr. Muzaffar. "Had he let him go earlier, Owais would not have joined militancy," said Ms. Jameela. "He (Owais) was put under a lot of pressure. He was too young to bear it."
A deafening silence had welcomed Mr. Muzaffar's return to home, broken only by the wails of his mother. "I always knew we could save only one of them," said Ms. Jameela.
A public reunion
On the evening of 29 August 2018—after two Hizbul Mujahideen militants Altaf Ahmad Dar and Umer Rashid Wani, both natives of villages close to Arwani, were killed—intense sloganeering in Arwani made the Malik family anxious. "I was scared that someone from our village had been killed," recalled Ms. Jameela. "When the slogans neared towards our house, we rushed inside for safety."
Ms. Jameela's mother rushed to lock their gates but before she could do so, a swarm of young men and boys, their faces lit with excitement, poured in. "Around five hundreds boys surrounded our house," said Ms. Jameela.
From the crowd emerged three young, armed men wading through the attempts of their supporters to reach and kiss their faces, or at least touch them. One among them was Mr. Owais. "I was both excited and nervous," she said, adding that she found it difficult to reach him through the crowd. "I was shocked to see how people were treating him."
Mr. Owais shouted: "buh kareha gharikyan seeth kath (I want to talk to my family)" but the crowd still responded with loud cheers and shouted more slogans. About five minutes later, Ms. Jameela said, he left without entering his home. Her heart had begun to sink, her questions lingering remained unanswered. "I wanted to tell him to come back," she said. "But with hundreds around, I could barely ask him about his wellbeing."
The same silence that had welcomed Mr. Muzaffar after his release, had engulfed the Malik residence once again. "We all knew getting him back now was impossible," she said . "But nobody wanted to give up hope."
Sitting in a corner Mr. Owais' father, Mr. Yusuf Malik, cursed his luck for not being able to meet his son. "I came within the touching distance of Owais but couldn't see him," he told Ms. Jameela. "I was pushed back by an over enthusiastic crowd."
Mr. Yusuf also wanted to tell his son to shun militancy and return home but he didn't get the chance. He had asked this reporter, in one of the interviews, "Would I ever get the chance?"
The wait for the Malik family to bring their son back ended on 7 June 2020, when Mr. Owais, along with four others, was killed in a gunfight in the Reban village of Shopian district.
Soon after the gunfight had ended, word spread that the militants would be buried in a graveyard in north Kashmir's Baramulla. Some members of the Malik family attended funeral rites for their youngest son, who was discreetly buried by government forces.
---
The Kashmir Walla needs you, urgently. Only you can do it.
We have always come to you for help: The Kashmir Walla is battling at multiple fronts — and if you don't act now, it would be too late. 2020 was a year like no other and we walked into it already battered. The freedom of the press in Kashmir was touching new lows as the entire population was gradually coming out of one of the longest communication blackouts in the world.
We are not a big organization. A few thousand rupees from each one of you would make a huge difference.>
The Kashmir Walla plans to extensively and honestly cover — break, report, and analyze — everything that matters to you. You can help us.
Choose a plan as per your location