Srinagar: Once among the best attractions of Srinagar city, the Dal Lake, has begun to lose its appeal amid worsening pollution. Seeing the picturesque lake that spreads over 22 square kilometers through a lens isn't merely mountains and water waves; it includes plastic bottles, untreated sewage, strewn garbage, and pollutants that are proving fatal for the lake.
The lake is also home to 50,000 families. And 11-year-old girl from the interiors of the lake is attempting to make a difference that potentially shows an alternative, public-driven path towards a more sustainable future.
Jannat, a student of 5th standard, has been cleaning the lake for the last eight years. "I feel happy when I clear the Lake," she told The Kashmir Walla, rowing a boat with her father. "I request everyone to not throw garbage in the lake."
When she was 3 years old, her father uploaded a video on Facebook that led to further motivation for her. Prime Minister Narendra Modi applauded her efforts in 2018. Wider awareness of her work led Jannta's neighbors to join her bid to clean the lake.
"After the Dal Lake is cleaned, I'll take up another water body for cleaning," she said, who juggles her volunteer work alongside her studies.
Jannat's father, Tariq Ahmad Patoo, 55, has been organizing cleaning drives in Kashmir and rallies in Delhi calling for the protection of the Dal Lake. "Once I was with a German tourist, he dipped his cigarette into water and put it into his pocket. He told me that this cigarette will pollute hundreds of liters of water," Patloo recalled.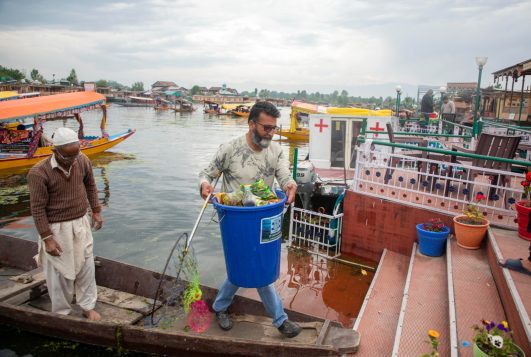 Other than chemical waste, untreated sewage also contributes to the pollution. Manzoor Ahmad, the chairman of the houseboat association, said that 30 years back, there were about 1,700 to 1,800 commercial as well as residential houseboats in different parts of Srinagar. "Now, they are down to 750 to 800 in all the area," he added.
Over a thousand houseboats produce more than 9,000 metric tonnes of trash annually, which is discharged into the lake, as per a study published in the International Journal of Scientific and Engineering Research in 2017. 
The study further reveals that fifteen drains deliver nearly eighteen tonnes of phosphorus and twenty-five tonnes of nitrogen nutrients into the lake.
Jannat's father is aware of the limitations of their rather lonely efforts. "She cannot clean the entire lake but it's a message for the people," he said.
---
The Kashmir Walla needs you, urgently. Only you can do it.
We have always come to you for help: The Kashmir Walla is battling at multiple fronts — and if you don't act now, it would be too late. 2020 was a year like no other and we walked into it already battered. The freedom of the press in Kashmir was touching new lows as the entire population was gradually coming out of one of the longest communication blackouts in the world.
We are not a big organization. A few thousand rupees from each one of you would make a huge difference.>
The Kashmir Walla plans to extensively and honestly cover — break, report, and analyze — everything that matters to you. You can help us.
Choose a plan as per your location