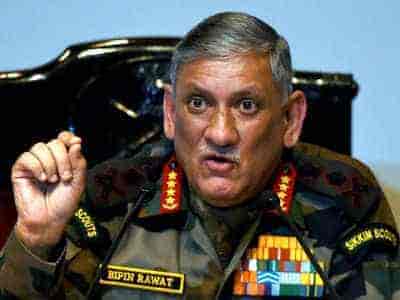 General Bipin Rawat, the Chief of Defence Staff, G has said restrictions imposed following the scrapping of Article 370 may return to the Kashmir Valley at the cost of freedom of movement because of terror strikes, The Hindu reported.
He also blamed Pakistan for disrupting peace in valley, "Whenever there is peace and tranquillity in Jammu and Kashmir, our western adversary creates a situation where people of some community are killed and fear is generated," Gen. Rawat said after participating in the first Ravi Kant Singh Memorial lecture series in Guwahati, organised by the Assam police on Saturday evening.
The series was titled 'Assam at Crossroads: Geopolitical events in its neighbourhood impacting North East India'.
Referring to the killing of Kashmiri Pundits, Sikhs and migrant workers in the Kashmir Valley, Gen. Rawat said, "We should not allow the exodus to happen from the Valley at all. The adversary will always try to do something to make us fall into a trap."
He said Home Minister Amit Shah visited Kashmir to give confidence to the people that the government forces and the local administration will bring the situation under control.
"The intelligence network is being strengthened and more monitoring of the people is happening there. People don't like the armed forces to become intrusive, but we will have to get back into this fold again and carry out activities to ensure the militants do not carry out any activity," Gen. Rawat said.
He said the armed forces were trying to gradually allow freedom of movement in Kashmir Valley when peace was emerging. Getting back into the restrictive fold "disrupts the freedom of the people living there, but we have to make sure all this is done for your safety and security".
---
The Kashmir Walla needs you, urgently. Only you can do it.
We have always come to you for help: The Kashmir Walla is battling at multiple fronts — and if you don't act now, it would be too late. 2020 was a year like no other and we walked into it already battered. The freedom of the press in Kashmir was touching new lows as the entire population was gradually coming out of one of the longest communication blackouts in the world.
We are not a big organization. A few thousand rupees from each one of you would make a huge difference.
The Kashmir Walla plans to extensively and honestly cover — break, report, and analyze — everything that matters to you. You can help us.
Choose a plan as per your location