For years, a shy teenager dreamt of wearing the white coat that would bring her family of six out of poverty. She studied hard, in sleepless nights, and scored a distinction in 12th standard. However, on Monday, her family wrapped her in a white shroud as she bid adieu to her dreams.
In a corner of her two-room home in Srinagar, the 19-year-old Rafiya Nazir was studying for her upcoming pre-medical entrance test last week. Now, her books — with the teenager's name scribbled on them — lie on top of a wooden almirah after she was killed in a grenade attack.
On Sunday, Rafiya, her mother, sister, and 6-year-old cousin had stopped to buy bananas for a relative in the busy street of Srinagar's Amira Kadal market when militants hurled a grenade, leaving an elderly person dead on the spot and 38 others injured, including Rafiya.
After the blast, people ran in various directions as some collapsed on the ground. But Rafiya's mother, Hameeda saw her lying motionless in the middle of the road and quickly moved to pull her to the roadside. "She asked me if I was fine," Hameeda recalled. "[Rafiya] felt something had happened to her head."
When Rafiya touched her head, her hand was stained with blood. "Someone in the crowd pressed his hands on her wound [to stop the blood from coming out] and took her to hospital," Hameeda said. For her, everything went dark at that moment.
"I don't remember what happened for the next few minutes but I was told that my other daughter was injured too."
Next day, Rafiya succumbed to her injuries at Srinagar's Shri Maharaja Hari Singh (SMHS) hospital.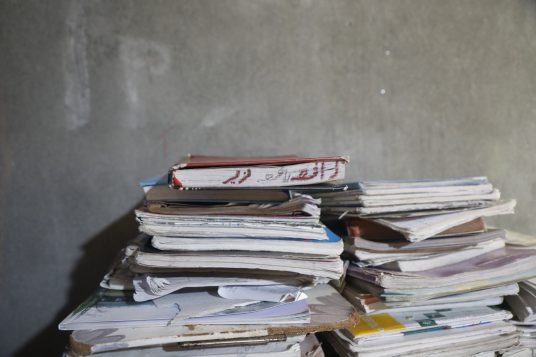 A long, restless night
Amid the mess, Hameeda couldn't recall her family's contact numbers. At the hospital, where Hameeda brought her elder daughter, Farhana, for first-aid, the cousin shared Rafiya's father's contact number from her notebook.
But the family wasn't sure of Rafiya's whereabouts. Instead, they spent most of the night on roads of the Saderbal area in Srinagar asking about their daughter's whereabouts.
"They were restless the entire night. The situation was grim," said Jameela, Rafiya's aunt. "We got confirmation in the morning that Rafiya was in SMHS [hospital] and her condition was bad."
Rafiya had suffered a grave brain injury as grenade splinters hit her skull – and subsequently lost a lot of blood. Next morning, at 8:30 am, Rafiya breathed her last in the hospital. Minutes later, her family received a call that left them in sobs.
Jameela remembers Rafiya's face vividly before her burial: "Her eyes were swollen and bruised. They had trimmed some of her hair [and] the right side of her head was bulged."
A day after Rafiya's killing, the Srinagar police arrested two suspects in connection with the grenade attack. Rakesh Balwal, Srinagar's Senior Superintendent of Police (SSP), informed the media that the police have arrested two accused in the case.
"We saw that this case is of heinous nature and our investigation had to be speedy in this case. So, we formed a SIT (Special Investigation Team) of six members to find the accused immediately and crack the case."
Balwal said among 38 injured in the blast, two were policemen: Riyaz Ahmad and Jan Mohammad.
The police has identified the arrested persons as Muhammad Bariq son of Muhammad Shafi Magrey resident of Koolipora Khanyar and Fazil Nabi Sofi son of Ghulam Nabi Sofi also a resident of Koolipora Khanyar.
They have been arrested under FIR number 18/2022 under section 307 of Indian Penal Code (IPC), sections 7/27 of Indian Arms Act, sections 16 and 23 of Unlawful Activities [Prevention] Act, registered at Shaheed Gunj Police station. After the death of two civilians, section 302 and sections 3 and 4 of the Explosive Substances Act were also added in the case. "The vehicle used in the incident has also been seized," he added.
On the day of the attack, Jammu and Kashmir Lieutenant Governor Manoj Sinha strongly condemned the attack. "My deepest condolences to [the] family of innocent civilians martyred [and] wish a speedy recovery to [the] injured," LG Sinha tweeted.
He added: "We are firmly resolved to dismantle terror ecosystem [and] defeat terrorist menace that continues to be perpetrated by neighboring country."
'She left us in eternal pain'
At Rafiya's home, the mourners were gathered around her mother and elder sister, who "lost her best friend".
"We used to share everything. We didn't have friends, we had each other," said Farhana.
Farhana has been in shock ever since the attack. "She keeps crying and murmuring about the blast in her sleep," said Hameeda, her mother. "My house should have burnt down, everything should have been destroyed but she shouldn't have left us. Nobody knew her before her death. Now everybody does."
Rafiya's killing has left behind a grief-stricken father, traumatized sister, and a heartbroken mother. "She left us in eternal pain," said Hameeda. "She is always on my mind."
Rafiya's family had wished to see her wearing a white coat one day. "We thought she would bring us out of poverty," Hameeda said, "but we didn't know she would leave us like this."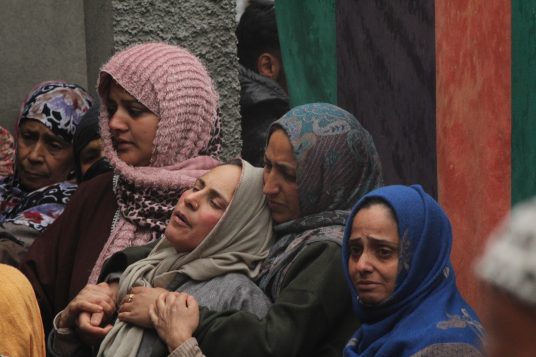 ---
The Kashmir Walla needs you, urgently. Only you can do it.
We have always come to you for help: The Kashmir Walla is battling at multiple fronts — and if you don't act now, it would be too late. 2020 was a year like no other and we walked into it already battered. The freedom of the press in Kashmir was touching new lows as the entire population was gradually coming out of one of the longest communication blackouts in the world.
We are not a big organization. A few thousand rupees from each one of you would make a huge difference.>
The Kashmir Walla plans to extensively and honestly cover — break, report, and analyze — everything that matters to you. You can help us.
Choose a plan as per your location