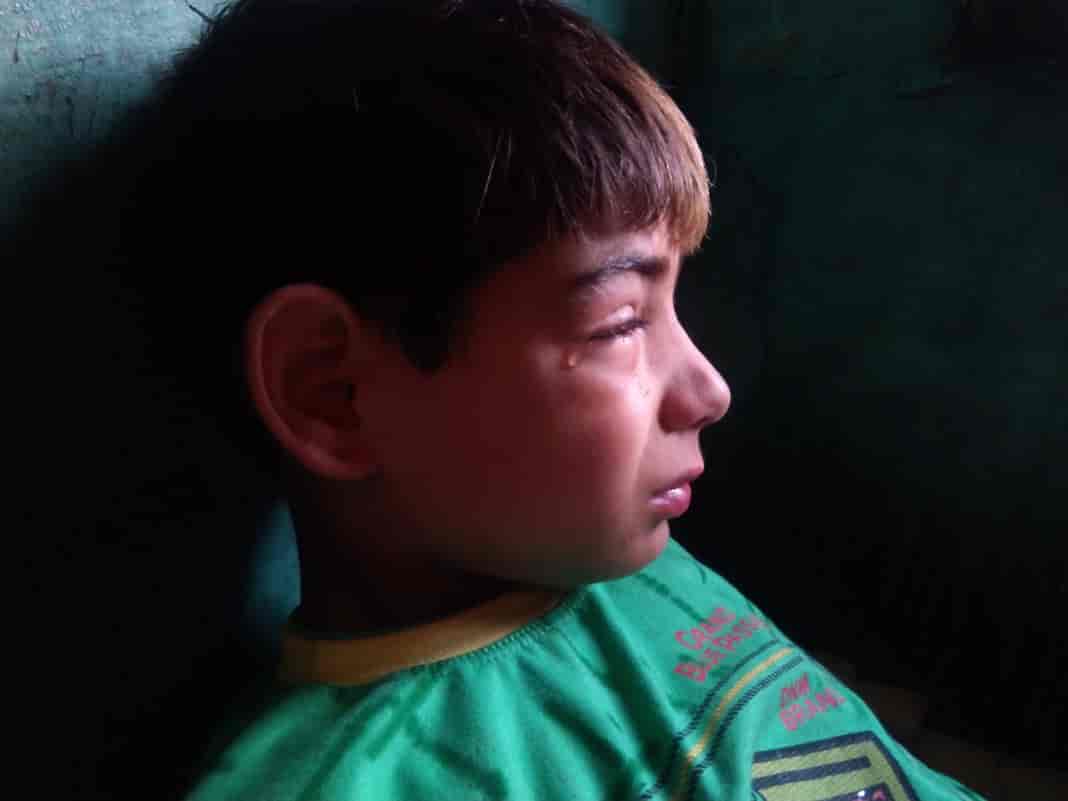 "He hates the light," said Fayaz Ahmad Mir of his nine-year-old son Owais Ahmad, who was huddled in a corner of the room at their residence, covering his head with a blanket. Of the five windows in the room, four are covered to block sunlight. Owais has two metal pellets lodged in his right eye after being hit by pellets fired from a shotgun by government forces on 22 May.
The class three student at the local Morning Star Public School said that he along with other children in the village had gone to swim in the nearby Romshi Nala stream when they saw government forces approaching from the other side of the stream. "We ran scared towards our homes but when I reached near my alley, one uniformed man yelled at me," Owais said, softly. "I ran back."
As Owais said he ran towards another neighbourhood, he stopped outside a masjid as youth from the village had gathered ahead. He ran in the direction of another colony and stopped outside the mosque gate. "Some boys on the other side of the road threw stones at them [government forces] and ran away," he said. "The [government forces] had come nearby then and fired the pellets at me."
It is not clear who fired pellets at Owais. That day, government forces had laid a cordon in his native village of Karimabad village in south Kashmir's Pulwama district when youth began throwing stones to disrupt the search operation, according to Mr. Mir, his father. 
On calling the concerned Station House Officer of Pulwama, he said, "I am not the concerned person to speak on the matter. Speak to his superior." Despite repeated attempts, the Senior Superintendent of Police in Pulwama, Ashish Kumar, didn't comment on the incident.  
During the operation
Sitting next to his son at their single storeyed and one roomed house shared by a family of three, Mr. Mir said that he was at home when the army knocked at his doors around the time for the afternoon prayers. It was also the last Friday of Ramzan. "[They] took me along as they carried out home to home search operations in the village," he said. 
A baker by profession, Mr. Mir said that he was released at around 7:15 pm after the search operation had concluded. He had no inkling of Owais being injured until he received a call from his neighbour just as he had stepped in his courtyard. "I was with the forces when this tragedy happened behind my back," he added.
"He was crying throughout the night, he was still in pain. We cried too, seeing his condition."
Owais said that he had felt "something hot had hit my eye and then I started crying". He was carried in an injured state from the streets to a nearby house by his 17-year-old neighbour, Tajamul Islam. "He was screaming in pain and was repeatedly asking to be taken to his mother," said Islam, who was also present at the Mir's residence.
Mr. Mir said he along with his wife had rushed barefooted to the house where Islam had taken Owais. "Our hearts broke the moment we saw him there. He was writhing in pain," he said, adding that while Owais was hit by pellets at around 5:30 pm but could not be taken to a hospital until after the government forces had left the village more than two hours later.
The family first rushed to the district hospital in Pulwama, from where they were referred to the Shri Maharaja Hari Singh hospital in Srinagar city, some 30 kilometers away. Mr. Mir said that doctors at the SMHS hospital administered medicines for the pain and scheduled a surgery for the next morning. "He was crying throughout the night, he was still in pain," he said. "We cried too, seeing his condition."
"I have pain continuously in my eye and I feel something like the ball is rounding there. I hate the light."
After a two and half hour long surgery, Mr. Mir said, doctors at the SMHS hospital have said that Owais will need to go through two more surgeries. The doctors refrained from giving an assessment of the damages or expected recovery until then. "Doctors said it will be decided only after the third surgery," said Mr. Mir.
According to medical records, Owais underwent an initial surgery to repair corneal tear in his right eye. The report also mentions a hole in the iris of his eye.
Trauma and heartbreak
At his home, after several requests from Mr. Mir, Owais agreed to take off the blanket from his face to allow his father to administer medicine in his eyes. "I hate light… I hate medicines too. It increases the pain," the young boy muttered, before again pulling the blanket over his head. "I have pain continuously in my eye and I feel something like the ball is rounding there. I hate the light."
Since his injuries, his mother Aamina Bano said, traumatised Owais has lost his appetite and become short tempered. "He keeps his head under a blanket and does not talk to anyone," she said. "He only keeps turning from one side to another in restlessness. Sometimes he wakes up scared and cries because he sees uniformed men [government forces] surrounding him."
The family with its meagre resources is now saving money for his treatment. "Whenever I look at him, my heart breaks into pieces," said Ms. Bano. "A mother can bear any pain but cannot see her own child in pain. I have prayed a wish and have made a knot at a shrine for his recovery. He is the only light of our eyes."
---
The Kashmir Walla needs you, urgently. Only you can do it.
We have always come to you for help: The Kashmir Walla is battling at multiple fronts — and if you don't act now, it would be too late. 2020 was a year like no other and we walked into it already battered. The freedom of the press in Kashmir was touching new lows as the entire population was gradually coming out of one of the longest communication blackouts in the world.
We are not a big organization. A few thousand rupees from each one of you would make a huge difference.
The Kashmir Walla plans to extensively and honestly cover — break, report, and analyze — everything that matters to you. You can help us.
Choose a plan as per your location