On Wednesday morning, 16-year-old Ibrahim Darzi woke up to a strange feeling. The colour of the walls in the bedroom was different from last night. It took him a few moments to realise he wasn't home, he had woken up at his neighbour's place.
Though he had gone to bed exhausted the previous night, he could only sleep for a few hours before waking up at 6 am and rushing back to his home, a few meters away. Inside the room the walls were covered with soot. Charred remains of books, carpets, and furniture were scattered.
Ibrahim had once called this his living room.
He spent a few hours in the neighbourhood, while his neighbours too tried to find if anything was left to pick from the debris of their burnt houses. At noon, he took this reporter inside his home. The door to his home was wide-open, street dogs dashed out as he approached.
It was difficult for him, a high school student, to salvage anything from the burnt remnants of his books on arts and that of his sister's on medicine. He knelt to pick the leftovers but water, used to douse the flames that had engulfed his home, had made it all sludge. The ashes blackened his palms but it seemed the least of his concerns. His home was wrecked beyond recognition.
Having spent most of his life in the locality, it wasn't easy for Ibrahim to bear the sight of the destroyed houses. The destruction brought a flood of memories that his "mind couldn't process". 
"I feel sad, very sad," he said, "Now all I have are bad feelings." 
After years of savings earned from manual labour, his 40-year-old father, Ghulam Ahmad Darzi, had reconstructed the single-storeyed house after it was damaged in 2014 floods. On Tuesday afternoon, 19 May, their house was rendered inhabitable as police and paramilitary forces cornered two militants in the neighbourhood.
The Darzi family were among at least a dozen families who were temporarily evacuated from their homes in the Kanimazar locality of downtown Srinagar's Nawakadal area, or so they thought. More than a dozen other houses were either completely destroyed or rendered inhabitable amidst the global coronavirus pandemic.
The district administration has initiated the process of the assessment of damages. The Kashmir Walla's repeated attempts to reach out to district officials seeking specific details of the process were not entertained by district officials. Speaking off the record, one official said that the city administration had so far only compiled a list of affected families to be given immediate food aid. This story will be updated after the officials will respond. A local masjid committee is also collecting funds for the rehabilitation of the affected families.
Residents of Kanimazar are leading the initiative to assist 15 families whose houses were destroyed in the encounter yesterday. Friends please generously donate.

Acc Name: Intizamia Committee, Kanimazar
Acc No: 0006040100006576
J&K Bank, Safa Kadal Branch
IFSC code: JAKA0HONOUR pic.twitter.com/byj0DH18S4

— Khurram Parvez (@KhurramParvez) May 20, 2020
"At least I'm alive"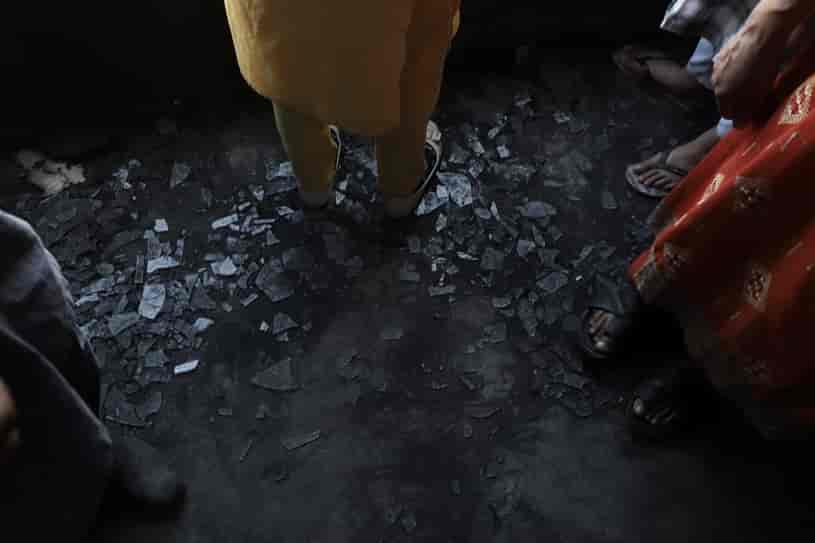 The last time Ibrahim was in his living room, the carpets were neatly spread out while his books and stationery neatly stacked on a shelf. He was in the room with just his father, his two siblings and mother being out of the city.
Moments before a loud bang of grenade had shook the dark alleys of Kanimazar on the intervening night of Monday and Tuesday, followed by the sounds of a brief burst of gunfire. Ibrahim recalled being "very scared and nervous" that it could have been an attack nearby but a gunfight had seemed unlikely.
Hizbul Mujahideen militant commander Junaid Sehrai and his associate Tariq Ahmed Sheikh were killed in the gunfight that stretched for over ten hours. It was a rare gunfight in Srinagar, which witnessed the last gunfight between government forces and militants in 2018. 
On Tuesday, Ibrahim and his father were stuck at the site of the gunfight and managed to flee once the firing began at 8 am. They stayed at a family friend's residence and returned to their locality, now the site of the destruction, a little over an hour before iftar. Thirsty and hungry, the duo didn't expect their house to be burnt. "I couldn't think of anything else but that at least I'm alive," said Ibrahim, which had relieved him a bit.
That night, they slept over at a neighbour's house. Where would they sleep tomorrow? They hadn't decided. Ibrahim said that "at least we have the door in the kitchen, so we can sleep there. I want to sleep in my home." His father added hopelessly: "[But] I don't want to. Earlier, this home was nice. Now, it doesn't feel like home anymore".
"Nothing will happen to my house"
With mobile phone services suspended since before dawn, Ibrahim's neighbour, the Sofi family had no contact with each other. It was about 6 pm when a relative of the family spotted them moving towards their home. "Everything is destroyed," the relative had said, imploring them not to go ahead. The Sofis refused to believe the relative.
A few meters ahead, their home still stood tall. Its windows on the front, however, shattered with bullet holes dotting the walls. Inside 17-year-old Sajid Sofi's room, with charred windows, there rested a framed photo, barely visible through its scratched glass. 
The belongings of Sajid, who dropped out of school to help his family's poor finances, were destroyed in the gunfight. The drilling machine he would use at work at construction sites was damaged beyond repair. His burnt clothes scattered on the floor were no longer distinguishable from the charred carpet. The last of his school books, a memoir to the hardship of his life, burnt to ashes.
Hours before the gunfight, a little past 1 am, Sajid was asleep on a floor-mattress, draped in his quilt, when the government forces barged into his house, a few meters from Ibrahim's. "They [government forces] grabbed my quilt and woke me up in a jerk," recalled Sajid. "I opened my eyes and I was frightened to see [about] ten to fifteen personnel standing [around me]. They kept asking me, show your gun."
Sajid said that he was allowed by the force's to join his family in the kitchen below after being frisked while forces searched the house. His elder sister, 23-year-old Madina Sofi, who is vulnerable to severe palpitations owing to an underlying anxiety problem, said that they "were confined to the kitchen after the [forces] had occupied the entire house".
A recent graduate from Bemina Degree College in Arts, Ms. Madina Sofi had held her breath as she sat close to her mother. "They [force] kept asking us, 'Would there be an attack?'" To that, she said, her mother replied each time, "Why would there be? There is no one here."
That night, the Sofi family laid low on the forces' instruction: "your windows are lower and a gunshot can pierce in anytime." It was also the first time in the night that the family was told that "there might be a gunfight". At dawn, with only mobile phones in their hands, the Sofi family was asked to "leave [the] house immediately" by the government forces.
When the firing had resumed at 8 am, the Darzis ran amid ear-piercing noises while the Sofis family watched a house near their home go up in flames. "I thought nothing would happen to my home," recounted Ms. Madina Sofi. Unable to comprehend the destruction of her home, she was numb. Blankly staring at her burnt room, she said "I don't know how I feel right now; how does it feel when your home burns?"
Home is where the heart is
The Sofi family spent the night in the Qamarwari area of Srinagar – over 5 kilometers from their home. They returned to Nawakadal on Wednesday morning to collect their charred belongings: stuffed-toy, utensils, stray nail polish bottles, and winter-wears in a trunk. Yet partially burnt, the only recognisable part of the home to the family was the kitchen floor, where they had eaten together for years.
Ms. Madina Sofi's 40-year-old mother, Mubeena Sofi wears glasses and a mask and isn't bothered if she steps into a pool of water blackened with ash. The large window in the living room is now an open side for the sunlight to enter. From there, young boys can also be seen exploring the debris of a razed house as the smoke rises.
Ms. Mubeena Sofi was "heartbroken" when she saw dogs roaming around in her home that had been reconstructed in 2015 on a loan—a large amount of which, she said, still remained to be paid back. Mubeena Sofi works as a janitor at a nearby private school while her husband is a flea market vendor, selling stitched-clothes.
She fears that the family will now have to start again from scratch. "Everything we earned, with our hard work, is gone now," she laments. "Now, we'll have to go back to labour and build this again. Till then, that's how it is." 
The razed house has become the focal point of the fateful night. Mubeena Sofi's house that looks partially damaged from outside is often overseen. Her eyes are moist as she, too, looks at the razed house: "From the outside my home looks fine but from inside, it is burnt like my heart."
---
The Kashmir Walla needs you, urgently. Only you can do it.
We have always come to you for help: The Kashmir Walla is battling at multiple fronts — and if you don't act now, it would be too late. 2020 was a year like no other and we walked into it already battered. The freedom of the press in Kashmir was touching new lows as the entire population was gradually coming out of one of the longest communication blackouts in the world.
We are not a big organization. A few thousand rupees from each one of you would make a huge difference.>
The Kashmir Walla plans to extensively and honestly cover — break, report, and analyze — everything that matters to you. You can help us.
Choose a plan as per your location