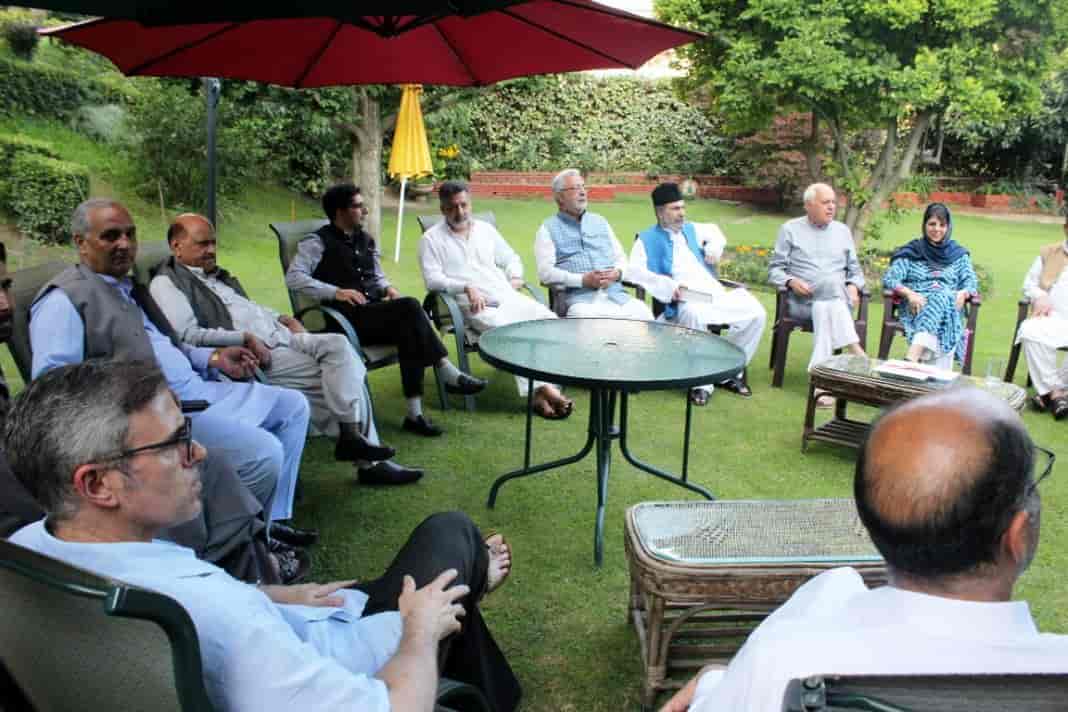 Since the former People's Democratic Party (PDP) leader, Altaf Bukhari, met the Jammu and Kashmir's Lieutenant Governor G. C. Murmu, political corridors in Kashmir Valley are ringing with a possible revival of mainstream politics, five months after the abrogation of the erstwhile state's special status. The talk of a new third-front being shaped by Mr. Bukhari has gained traction over the last few days. But it is likely that the third-front could end up strengthening the three regional parties whose top leadership remains in detention.
There are various reasons why just another front may not be the only plank to sail through the muddy waters of Kashmir's politics – where many such fronts have emerged in the past decades. The prominent among these reasons is the detention of the three former chief ministers for the last five months, and many others, who still live with a feeling of betrayal from the Centre. Those who promised the Valley's voters that they will safeguard the region's leftover autonomy couldn't save it, eventually. Today, they are confined to guarded detention centers – from where they are unable to make a move.
With the absence of prominent leaders, many politicians feel a void has been created and it must be filled by some political activity. However, any activity will end up strengthening the three regional parties – National Conference, PDP and PC too, by turning to be the only confrontation between people and the mainstream politics. While the regional parties are claiming to fight for the restoration of special status, any new front is adamant to move ahead with only one demand: restore the statehood and provide domicile rights.
As Mr. Bukhari said after meeting the Lieutenant Governor that it is time to look beyond Article 370 and explore other achievable options for Jammu and Kashmir. "The pain of loss of Article 370 will never go but we have to come out of it," said Mr. Bukhari. "Life goes on, we must try for things that we can get. The way forward is domicile right now and rights for residence and restoration of statehood to J-K. I will work in my good faith and try my best to get those demands fulfilled."
Statehood and domicile rights seem to the two main points demanded to be restored by anyone who wants to move ahead from 5 August 2019. But the NC, PDP and PC seem to have been struggling with this new shift in political demands from regional politicians to New Delhi. It has to be seen if the existing parties will toe the new line or remain adamant on demanding before 5 August position. However, with growing speed at which the new political players are emerging – who will be targeted by the NC, PDP and PC for accepting the change, the three parties may join the electoral fray, claiming they chose to do so to stop emergence of a new front.
Adding weight to Mr.Bukhari's thoughts foot-steps Muzaffar Beigh, who is a founding member of PDP, but now acts against the party's core ideology, addressed a press conference in Jammu. Championing for restoration of statehood and domicile rights, Mr. Beigh said that nothing had remained in Article 370. "Prime Minster Narendra Modi, Union Home Minister Amit Shah and National Security Advisor Ajit Doval understand the people of J-K and they are not anti-Muslims," he added.
Mr. Beigh has been found disappointed in the PDP for some time now, and rumours of him quitting the party often make rounds, but he continues to stay. With Mr. Bukhari calling more former legislators to strengthen his group, the two Abdullahs and Mehboob Mufti and Sajad Lone could use this opportunity to step back into limelight. As the adversaries are growing, the three parties may use Mr. Bukhari and the idea of third-front as an election plot, in order to consolidate their own lost grounds. Whether a third-front will be a success or not but it has certainly created a sense of revival of political activities in the newly formed Union Territory – where the only step left now is the release of the Abdullahs, Ms. Mufti and Mr. Lone from detention – into a space to choose between accepting the abrogation or fighting back, which could mean widening political space for any new front.
The column appeared in our 13-19 January 2020 print edition.
---
The Kashmir Walla needs you, urgently. Only you can do it.
We have always come to you for help: The Kashmir Walla is battling at multiple fronts — and if you don't act now, it would be too late. 2020 was a year like no other and we walked into it already battered. The freedom of the press in Kashmir was touching new lows as the entire population was gradually coming out of one of the longest communication blackouts in the world.
We are not a big organization. A few thousand rupees from each one of you would make a huge difference.>
The Kashmir Walla plans to extensively and honestly cover — break, report, and analyze — everything that matters to you. You can help us.
Choose a plan as per your location