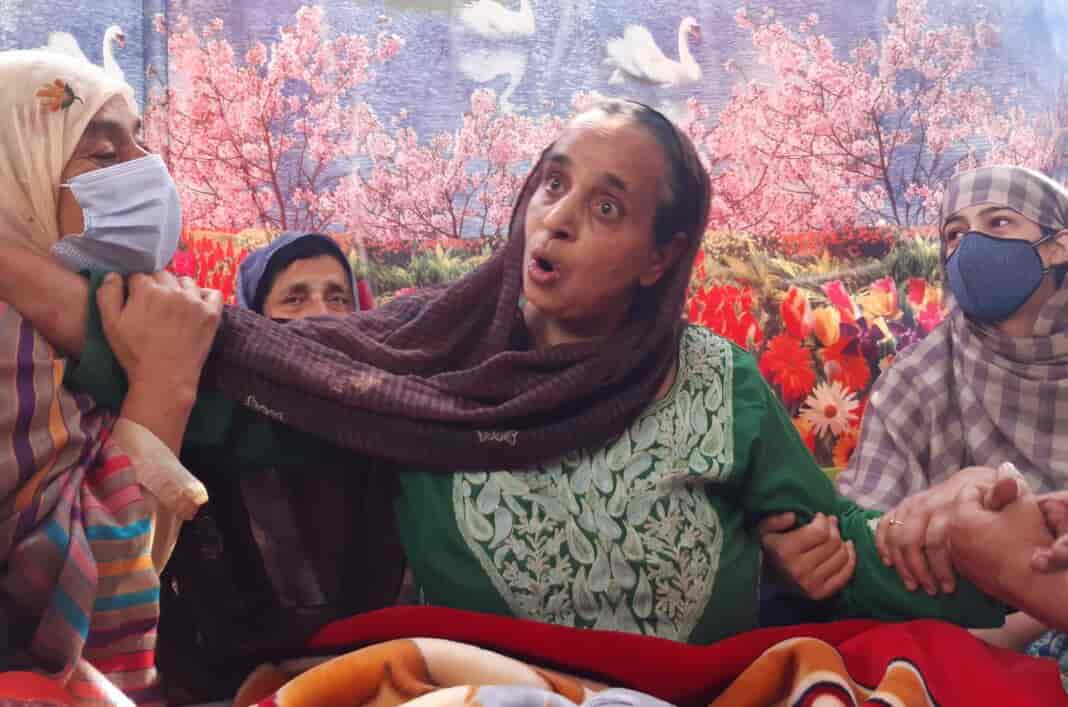 On Thursday evening, the crowd that had assembled on the porch of the Qadri family's residence in Srinagar was in a dilemma: where to bury Babar Qadri? A few wanted to bury him in the "martyrs' graveyard" in Eidgah; the family, however, wanted to bury their son in their ancestral graveyard in north Kashmir's Tangmarg.
At about 6:15 pm, said Mr. Qadri's father, Yaseen Qadri, two men — "one was tall, clean-shaved and wore shirt and pants, another was small and fat, and had a stubble" — had come looking for him, holding files in their hands. Mr. Babar's mother, Shameema Masoodi, offered them tea while his younger brother, Zafar Qadri, placed chairs in the lawn and called his brother. "They sat together and spoke for about five minutes," said Mr. Babar's father, who was at home too, "and then I heard gunshots." 
Mr. Babar was shot at close range and walked a few steps before collapsing. "I held my brother. He was in front of me, bloodied," said Mr. Zafar, "he kept looking at me." Nobody ran after the shooters, the brother added; instead, they rushed Mr. Babar to the Sher-e-Kashmir Institute of Medical Sciences, where he was pronounced dead.
The 40-year-old was a prominent lawyer who frequently appeared on television debates, often criticising both India and Pakistan, and advocating peace and resolution of the Kashmir dispute. His killing has sent a shock wave across Kashmir.
"Bravery got him killed"
Mr. Babar is remembered as an iconoclast by his batchmates from the University of Kashmir (KU). His friends remember him as a person who would be on the forefront to protest against every issue since college; the one who was known for his vocal, unpopular opinions. 
Shafqat Nazir, a senior lawyer, and Mr. Babar's batchmate from the KU, remembers Mr. Babar as "more of an activist" than a lawyer. Recalling an incident from their college days, he said that when Mr. Babar was awarded student of the year position in the university's convocation, "in the acceptance speech, he had said: 'I dedicate this award to Shaheed Maqbool Butt, to his resistance, and to his ideas.'"
"Can you imagine?" Mr. Nazir remarked.
"He called India wrong in Indian media; he went to Pakistan and said you are wrong; in Kashmir, he even called out Geelani's wrong. A person like him is born once in a thousand years."
Mr. Babar was not a cowardly person, said Mr. Nazir. "His bravery got him killed."
Inspector-General of Police, Kashmir, Vijay Kumar said that a Special Investigation Team has been constituted, headed by Superintendent of Police, Hazratbal, to probe Mr. Babar's killing. After the attack, the IGP added that "militants fired [a] few bullets in the air".
But neither friends nor the family has any hopes from the investigation. On this, Mr. Nazir said: "These killings are never concluded. Only FIRs are filed, no investigations are done. It is obvious, they don't want to uncover these masked gunmen."
"Can you find his killers?"
In 2018, they were chased away on a bike by unknown gunmen. Mr. Yaseen, the father, said that they had approached police officials after the first attempt but no security cover was provided. He also alleged that the then Director-General of Police, Shesh Paul Vaid, had kept stalling the issue. "He used to tell us that we'll provide security tomorrow; then the day after tomorrow," said Mr. Yaseen, "but did nothing."
The last posts by Mr. Babar on his social media handles have left Kashmir talking, in which he calls out the president of the Jammu and Kashmir Bar Association, Mian Qayoom. But to Mr. Nazir, the rift between the JKBA and Mr. Babar seemed "a small issue". 
To Mr. Yaseen, a father seeking answers about his eldest son's killing, Facebook is the answer. He scrolled through Mr. Babar's social media profile and said: "If you read his last posts… it'll tell you why he was murdered… He was killed because the election [of the JKBA] was arriving."
Mr. Babar, however, was not contesting, his membership having been suspended by the JKBA in 2012 after he appeared in a Habeas Corpus case during a shutdown. After the release of Mian Qayoom, the president of the JKBA, from year-long detention in July 2020, Mr. Babar applied for the membership again but was denied.
At their ancestral home in Tangmarg, inside a tent occupied by female mourners, Mr. Babar's mother, a devastated Ms. Shameema mourned her loss. She narrated the account of her son's killing: "One was a Kashmiri and another seemed an army man. He had an army cut hairstyle."
"You want me to sleep?" she asked, angrily. "How can I sleep when my son is in the grave? Can you find his killers?"
Last night, against his friends and colleagues' wishes, the family buried him in their native place — in a north Kashmir hamlet, Sheikhpora. His grave, only a few steps outside his home, has fresh rose petals. Many of his friends and relatives walk around it; pray for him to rest in peace, and just stare.
Beyond the ground's fence, Mr. Nazir is consoled by his other friend. "It wasn't an attack on an individual," one of Mr. Babar's friends added to Mr. Nazir's memories. 
"Extraordinary men are killed to give extraordinary messages. Here the message is: don't be brave against any system. Don't raise your voice. Toe the line. Let things be."
---
The Kashmir Walla needs you, urgently. Only you can do it.
We have always come to you for help: The Kashmir Walla is battling at multiple fronts — and if you don't act now, it would be too late. 2020 was a year like no other and we walked into it already battered. The freedom of the press in Kashmir was touching new lows as the entire population was gradually coming out of one of the longest communication blackouts in the world.
We are not a big organization. A few thousand rupees from each one of you would make a huge difference.>
The Kashmir Walla plans to extensively and honestly cover — break, report, and analyze — everything that matters to you. You can help us.
Choose a plan as per your location