Srinagar: Underneath the dug up capital city, tensions are brewing over a strange turf war: e-cab companies and city authorities have locked horns in an unprecedented takedown that can potentially decide the future of the commutation in Kashmir.
In Srinagar, two e-cab companies—Novo and Jugnoo—continue to run their flaky operations that have been repeatedly termed illegal by the authorities. Customers are often left irked with sluggish services. And a third company, still awaiting a formal launch, has sued everyone to the court.
The scope of e-cab services in Kashmir wasn't always so uncertain. In late 2022, Lateef Mir came across a Facebook ad from Jugnoo and rushed to get himself registered. 
The 36-year-old man from Srinagar's Zakura sold his wife's jewelry and accumulated his savings to buy a second-hand vehicle, hoping to secure stable income for his family of three. While Kashmir reeled under record unemployment in the formal sector, hundreds of youth like Mir rushed to exploit the apparent growing opportunities in the gig-economy.
Mir wakes up at 8:30 am, starts his Maruti Suzuki's Brezza, and waits for a ride to pop on his app. "I earn about 1,000 rupees per day from the rides [on the app]," he told The Kashmir Walla. "I'm the sole bread-winner of this family."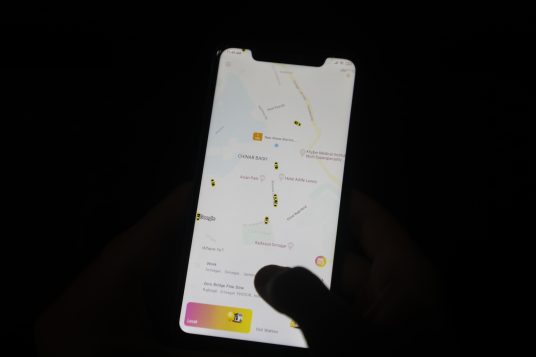 As per the latest government data available, a total of 26,879 commercial taxis were plying in the Kashmir division. In 2018, Srinagar had the highest number of taxis–9,507–among the entire erstwhile J-K.
Before Mir could settle his feet in the market, things took an uglier turn that landed his future in uncertainty. 
On 25 March, the Regional Transport Officer, Kashmir, warned the businesses and citizens to not enter into any commercial contract with any vehicle without a commercial permit. Or the vehicles that are in violation with the region's motor vehicle laws. 
The Tussle
The Section 66 of the Central Motor Vehicles Act, 1988, provides that "no owner of a motor vehicle shall use or permit the use of the vehicle as a transport vehicle in any public place". Bukhari said that multiple complaints have been registered in this office claiming that some private vehicles are being used as taxis, including by the government departments.
The new order has become a major issue of paranoia for drivers like Mir, who like many others are not eligible to get commercial licenses for their vehicles. 
As per the government rules, no second hand vehicles are eligible for the commercial registration. "We have approached the transport department many times but we were told that old vehicles can't be registered and only new vehicles are eligible to get the registration," Mir said.
Now, Mir said that his life would be jeopardized if his vehicle would be disallowed to ply on the road. 
"What will I do then," he said, underlining his fears: "if my vehicle isn't allowed to operate for not having a commercial license?"
Bhat Abid, who is the City Manager Jugnoo, in Srinagar, told The Kashmir Walla that he thinks "the criteria laid by the government is hard to meet, and therefore none of the cab service providers in the valley were able procure the license earlier".
One of the criteria set by the authorities needs the company to show at least 100 registered commercial taxis associated before launching. A condition that all of the current cab operators in Kashmir have failed to exhibit.
Talking to The Kashmir Walla, Bhat said: "The government has asked us to pay Rs 6 lakh as registration fee but more difficult is to show 100 registered commercial cabs associated with us when on other hand the same authorities have stopped issuing commercial licenses for old vehicles."
Bhat claims that nearly 150 vehicles are associated with Jugnoo but not all are commercially registered.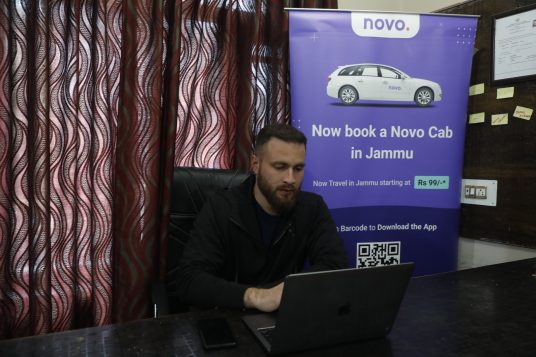 Faheem Tariq, the head of Novo cabs, voiced the same concern to register their company under the Motor Vehicle Law. Novo cabs currently have fifty drivers registered with them and complete over an average of hundred rides per day in Srinagar.
"The authorities have given us two months time to complete the process," he revealed. "We have already received the letter of intent last year and will complete the rest of the formalities within the given time," Tariq said, adding that it is very complicated to complete the formalities, given that no old vehicles are eligible to get the commercial registration.
The case in court
While the companies are struggling for registration, Ala Cabs and Technologies, a new cab services company in Kashmir has taken the issue to the court pleading that "no unlicensed aggregator company shall be allowed" to operate in the Union Territory of J-K. 
Speaking to The Kashmir Walla, Abdul Basit Qayoom, Managing Director of the Ala Cabs and Technologies, said that it has been two years  since he applied for the license to start the e-cab service in Kashmir but still awaits clearance from the authorities.
"On one hand, the administration is saying that no unlicensed cabs will be allowed to operate, while on other hand we are being deprived of issuing a license," Qayoom said.
On 22 December 2021, The Transport Department of Jammu and Kashmir government had issued a Letter of Intent (LoI) to Ala Cabs and Technologies Pvt Ltd, asking the company to complete the formalities in three months before starting the service.
Qayoom said there are at least three to four unlicensed cab services that are operating in Kashmir currently while his company that was issued a LoI is not allowed to enter into this business.
"It seems there is a deep political nexus that is stopping us from launching a registered cab service in the valley, while all the other unlicensed companies have been given free hand to ply on the road," Qayoom alleged.
In a significant victory for Qayoom, the High Court of Jammu and Kashmir, passed an interim order on 19 April directing the authorities to ensure that "no unlicensed Aggregator Company shall be allowed to operate in the Union Territory of J&K." 
However, the order is being widely flouted. Both Novo and Jugnoo cabs were available for booking when this report was filed.
Syed Shahnawaz Bukhari, the RTO Kashmir, told The Kashmir Walla that Novo and Jugnoo have been directed to register their companies within a stipulated time.
"We have seized some papers of both the cab service companies and have given them the time to get a valid license before any action will be taken against them," Bukhari said. He added that the department doesn't want to be "offensive at the first instance" as many families are earning their livelihood from this profession.
"We are aware that many families are dependent on [cab services]. So, we don't want to snatch anyone's livelihood and have given them the time to complete the formalities," Bukhari said.
The Valley is also a major tourism hub. And a lot of commercial vehicles are already involved with the sector to make money. Bilal Ahmad Matta, who owns 'Kashmir Srinagar Taxi', a private taxi company, said that if his drivers associate with e-cab service it will not fetch them much profit.
"We are paying at least Rs 15,000 to Rs 20,000 EMIs on our vehicles. What will we earn out of Rs 200-300 per ride? It is not profitable," Matta, who lives in Bemina, said.
Instead, he said, they get longer rides with tourists wherein the profit is nearly five times. "We are having good tourist seasons lately. All the commercial vehicles are working [round the clock]. Why would anyone leave this opportunity and wait all day for a call [from a passenger] for a ride that too for a minimal fare," he concluded. 
Unlike Matta who sees an association with e-cab services as a "non-profitable" venture, people like Mir are pinning hopes that the authorities would be considerate towards their economic conditions and allow them to earn a livelihood. 
"By Allah's grace, I'm expecting a baby soon. And I need this job [to be stable] more than ever," Mir said. "I hope the government will be kind to us."
---
The Kashmir Walla needs you, urgently. Only you can do it.
We have always come to you for help: The Kashmir Walla is battling at multiple fronts — and if you don't act now, it would be too late. 2020 was a year like no other and we walked into it already battered. The freedom of the press in Kashmir was touching new lows as the entire population was gradually coming out of one of the longest communication blackouts in the world.
We are not a big organization. A few thousand rupees from each one of you would make a huge difference.>
The Kashmir Walla plans to extensively and honestly cover — break, report, and analyze — everything that matters to you. You can help us.
Choose a plan as per your location