All photographs by Shefali Rafiq.
This story is supported by the Pulitzer Center
For Naseema Bano, a member of the Gujjar tribal community in Kashmir, adolescence was not always pleasant. There were days every month when she was ordered to stop certain activities she loved and told not to eat or drink certain items.
She couldn't play in the stream near her house or enjoy her favourite drink, lassi. Bano, who is now 35 and has two daughters, said this happened every time she menstruated. "My mother told me not to go near water and not to drink anything cold."
Sitting in the courtyard of her one-storey house Fakir Gujri, in Srinagar, playing with her four-year-old daughter, pangs of pain hit her again. Bano has been menstruating for the last two days. She knows it is time to change the cloth she has been using to stem the flow of blood. She goes up to the rooftop and gets another cloth — part of an old blue scarf — and positions it in her underwear.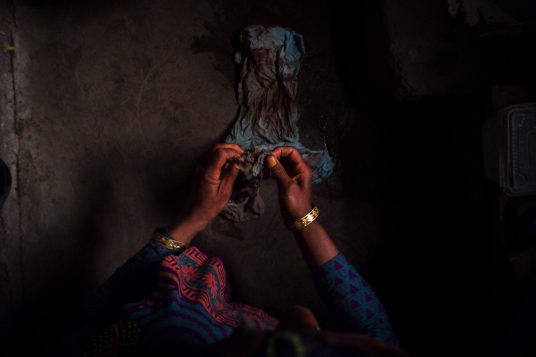 Two days later, when her period is over, she is allowed to take a bath. She washes the scarf, by now soaked with blood and dark red in colour. She takes it up to the rooftop to dry, although it isn't properly clean, with some blood stains remaining. 
For the last 20 years, Bano has been repeating this process.
"This is what my mother has done, and this is what I do and what my daughter will do," she says.
As in many parts of the world, members of the nomadic Gujjar and Bakarwal tribal groups in Jammu and Kashmir have their own beliefs and taboos when it comes to menstruation. These range from very common ones, like not touching kitchen utensils or taking a bath, to ones that are quite unheard of elsewhere, such as not looking into a mirror.
Bano is among thousands of tribal women in India who use rags – rather than sanitary protection – during their monthly periods. "I use an old cloth, from a scarf or a dress. I wash it and then dry it in my house, away from the gaze of my husband," she says. Although she knows that using the same cloth over and over again can lead to health problems, Bano says she has no alternative.
'Period poverty' and infections 
Bano is worried about the infections she experiences during her periods and about becoming infertile. "I have always wanted to have a boy. Not that I don't love my daughters, I am thankful to God for them – but a son is something I had wished for," she says.
Since the birth of their second daughter four years ago, she and her husband have been unable to conceive. "Almost every month, after my period is over, I experience some sort of discharge from my vagina, and I don't feel like getting intimate with my husband," she says, referring to infections resulting from inadequate menstrual hygiene. 
A local doctor who treats tribal women, including Bano, says it is impossible for a woman to conceive when she has a vaginal infection. "Severe infection can lead to adhesions [scar tissue] in the uterus, which can block the fallopian tubes and, in certain cases, lead to infertility," she explains.
Bano says she can't afford sanitary protection and that her priority is to feed her children. "We have built a house, but only one room is liveable. My husband is a labourer. How can I afford a sanitary pad that costs, what, 50 [Indian] rupees? I don't know, I've never bought one," Bano says, pointing at the earthen floor and glassless windows of her house. Her husband earns 300 to 400 rupees a day when there is work available, but often he is unable to find any for days.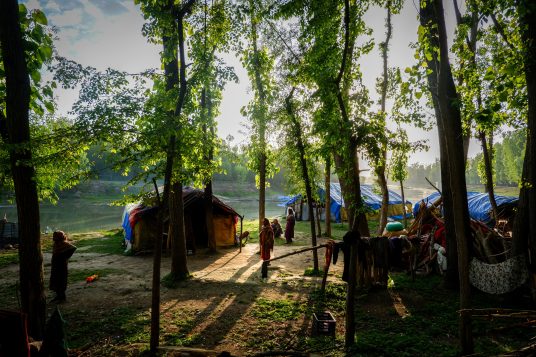 Bano suffers from 'period poverty': a lack of access to sanitary products due to financial constraints. According to the World Bank, at least 500 million women and girls globally lack adequate facilities for menstrual hygiene management. 
A study of menstruation among Gujjar girls found that 96 percent managed their menstruation in a "very poor" way, i.e. "use of dirty cloth, improper washing of used cloth, and inadequate drying mechanisms".
Ignorance, poverty, and neglect are the main reasons for inadequate mental hygiene. Dr. Shabnam, a medic at a hospital in Budgam who treats tribal people, runs menstruation awareness camps, and prefers to be identified by her first name, says: "The most important factor is poverty, and lack of knowledge. They know nothing about hygiene."
Javaid Rahi, a prominent tribal social reformer and academic, who specialises in Gujjar-Bakarwal culture, acknowledges the stigma associated with menstruation, but says menstrual health and even childbirth are considered relatively trivial in nomadic tribal life because of the other challenges communities face. "Sometimes they are not [even] aware for months that they are pregnant," he says. "Things like menstruation are considered trivial."
Menstruation myths and anxiety
On a sunny April day, a tall, thin, young girl is tending her flock of sheep in the picturesque Shalimar area of Srinagar. With a long staff in her hand, she walks barefoot through the damp grass. Exhaustion and tiredness are etched on her face.
Shama, 15, who started menstruating a year ago, says it's tougher during the "three days" that she says her period lasts. It's not only the pain, but something else that worries her. She believes that if she looks into a mirror while menstruating she might develop a severe skin ailment – a popular myth among the tribal people of Jammu and Kashmir.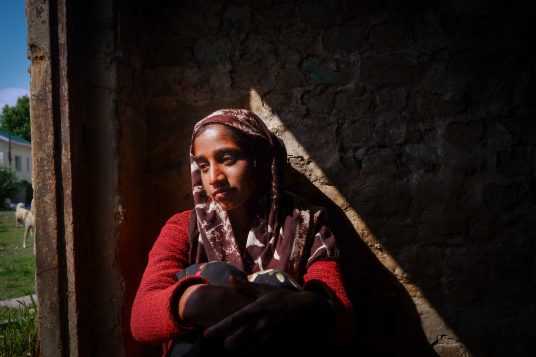 Shama has some skin blemishes on her face — probably caused by sun exposure — that she thinks are the result of looking in a mirror while on her period. She's afraid of accidentally doing it again, because she believes it will blacken her face.
She rarely sleeps, she says. "Sometimes, in the middle of the night, I have these nightmares where I see my face has turned as black as charcoal."
Shama explains that she knew nothing about menstruation or hygiene and that her mother never spoke to her about it: "I learned about periods from a friend." 
The Bakarwal and Gujjar community form around a third of the population of Jammu and Kashmir. Dependent on sheep and cattle for their livelihood, they undertake a biannual migration: in summer from Rajouri, their ancestral home, to the mountain pastures of Srinagar and, in winter, back down to the plains of Jammu. They are the most marginalised community in the region and live in extremely impoverished conditions.
Menstruation is a taboo subject. Women not only hide the fact that they are menstruating from men, but often shy away from speaking about it with other women, says Shazia Chaudhary, a young Gujjar activist who educates nomadic groups about hygiene.
She says that lack of education is to blame for the persistence of superstitions and taboos: "Less than 10 percent of tribal women are educated. All their information about menstruation comes from age-old sources, which leads to women believing these myths."
Awareness campaigns – and hope
Rukhsana, 18, and Kausar Jabeen, 16, both Bakarwals, are waiting outside a local hospital in Harwan, Srinagar. They have come to ask the gynaecologist for tonics.
Kausar's face is pale. "You have only four pints of blood in your body. And you are suffering from anaemia," a doctor tells her as her friend lets out a heavy sigh.
Their friendship dates back to childhood, when they travelled with their parents, other relatives and a caravan of livestock from Rajouri, across the treacherous Pir Panjal mountains, to the beautiful meadows of Doodhpathri in Budgam district. Today, they live in temporary tents on the outskirts of Srinagar city.
Rukhsana occasionally uses sanitary pads, while Kausar, who still suffers from the anaemia triggered by menstruation, makes sure that she changes her cloth regularly and washes it with soap, a practice she says she learnt from social media.
Both girls have little education, but they occasionally use their parents' mobile phones. They saw a Facebook post, an advertisement by the Indian government, which runs regular menstruation awareness campaigns. A successful Bollywood movie named 'Pad Man' was also made on the subject in 2018.
"I collect money to buy sanitary pads," says Rukhsana. She is surrounded by female relatives and friends, who all burst into laughter at this conversation about menstruation.
Pointing towards the stream, where they often clean their menstrual rags, Rukhsana says: "We tribals have no permanent spot to live in. We keep moving, much like the water in this stream." 
Chaudhary, the Gujjar activist, recently held a counselling session on menstruation for around 70 girls aged 14 to 16. The girls were shy and reluctant to talk. "I showed them an educational video on hygiene. Most of the girls turned their heads away," she says. Their mothers did not turn up for the event, she adds.
However, she believes that thanks to such awareness campaigns, things will change: "It will take time, maybe years or even decades. But there is hope." 
Dr. Riffat agrees. "With the advent of mobile phones, a small but significant number of tribal people have started to take care of their menstrual hygiene. But there is still a lot of work to do."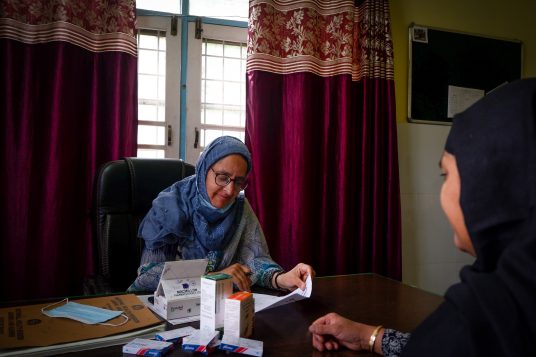 Problems for nomadic women
The new highway connecting Srinagar with Jammu, 260 kilometres away, carves its way through lush green fields surrounded by tall poplar trees and snow-capped mountains. On either side of the highway are a series of tarpaulin tents. One, beside the River Jhelum, belongs to Mohammad Nazir, 70, a Bakarwal. 
Nazir's two sons, who are in their thirties and have six children between them, know nothing about menstruation. "It is something we never speak about, not even with our wives," says one son, Arshid Ahmad.
But his wife, Razia Bano, who is 35, has a story to tell.
Razia vividly remembers summer 2014 when they were travelling from Rajouri to Awantipora in south Kashmir. The 200-kilometre journey takes a month and involves trekking through high mountain passes populated by potentially dangerous wild animals.
Razia, who has done this journey since childhood, had to face an invisible enemy – an untreated vaginal infection. "My period was over, but I had been using the same cloth over and over while travelling and I developed an infection, which led to consequences I can never forget," she says. These included a rash, a serious fungal infection, and heavy bleeding.
Dr. Riffat, who also prefers to go by her first name, works at a Srinagar hospital and treats tribal women, says that these kinds of infections often cause fever and vomiting and sometimes pelvic inflammatory disease (PID). "It can be quite painful. Add to it fever and other ailments, and you know how hard it can get for a woman," she says.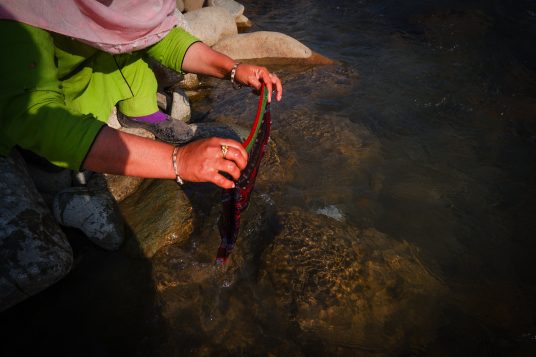 What added to her misery was that she could not share her problem with anyone else due to the stigma surrounding menstruation. "I was very stressed not being able to talk to my husband," she says.
Razia wishes she had known about sanitary pads. "I make sure my daughter now wears one. I don't want her to suffer like I did," she says.
This article was first published by Open Democracy.
---
The Kashmir Walla needs you, urgently. Only you can do it.
We have always come to you for help: The Kashmir Walla is battling at multiple fronts — and if you don't act now, it would be too late. 2020 was a year like no other and we walked into it already battered. The freedom of the press in Kashmir was touching new lows as the entire population was gradually coming out of one of the longest communication blackouts in the world.
We are not a big organization. A few thousand rupees from each one of you would make a huge difference.>
The Kashmir Walla plans to extensively and honestly cover — break, report, and analyze — everything that matters to you. You can help us.
Choose a plan as per your location