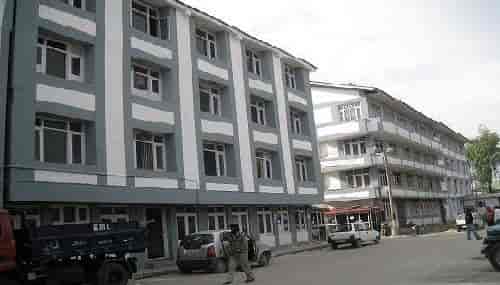 The Srinagar Municipal Corporation (SMC) has formed three special Task Force teams headed by three Joint Commissioners to conduct a special drive against unauthorized illegal construction in Srinagar.
The step follows after reportedly police has alerted the SMC about 277 illegal constructions going on in the city.
Kashmir Dot Com is in possession of the list of the 277 illegal constructions going on in the city.
Deputy Mayor Parvez Qadri on Monday told Srinagar based news agency Kashmir Dot Com that if police has framed the list of illegal constructions in the city, it should take action and register FIR against all those citizens and officials who are found involved in violation of law.
"At my level, I have been stopping and demolishing illegal constructions in the city since I was elected as deputy mayor. But the new SMC commissioner barred me from taking any action or stopping illegal constructions in Srinagar," Qadri had said.
The SMC commissioner Athar Amir Khan has asked the special teams to launch a ten day's special drive the unauthorized and illegal constructions in the city shall be undertaken by Task Force teams headed by three Joint Commissioners of the Corporation from 17/11/2021 to 27/11/2021."Srinagar Municipal Corporation has constituted three Task Force teams in order to completely check and curb any sort of illegal and unauthorized construction in the city. An order vide No.SMC/PS/Com/1959-79 dated: 15/11/2021has been issued by Commissioner SMC Mr. Athar Aamir Khan," a statement issued by SMC said.
The three Task Force teams has been allocated different zones in the Srinagar City which shall inspect and check ongoing construction activities in all Municipal Wards.
"These teams shall also check and verify the complaints received regarding illegal/ unauthorized construction and initiation of necessary action in each case," it said.
The mandate of Task Force teams will also be to report regarding delinquent officers/ officials/ PRs, who are found involved in illegal construction or are found in connivance with the violators.
The statement said that the photographic and video evidence before and after the demolition/ removal covering all sides of the illegal construction shall be annexed with report of each and every such construction removal/ demolition undertaken in accordance with law.
"This drive will be in addition to the usual Enforcement/ Anti Encroachment work done by the Enforcement wing as well as ward level functionaries," it said. (KDC)
---
The Kashmir Walla needs you, urgently. Only you can do it.
We have always come to you for help: The Kashmir Walla is battling at multiple fronts — and if you don't act now, it would be too late. 2020 was a year like no other and we walked into it already battered. The freedom of the press in Kashmir was touching new lows as the entire population was gradually coming out of one of the longest communication blackouts in the world.
We are not a big organization. A few thousand rupees from each one of you would make a huge difference.
The Kashmir Walla plans to extensively and honestly cover — break, report, and analyze — everything that matters to you. You can help us.
Choose a plan as per your location