"Mate, you are not letting me play," England's sensational middle-order batsman Johnny Bairstow told a young Kashmiri pacer as an outswinging ball, pitching outside leg stump, uprooted his off stump.
Mateen Teli, a 28-year-old pacer from north Kashmir's Sopore, recently got a dream call from the England Cricket Board, inviting him to bowl at net sessions at the Trent Bridge before their second test match with New Zealand. The British were playing Kiwis in the ongoing three-match test series.
Teli is the latest addition in the fast growing list of pacers from Jammu and Kashmir, who are leaving their mark at the national and international level.
A speedster from Jammu, Umran Malik created buzz in the cricketing world after his impressive debut in the recently concluded Indian Premier League (IPL). In 14 matches that his side played, he took 22 wickets, including a five-wicket haul.
Malik, who was filling in the Sunrisers Hyderabad squad as a net bowler, got his chance to play in the side when their first choice T Natarajan went out due to Covid-19.
Malik's sheer pace — clocking 157 kilometers per hour once — immediately caught the eye of all the cricket followers. But more importantly, he was noticed by the Indian team selectors. 
Soon, after the end of the league Malik received the expected call and took part in the Indian team's tour of South Africa. Then the Ireland tour.
A legacy … of challenges
This generation of pacers, including Malik and Teli, is following the path of genuine fast bowlers from the region's history.
In 1985-86, Abdul Qayoom Bhagaw, a resident of south Kashmir's Anantnag, emerged as one of the fastest bowlers in India. But despite rubbing shoulders with India's greats  including VVS laxman, Rahul Dravid, and Javagal Srinath, Bhagaw never made it to the Indian side on the international level.
Former players and experts from J-K told The Kashmir Walla that more than his talent it was the political situation in Kashmir back then that played a spoilsport for the Bhagaw to don the Indian jersey. It was then compounded by the limited platforms available for young players to break in.
Bhagaw blames lesser media coverage during his playing days as one of major factors for him not making into the Indian side. "Today, even if a person posts something on social media, he immediately gets recognition and becomes the talk of the town," he said, strolling in the Sher-e-Kashmir Cricket Stadium in Srinagar. "It was not like this in our time. We had to cross a lot of hurdles to come into the selectors notice."
Bhagaw remembers the six-wicket haul on debut against Services in 1985-86 in a Ranji Trophy match. It led to his selection in the North Zone. 
"In a North Zone match, I picked up seven wickets against Punjab, five of those came from a bouncer," he recalled. Among his prey were Navjot Singh Sidhu, Vikram Rathour, and Gurcharan Singh.
Despite his impressive performances in the presence of Kapil Dev, Manoj Prabahkar, and Chetan Sharma, Bhagaw never made it into the Indian team. "Those days' selectors were not fond of picking up too many players from the same zone. So, it was quite impossible for me to get a place in the Indian team in the presence of Kapil, Manoj and Chetan."
Bhagaw, who is currently a member of Jammu and Cricket Association (JKCA) advisory committee and the regional head of the talent hunt programme 2022, said that Kashmir has always produced good fast bowlers.
"In my childhood, there were fast bowlers like Abdul Qayoom Khan aka Qayoom Chana from Kashmir and Mehboob Iqbal from Jammu who had the potential to play for India," he said. "But again lack of opportunities has always been the obstacle for players to showcase their talent at the highest platform."
Samiullah Beigh, a former right arm bowler and J-K captain, played for North Zone for nearly a decade. "Despite taking several wickets in Ranji Trophy, in eight seasons I played only two matches for North Zone," he said. "I served drinks for the rest of the time."
A monumental shift
Though there has never been a dearth of the fast bowlers in Jammu and Kashmir, things started to shift for many players after the entry of the Indian cricketer Irfan Pathan.
In 2018, Pathan came as a mentor into Jammu and Kashmir's Ranji team not only improved the team's performance that reached the quarter-finals of the 2019-20 season, but also traveled in length and breadth of Kashmir in search of the "raw talent".
Pathan, who has played 29 Tests and 120 ODIs for India, in an interview to The Indian Express said there would be more Umran Maliks in Jammu and Kashmir.
"There are a lot of youngsters in Jammu and Kashmir who are coming to cricket. That is the best thing that has happened to India," Pathan said.
Beigh, who is currently coaching the senior men's team, said that "in the next two years you will see two to three [international level] players emerging from Kashmir."
Indian Premier League
Today with the influence of social media and platforms like the IPL, talents like Malik have to toil less to be recognized at the highest level.  
In the last few seasons of the IPL, many Kashmiri fast bowlers including Basit Bashir, Sharukh Dar, Rasik Dar, and Mujtaba Yousuf have been picked by different squads.
Bashir, a 19-year-old from north Kashmir's Kupwara was a part of Punjab King's net bowling contingent in the recently concluded IPL 2022. Similarly, Dar, a 26-year-old swing bowler from Srinagar's Soura, was part of the net bowlers for Sunrise Hyderabad in this IPL season. Rasik Dar, who played his first IPL match in 2019 for the Mumbai Indians, before he was banned by the BCCI for age fraud, was picked up by the Kolkata Knight Riders (KKR) this season.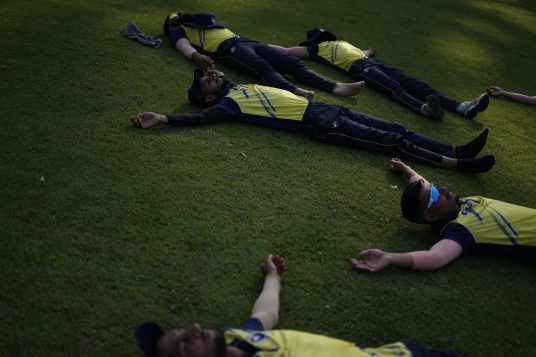 Yousuf, who was with the Royal Challengers Bangalore (RCB) team last season, explained his stint in the team as "remarkable experience" for his growth.
"I bowled to Virat Kohli and AB de Villiers. It was a rich experience to be in the camp with such great players," Yousuf told The Kashmir Walla, adding that it was a great learning curve.
Mujtaba said that Pathan's intervention in the J-K cricket made a lot of difference in terms of bringing "professionalism in the game".
Pathan selected 100 cricketers from across J-K in different age groups. He spotted Umran Malik at the Science college ground in Jammu. Similarly, he picked Sharukh, Basit, and Rasikh at Sher-e-Kashmir Cricket Stadium in Srinagar. 
However, several players like Sopore's Teli are shedding hopes due to "non-professionalism" at perpetual display by the JKCA.
"I had quit playing cricket for two years after being ignored by the selectors in JKCA," Teli told The Kashmir Walla. "For four years they made me run from pillar to post without giving me a chance to play."
He went to England for further studies, giving up his dream of being a fast bowler. 
However, the destination had something else stored for him. "In England, my uncle  insisted that I should join a local club." Teli joined Cavaliers and Carrington Cricket Club and was immediately recognised for his pace. 
Soon, Teli had an opportunity to play for Nottingham Cricket Club, but with no track record of any domestic matches and being a non-british, he faced yet another disappointment. "Then suddenly I got a call to join as a net bowler with the England cricket team," Teli said.
During the net session, Teli impressed the bowling coaches of England as he bowled Bairstow and another top-order batsman Zak Crawley. He is optimistic that after his impressive net session with the England team, he would get more chances to play at the highest level.
"I am ready to play at any level," he said, adding that it is the field of cricket that drives him. "Even if I get a call from JKCA, I will be available for the trials."
---
The Kashmir Walla needs you, urgently. Only you can do it.
We have always come to you for help: The Kashmir Walla is battling at multiple fronts — and if you don't act now, it would be too late. 2020 was a year like no other and we walked into it already battered. The freedom of the press in Kashmir was touching new lows as the entire population was gradually coming out of one of the longest communication blackouts in the world.
We are not a big organization. A few thousand rupees from each one of you would make a huge difference.
The Kashmir Walla plans to extensively and honestly cover — break, report, and analyze — everything that matters to you. You can help us.
Choose a plan as per your location