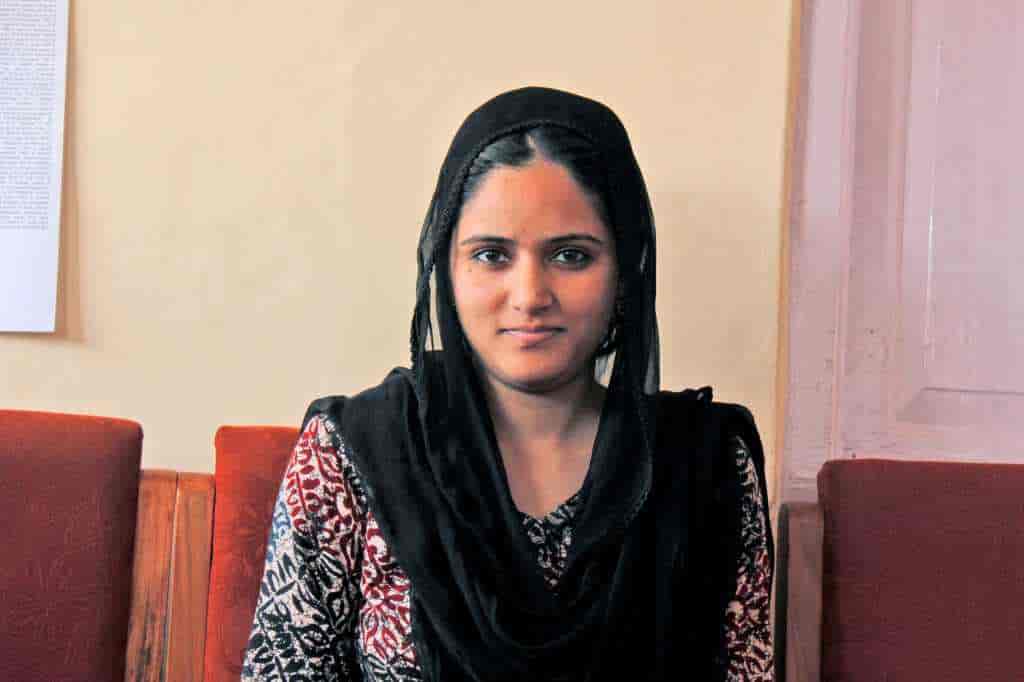 Ifrah Butt
Human Rights Activist
Tell us how did you decide to become an activist, working for the people?
After I completed my under-grad in social work studies, I joined JKCCS [Jammu and Kashmir Coalition of Civil Society] as an intern. I, along with other female activist, was working on a report about sexual violence against the women. While working on this report we came to know about an incident of mass rape and torture in twin villages of Kunan-Poshpora in Kupwara district of North Indian Occupied Kashmir.
A support group was formed for justice to Kunan Poshpora survivors and then we filed a PIL [Public Interest Litigation] in High Court for implementation of SHRC [State Human Rights Commission] orders and re-investigation of this case. Before joining JKCCS, I had a little bit of knowledge about the twin villages, of what had happened there or in any other place, done by the Indian Police or Army forces.  While working on these cases we got to know about many other human rights violations like PSA [Public Safety Act], torture, disappearance, fake encounters, rapes and molestation. I became aware of the atrocities committed on Kashmiri people.
I then dedicated my work to focusing on women mainly but later on I started working on many other issues as well. I could not restrain from working on other human rights violations at the hands of our occupiers.
How do you see the current political situation of Kashmir?
Current political situation of Kashmir is same what is used to be before 20 years, people needed right to self-determination then and today people also need the same. Only the mode of the resistance has changed. Twenty years ago people demanded it in one way and now they are demanding it through another way.
I believe this is the only difference. The situation is not going to change by developmental processes. Development is a good thing and it should take place but it will be effective only when we will be given our right to live peace fully. When my life is at stake I will never care about development.
Several young people have joined mainstream politics coming from different fields. Do you think any change because of that?
I think only a small group of youth is joining mainstream politics but I think they cannot make any big change. I believe they have opted politics as a sort of career for themselves. They assert that they will be the change makers but the change they wish to make is not possible in this setup. However, they can play their part by showing the real situation to the whole world. The fabricated picture of Kashmir needs to be castigated.
What does election mean to you?
Elections? [Smiles] For me it means selection. There is no democracy in Kashmir it's an occupied land. Therefore voting strengthens the occupation of India in Kashmir. During the time of so called election, political parties keep blaming each other. They usually censure the ruling party as well as the opposition.  But nothing changes when the same party is on the ruling side.
Being an activist working in volatile Kashmir how do you see post–Afzal Guru hanging situation?
Hanging Afzal Guru gave the new generation a message and they have realized the institutional injustice and dishonor they suffer as a Kashmiri. So many years after Maqbool Butt's hanging, Afzal Guru's hanging has clearly exposed India's policy about Kashmiri people. There were death penalties to Rajiv Gandhi's killers and many others belonging to different parts of India. Why they were not hanged? It clearly shows that there is a biased vision when it comes to Kashmir. Kashmiris are not treated the way India expresses and people are angry about his hanging. I personally believe it was expected that he will be hanged some day or the other because we are Kashmiris and it has happened before, it is happening and will continue to happen.
There are two sides of Kashmir's politics, mainstream and separatists. To what extent do you think they have been able to represent the people?
Mainstream has never been able to represent the people of Kashmir. These parties ask for votes in the name of roads, electricity and water but the main issue of resolving the Kashmir dispute is not talked by them. People here want self determination unless and until mainstream won't talk about it they cannot represent people because many people have given their lives for the sake of freedom.
However, separatists have been able to represent people up to some extent by showing love towards the people of Kashmir by demanding freedom for long time. Their goal is one, although the approach is different. They should try to avoid differences, come together and support the cause.
Can you say that youth of Kashmir has taken up politics now or is it too early?
No we can't say it is too early. Some day or the other they had to take it and it is good they have taken it from here only. It will take time and unless and until we don't know about our past we will not be able to do anything. But it is really good youth has taken up politics and is engaging in the process. It is the responsibility of youth who are the stakeholders to take part in the ongoing political exercises.
As a young activist what do you think is the way forward for the solution of Kashmir issue?
I believe a dialogue process between India, Pakistan and Kashmir is the solution for this issue. It should not be between India and Pakistan only, both countries should consult Kashmiri people what they want. India should realize that Kashmiris won't be able to live peacefully under them. So they should engage themselves in a dialogue process for our betterment if India really cares about us.
Both India and Pakistan are growing and within few years they will be developed but unless and until Kashmir dispute is not solved, I don't think India can be called a developed nation. It is a fact India is occupying Kashmir illegally and the issues like land lease, killings, torture, rapes etc. will always highlight it. I believe time has come for India and Pakistan to solve this particular issue.
What is happening with Kunan-Poshpora mass rape case now? Why do you think state is not facilitating its quick trial?
The case is still going on after 23 years. The state is trying to exhaust us by delaying the case. The victims are yet to be heard. The closure report of the case was filed in 2013 while as the state has always been asserting that the investigations were completed in 1991.
Two survivors filed a protest petition on closure report before the Magistrate of Kupwara, through Advocate Parvez Imroz, arguing the matter and it requires to be investigated further, as proper investigations were never conducted.
The army has filed a revision petition challenging the Magistrate's order of further investigations, and arguing that the investigations should be shutdown. The army has been adamant about their position. The survivors are harassed and threatened only to close the case and I believe that the state is waiting for the death of victims as they know victims are old aged and five of them are already dead. Once they die ultimately the case will be closed. But we have been reiterating our slogan: "we will not forget we will not forget".
---
The Kashmir Walla needs you, urgently. Only you can do it.
We have always come to you for help: The Kashmir Walla is battling at multiple fronts — and if you don't act now, it would be too late. 2020 was a year like no other and we walked into it already battered. The freedom of the press in Kashmir was touching new lows as the entire population was gradually coming out of one of the longest communication blackouts in the world.
We are not a big organization. A few thousand rupees from each one of you would make a huge difference.
The Kashmir Walla plans to extensively and honestly cover — break, report, and analyze — everything that matters to you. You can help us.
Choose a plan as per your location