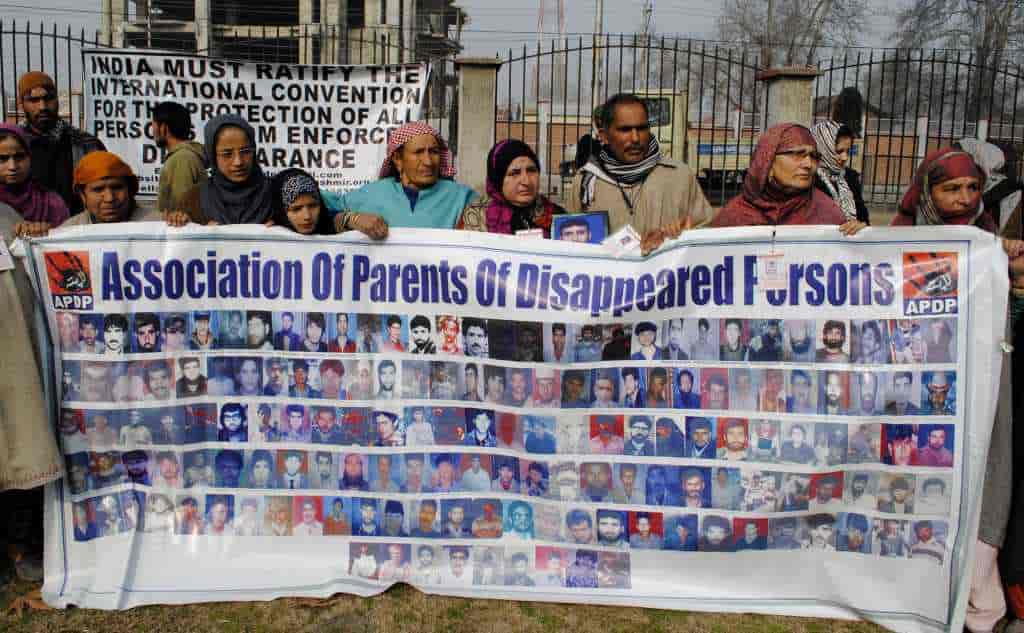 In one of the world's most violent conflicts, Kashmir, continues to remain under the strong presence of Indian troops. The disputed territory, an outcome of the catastrophic partition of British India, has been going through its worst phase since the late 80s after the armed rebellion for independence was started by the youth.
Thousands of Kashmiri men have involuntarily disappeared during this two and a half decades. Several men are believed were arrested, taken to torture centers or the army camps from where majority of them didn't return. A human rights organisation, Association of Parents of Disappeared Persons (APDP) was started by a few family members of such disappeared person and they estimate that the number of teh disappeared persons in Kashmir is between 8000-10,000.
The members of this organisation continue protests. Pratap Park, situated in the heart of the Srinagar city, has become the meeting point for these ailing aged parents, wives, and children of the victims of enforced disappearance. Every month they gather in the park to seek the whereabouts of their kins or at least to be told about the graveyard, if the person has been killed, of their missing family member.
Many of them, during this longing to see their sons or husbands, have died but their endless wait continues.
Missra Gassi
She waited for nearly seven-years to see 'one' glimpse of her beloved son before finally closing her eyes in 2007. Missra Gassi (50) was standing in the kitchen when she last saw her son – smiling and talking to her about his long day at work as a fruit-seller – when a unit of Indian armed forces barged inside and took away Shabir Ahmad Gassi.
Shabir was allegedly picked by 6 Rashtriya Rifles, the infamous wing of the Indian Army, on 21 January 2000 from his house in Boatman colony in Bemina.
"He had just stepped inside the kitchen and was talking to his mother after returning from work when suddenly armed force stormed inside our house and took him with them," his father Ghulam Nabi Gassi (60), tells me while sitting inside his small shop attached to his single story house.
"The moment they took my son near the Army vehicle, Missra came running out, bare headed, only to save her son from being taken away. She went to Amry officers who were present there that time and asked them the reason for taking her son. But Army personnel did not reply and left," he says.
After this, Missra, who refused to take food for several days, stared at the road waiting for her son. "Each time an Army vehicle would pass, she used to run after it madly as if Shabir was being taken in those vehicles," her husband says, sitting near a window inside his living room, with his grand-daughter, looking at the unpolished pink walls.
Gassi takes a deep breath and puts his hand on his head and talks about what happened after six months of the incident when he got information from a milkman. The milkman, who sells milk a few meters away from his house, told him about his son being in Kulgam.
On hearing that news Missra had come running out of the kitchen and with a smile on her face, asked her husband to rush to Kulgam and bring her son back. "I reached Kulgam Army camp and recognized the Army Major who was present at the moment when Army had taken my son. When I spoke to him he refused to accept that they had taken my son," he says in a grave voice.
He adds that it took him eighteen days to return from Kulgam, as he had a tiff with Army officers. "I failed to convenience them (Army) and returned to home. I found people coming out of my house so I quickly ran inside and found her (Missra) lying on the floor. She was unconscious as she had heard that I, too, had been taken into custody by the Indian forces. When she opened her eyes she asked me about Shabir. Tears flowed from her eyes after I told her that I could not get our son back."
Missra and her husband went to many spiritual people or soothsayers to seek information about their son. "Every Friday and Tuesday she used to go to shrines and distribute Tehe'ar (Turmeric Rice) among the devotees," he says.
Missra's health was declining due to depression and no information about her son was making her weak. She breathed her last in memory of her missing son in 2007 and was laid to rest in their ancestral graveyard at Mallkha on the out skirts of the Srinagar city. "I tried my best to save her, took her to various doctors but all my efforts went in vein. She left this world and left huge responsibility on my shoulders," he adds.
Ghulam says his wife had once come in his dreams and asked about the family. She also told him, "meh chu ne karaarie, Khanmoal Chum na lapatta" (I don't have peace, my beloved one is still missing). Ghulam bursts into tears and cries, as her granddaughter gets up and tells him to keep quiet as God is watching everything and he will deliver justice to them soon.
Between his sobs, Ghulam murmurs a Kashmiri song, "afsoos dunia kaence na logg sansar seethie" as her granddaughter wipes the tears rolling from his cheeks with her fingers. He takes a brief pause, looks at me and then says, "since she passed away I don't recognize day and night, my dreams are totally shattered and now I'm completely broken."
Ghulam is one of the hundreds who are associated with the APDP – lives with his daughter in-law (Shabir's wife) and his two grandchildren; Bisma Gassi (14), and Wasim Ahmad Gassi (14).
***
 Zoona Begum
Zoona Begum (90) mother of Imtiyaz Ahmad Wani of Rajbagh Srinagar, died while seeking the whereabouts of her son – a government employee – who worked as a forester in Jammu and Kashmir forest department and was subjected to involuntarily disappearance allegedly by "Ikhwans" (Pro-government millitia).
I boarded a bus after coming out from Ghulam's house and started my journey towards Imtiyaz Ahmad's house. I walked through a narrow lane and asked people, on my way, about Zoona Begum and Imyitaz's house. Suddenly, a man with long white-beard came out from a single story house, wearing a Pheran, (woolen cloak), round skull cap with a walking stick and stopped near its gate. I asked him about Zoona Begum and he replied, "She was my wife and she died three years ago."
Ghulam Mohammad Wani takes a step back, inside his house, and I follow his footsteps. He reopens the main gate and we head toward Wani's living room. The room's right wall is decorated with the holy verses, "Laa ilaaha illal, lahoo Mohmmadur Rasool ullah" (there is no god but Allah and Muhammad S.A.W is his messenger) painted on a dark green cloth.
The other half side of the room is covered with pale green cloth painted with Kabah and Madina – the two holy places for Muslims. Wani does not remember the date of his wife's death. All he knows is that she struggled for fifteen years – from 1996 to 2011 – to get her son back. While talking, he suddenly gets up restlessly and puts a white skull cap on my head. He takes me to a small dark chamber inside his room where he prays. He shows me a date carved with golden color on black marble. Wani has two main events related to 15 May; one is the death anniversary of his wife and the other is anniversary of his son's disappearance. He sits next to me and says "every dream shattered."
Wani believes his son was subjected to disappearance by "pro government militia, from nearby area Kursoo Rajbagh and Ikhrajpora. "They came wearing police uniform, dragged him and flew away. Next morning we went to Farooq Abdullah the then Chief Minister. He said that he (Imtiyaz Ahmad) will be released after three days and since then 18 years passed but those three days never came," he says as he lifts his hands in the air and shouts loudly, "Those who ruined happiness of my family, May God destroy their entire family."
Zoona was a pious lady in her early age as she kept herself busy with prayers the way her husband and he calls himself as Sheikh Mohammad Abdullah's (founder of National Conference) "mentor" for a decade.
"Whenever someone provided us with the information about his presence that great lady used to rush bare foot and I would follow her with her shoes or sleepers," he says while wiping tears from his wrinkled cheeks with Pheran.
Ghulam again raises hand in the air and says, "If government believes that life will return to normalcy it is their misunderstanding, because they have killed innocent people, children, and women. Their blood was shed on this soil, everything will vanish and I am praying for their destruction who so ever is involved in it." He takes a deep breath and stands up and shouts, "The Ikhwans acted like a slow poison and at the end it killed her (Zoona) slowly."
"Zoona kept searching for our son till her death and she might be searching him in paradise after her death," Wani says. A man enters the room and tells me to stop the interaction. "Making people talk about their past is like throwing acid on their body," the man tells me.
Wani gets up and brings the family album, moves his hand over it. "It is me and my wife and this handsome is our son," he says with wet eyes while looking at the family photograph.
***
Hussaina Begum
"I searched for you on borders, where are you my son?" with these words Hussaina Begum left this world after waiting for 13 long years for return of her son Syed Anwar Shah. Syed's half widow Naseema Shah now lives in a rental apartment at Fateh Kadel with her daughter.
Naseema believes her husband was taken away by the government forces. Sitting with her daughter Shazia Anwar and a niece in a narrow kitchen. She tells me that Anwar has been missing since 21 July 2000.
The family had migrated from Dullipora village of Handwara district of north Kashmir after Anwar's father died. Anwar initially used to be an auto rickshaw driver then later worked as a painter.
"My mother-in-law went almost everywhere to trace her son. Sometimes she went alone, only to see Anwar at least once before her death," she says politely as her daughter Shazia (12), finishes household chores. "She was not only my mother in-law but a guide and she left us all alone to fight this cruel world," she adds.
Hussaina had lost her eye sight due to crying for her son's return and at the end she died due to continuous ailing for two years. "She did not get the proper treatment due to poverty. She needed a pacemaker and we did not have enough money for that," Naseema said.
Naseema's daughter Shazia told The Kashmir Walla that she misses her grandmother very much as she was everything to her. "She used to tell me tales about my father whom I have never seen except in photographs. She would also tell me tales whenever I missed papa."
Shazia wants to be a human rights lawyer as her grandmother wanted. "There are thousands of children like me whose fathers are missing. I want to fight for them and for other women like my grandmother who have become unnecessary victims," she adds. Shazia puts her hands on her face and cries. Her cousin sister, sitting on her side, hugs her and tells her to be "brave if she wants to fulfill her grandmother's dream."
Hussaina's dream to bring back her son home is carried forward by Naseema and Shazia as both of them go out to protest against it on the tenth of every month. "She (Shazia) holds my hand and we move towards the place where we protest," says Naseema.
Naseema and her daughter believe that Anwar is alive and is imprisoned in one of the jails of the valley. "We, including my mother in-law, tried to convince ourselves that Anwar is dead but our heart never accepted that. My daughter and I believe that he will return and will live with us the way he used to be," she says.
Terming these deaths as a shame on the Indian democracy, Parveena Ahanger, the founder of APDP told The Kashmir Walla that these women have died while seeking the whereabouts of their loved ones. "It is a shame on the Indian democracy. It is also a shame for Omar Abdullah who has been protecting these men who are behind such inhuman acts," Parveena said. "APDP will continue to fight till its last member is alive and won't stop until we succeed in our mission."
"Six mothers and four fathers died before seeing their sons. The draconian laws like AFSPA must go and the forces must be held accountable for every human right violation," adds Ahanger. Mehtaba Begum mother of Mohmmad Yakoob Khan, Hameeda Parveen mother of Abid Hussain Dar, Haleema Beigum are some other women who have passed away in recent years.
Photograph by Shahid Tantray
---
The Kashmir Walla needs you, urgently. Only you can do it.
We have always come to you for help: The Kashmir Walla is battling at multiple fronts — and if you don't act now, it would be too late. 2020 was a year like no other and we walked into it already battered. The freedom of the press in Kashmir was touching new lows as the entire population was gradually coming out of one of the longest communication blackouts in the world.
We are not a big organization. A few thousand rupees from each one of you would make a huge difference.
The Kashmir Walla plans to extensively and honestly cover — break, report, and analyze — everything that matters to you. You can help us.
Choose a plan as per your location