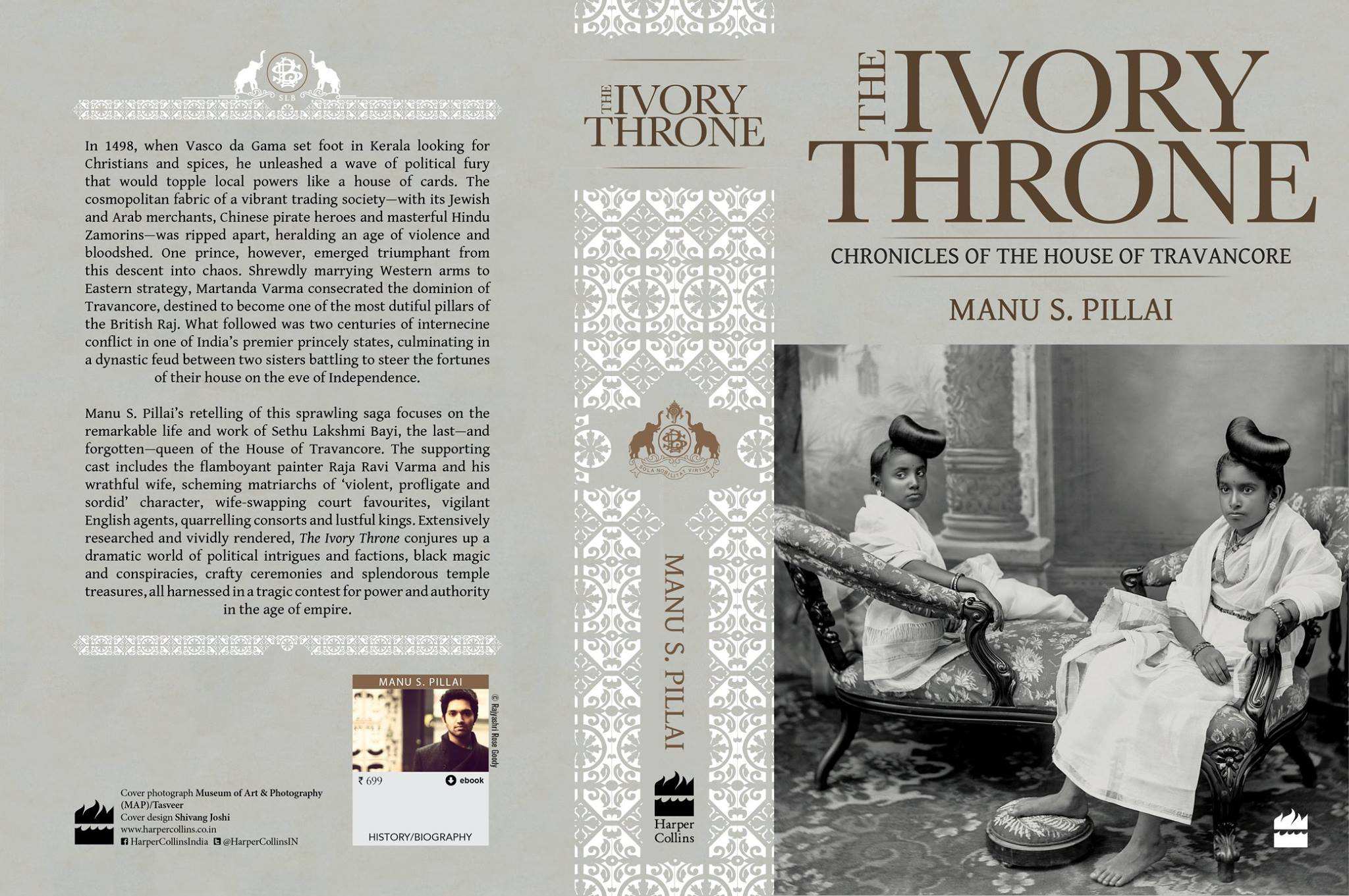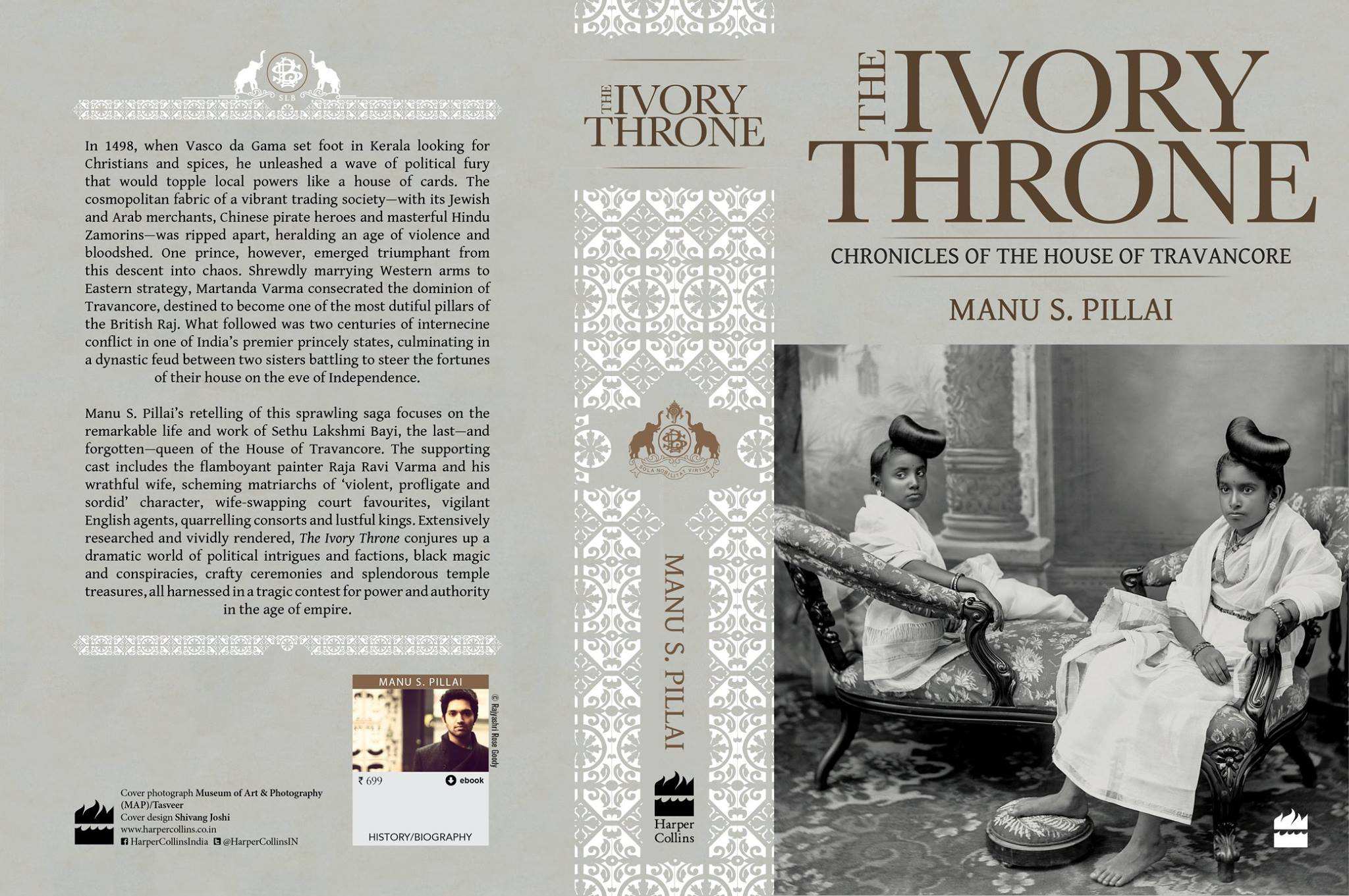 Manu S. Pillai is aged twenty-six, when he has produced this most remarkable work on the extraordinary life and deeds of Sethu Lakshmi Bayi, the last and popularly unknown queen of the House of Travancore – "The Ivory Throne: Chronicles of the House of Travancore". Knowing it took him six years to conceptualize and complete this book in maiden attempt, one has to really applaud the resurgent Asian intellectualism, where the age for serious historiography is now touching the base in early twenties.
His arrival in non-fiction space is something that exhilarates the mind and soul of the readers and critics, alike. Here, a coming of age is truly breathtaking.
The book is primarily a biography, nevertheless it never lacks adroitness while making narratives on the supporting casts including the great painter Raja Ravi Varma and his choleric wife, morally lapsed kings and the matriarchs, wife swapping minions and majors – and cunning English agents. The whole plot gets enveloped to showcase a dramatic world of political overplays, pain-inflicting factions, extra dark magic, never ending conspiracies, loaded ceremonies and temple treasures – all in tandem for an unfortunate contest for power and authority at the age of empire.
Full with intrigues, the story goes back to 1498, when Vasco da Gama set foot in Kerala looking for local Christians and spices and unexpectedly created the new political atmosphere, fully polarized and against the local power elites. Further, it resulted into the destruction of a cosmopolitan fabric, centered on the trading society – comprised with its Jewish and Arab merchants, Chinese pirates and Hindu Zamorins.
An age of violence and bloodshed heralded with the unprecedented changes. When the chaos was the order of the time, a prince found himself in the position to feel cock-a-hoop and astutely create conditions to confluence western arms and eastern wisdom of war and statecraft. The history had to be made in rather strange way, hence Martanda Varma did turn a satrap of densely troubled Travancore and proved himself among the most consistent agents of the established British Raj.
On subsequent phases too, Pillai holds his grip firmly with a stock of meticulous research and offers at length, the description on the riot of incidences that encompassed one of India's premier princely states for over two centuries. The flurry of action and counter-action kept a dynastic feud at high order where the two sisters stayed at loggerheads for the command of their house on the eve of independence.
Precisely, the book keeps at heart, an unwavering urge to recounts the fables of the sick and wary royal members. In doing so, it reaches near perfection and attaining the goal – to tell interestingly on that phase of Kerala's history, which was not attended so strenuously before. Evidently, the book has over 105 pages of notes and nine-page bibliography, which perforce to acknowledge the author's spent youthful years, in sourcing archival resources, journals and newspapers – and conducting far too many interviews.
The pain taken during the research made the author completely hands on to deal with the tangled working of Kerala's pre-colonial and colonial matrilineal system – and the course of development in the House of Travancore. This stupendous exercise of writing spans five generations and more than three centuries and finally makes Travancore a prominent frame of reference.
The book is an anti-thesis to the earlier surfaced works on Kerala, precisely as they did show unflinching determination to offer pious homilies, and unreasonably hover around the kings, queens and elephants. Unlike the typical corps of historians, writing on Kerala, Pillai has a more genuine and human factor of writing – Sethu Lakshmi Bayi. He finds her story remarkable, so is true with the readers who have completed reading his over-grown book.
Sethu Lakshmi Bayi, born as Raja Ravi Varma's granddaughter – at five, she was made the Maharani of Travancore. A queen, she became an establishment figure – with conservative traits and sustaining morality. She ruled over five million people when she was 30. In her 40s, she was sidelined from the state affairs and a few years later, her kingdom dissolved before the greater idea of India. She lived over two decades more as someone without authority and finally died in obscurity.
Her story gripped the author, and out of "blue" – a great book of history came into existence. Manu Pillai has written on history, to create the history. So, he has to stay extra cautious with his future works, as he has set a tough benchmark for himself. As a writer, he must be happy to follow a path, not frequently traveled by the authors of his generation.
*
The author is a New Delhi based journalist and writer and can be reached at [email protected]
---
The Kashmir Walla needs you, urgently. Only you can do it.
We have always come to you for help: The Kashmir Walla is battling at multiple fronts — and if you don't act now, it would be too late. 2020 was a year like no other and we walked into it already battered. The freedom of the press in Kashmir was touching new lows as the entire population was gradually coming out of one of the longest communication blackouts in the world.
We are not a big organization. A few thousand rupees from each one of you would make a huge difference.
The Kashmir Walla plans to extensively and honestly cover — break, report, and analyze — everything that matters to you. You can help us.
Choose a plan as per your location