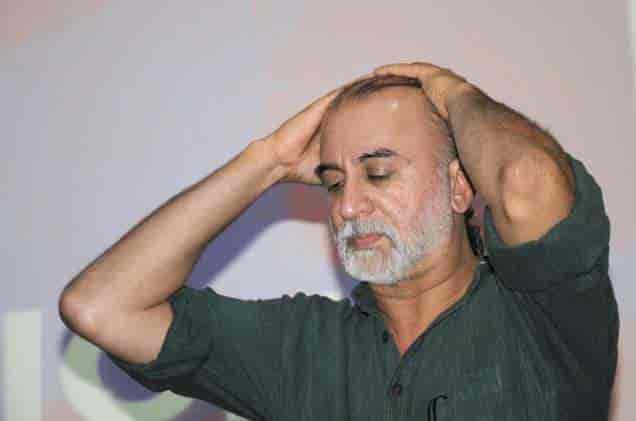 New Delhi: The Goa government on Thursday ordered an inquiry into allegations of sexual assault by Tarun Tejpal, editor of Tehelka magazine, on a junior colleague at the magazine's annual THiNK Fest 2013conference in Goa earlier this month.
Goa chief minister Manohar Parrikar told PTI that "if we find any substance against Tejpal, a suo moto case can be registered against him since the incident happened in Goa. Only after police report, I would be able to speak more on the issue".
Goa's deputy inspector general of police O.P. Mishra said police had asked for complete closed-circuit television footage of the days during which the two incidents of assault were alleged to have taken place. "Only after we get the footage of the tape we will be able to comment further," Mishra said.
Tejpal on Wednesday announced that he was "recusing" himself from his job for six months after the woman journalist at Tehelka complained of sexual assaults by him.
In her written complaint to Tehelka managing editor Shoma Chaudhury, the journalist alleged Tejpal sexually assaulted her in a hotel in Goa during the 8-10 November conference. She is said to have sought the establishment of a committee by the magazine to go into her complaints and take action.
On Thursday evening, Chaudhury said in a message posted on Tehelka's website that the magazine has "now constituted a formal complaints committee, in accordance to Vishaka guidelines, to be presided over by Urvashi Butalia, eminent feminist and publisher, to investigate the matter."
The Vishaka guidelines refer to a set of requirements for employers dealing with complaints of sexual assaults, laid down by the Supreme Court in a 1997 judgment.
Chaudhary also said Tehelka will ensure the "setting up of a formal complaints committee, according to section 4 of the Sexual Harassment of Women (Prevention, Prohibition and Redressal Act, 2013), an institutional mechanism that was sorely missing in Tehelka."
People familiar with the woman journalist had said she was weighing her options and would probably be willing to cooperate with the inquiry that has been initiated by the Goa government.
"Her main aim is to make sure there is an institutional apparatus withinTehelka, such as a sexual harassment committee that would look into such matters," Kavita Krishnan, secretary, All India Progressive Women's Association said before Tehelka announced its intention to set up such a committee.
Krishnan clarified that she was not speaking on behalf of the journalist who was assaulted. However, she added that the institutional response byTehelka had been shabby.
With regard to the legal options available to the victim, Supreme Court advocate Karuna Nundy said, "She can file a criminal case, a suit in court asking for financial damages, in addition to a writ petition through which the government can instruct Tehelka to set up a sexual harassment committee." She said the absence of a sexual harassment committee inTehelka was "surprising".
Nundy said there are larger issues that need to be addressed as well. "The only manner through which this can be weeded out is (through) the law wielding a stick and an internal conviction that would sensitize and habituate a sense of control among relevant actors in the workplace and beyond," she added.
A clutch of human resources (HR) experts believe that a third-party investigation is the best practice for organizations to follow, especially if members of top management are involved in sexual harassment cases. "They should have had an anti-sexual harassment committee in place. For a path-breaking organization like Tehelka, which has strongly upheld several causes, you need to be scrupulous in every dimension, including the internal ones. It is unfortunate that they do not have a mechanism or an established ecosystem in place to address such issues for the employee stakeholder," said Hema Ravichandar, strategic HR adviser and former HR head at Infosys Ltd.
"Given what has happened so far, there is no confidence that this matter can be handled impartially, internally," she added.
Siddharth Varadarajan, former Editor of The Hindu newspaper, believes media organizations need to create a conducive environment for female workers and to make sure they critically examined such incidents. "How can you speak truth to power if you are unwilling to critically examine your own industry?" he asked. "People are fed up with the media holding their own members to other standards."
Meanwhile, PTI reported that the revelations about the alleged sexual assaults have cost Tejpal membership of the Prasar Bharti board.
Tejpal was selected as a member of the board on Tuesday by a committee headed by vice-president Hamid Ansari, people familiar with the situation said. Soon after the allegations came to light last night, Ansari asked the information and broadcasting ministry to cancel Tejpal's membership, these people added.
Courtesy: Live Mint
---
The Kashmir Walla needs you, urgently. Only you can do it.
We have always come to you for help: The Kashmir Walla is battling at multiple fronts — and if you don't act now, it would be too late. 2020 was a year like no other and we walked into it already battered. The freedom of the press in Kashmir was touching new lows as the entire population was gradually coming out of one of the longest communication blackouts in the world.
We are not a big organization. A few thousand rupees from each one of you would make a huge difference.
The Kashmir Walla plans to extensively and honestly cover — break, report, and analyze — everything that matters to you. You can help us.
Choose a plan as per your location