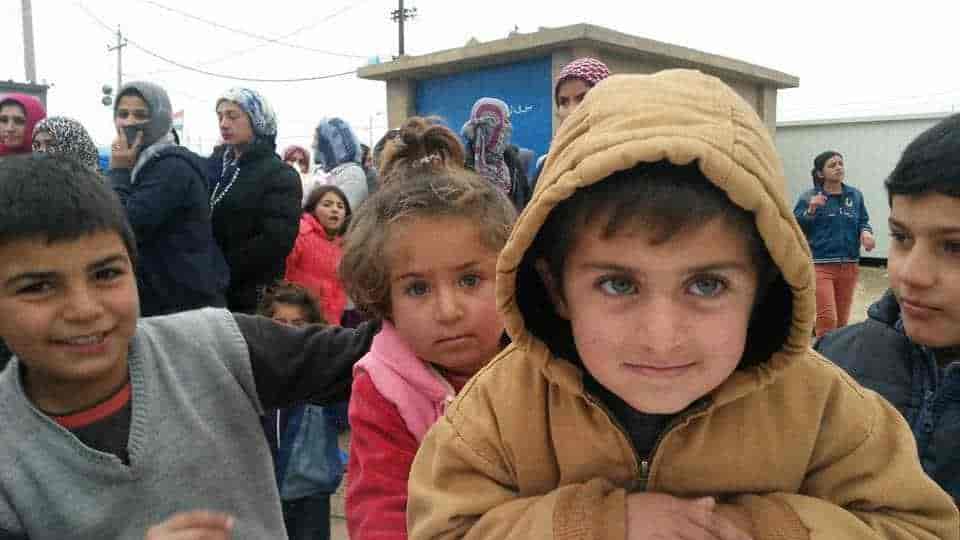 Syria is going through one of the world's deadly conflicts – this civil war, which began as the "Jasmine Revolution" Arab uprising started in March 2011 it spilled over from Tunisia, the countrywide protests against president Bashar al-Assad's government began. The Arab uprising was instigated by the dissatisfaction by populations of the ruling governments, dictatorships, corruption, and monarch rule.  Assad's regime which has been in power for over 40 years, responded with deadly crackdowns against the armed rebellion. The Free Syrian Army and the Islamic Front, both have been fighting the regime's troops. Last year, Hezbollah also stepped in to support the Syrian army. Increased militancy by the Islamic State of Iraq and the Levant (ISIS), a militant group in Iraq and Syria has escalated the civil war into an international war. The United Nations says the death toll crossed 100,000 in June 2013, and reached 120,000 by September 2013.

"The greatest obstacle to ending the Syria war is the notion that it can be won militarily… No one is winning; no one can win. Even if one side were to prevail in the short term, the devastating toll will have sown the seeds of future conflict, "said the Secretary-General Ban in remarks on Syria to the Asia Society, New York, on 20 June 2014.
Twenty-five days after getting married, he escaped Syria. He had to cross borders, deal with smugglers, use fake identities, bribe officials plus hundreds of check points of different battalions. The reason to leave was that the Assad's regime had been after him. His whole family has displaced by now – his three brothers have shifted to Turkey, Libya and Germany. None of the brothers have contact with their hometown, Telaran in East of Aleppo, as there is no communication. His parents and youngest brother are missing and he doesn't know of their whereabouts.
This person, an activist and Syrian born Kurdish decent, whose name has been withheld on his request, escaped the war early 2013. In this interview with The Kashmir Walla's Helena Derwash, he tells us about his journey and what Syria is facing today.
Tell me about life before the start of the war in Syria? There are endless stories of how rough life was under Assad, is this true?
Before the war in Syria we used to have a peaceful life. We didn't engage in politics. We didn't really care much for it, and we were prevented from being a part of the political landscape. Life was more about (providing) food to eat, finding a way to earn money, working, and sleeping. Life was a succession of routine activities, eat, work, and sleep. They were putting a lot of pressure on the Syrian people to keep them busy and occupied with their daily lives. Sustaining yourself to live on a daily basis gave you little time to mobilize to challenge the government, remembering that we were under the control of the same government for 40 years so, there are no elections, no new parties, policies etc. that a democratic nation benefits from.
People thought it would last forever and when we heard of the "Jasmine Revolution" in Tunisia no one ever thought, no way that it would reach Syria. Impossible, but it did and it happened so fast.
How has the war in Syria changed your life?
At the beginning of the Syrian Revolution in 2011 when it spilled over from Tunisia we were very very optimistic that change was coming and we were going to be part of that change, democracy was arriving and we would see the end of the authoritarian regime. Personally, I being a young man was aspiring towards freedom, but my family was very afraid and advising me not to got out or participate in demonstrations. They would say please don't go out and under no circumstances vote against the regime. But during the peaceful part of the revolution I was expressing my rights. I even made placards. Our movement was a peaceful movement. We never wished to take up arms and weapons. We knew it would get from bad to worse if we took this course of action.
Everyone was optimistic. There was a new start for the Syrian people especially for the Kurdish minority in Syria. The Kurdish Syrians have been discriminated by the regime for over 100 years, what originally began as religious discrimination turned to Arab patriotism. They were forbidden to speak their language, study their history, express their culture, or even give Kurdish names to their children. They had to be Arabs and under their full control. So, this group was particularly looking forward to democracy. Uprising for change was a chance for the people to regain their rights, have freedom of expression and literally to be able to have control over their own minds.
In the beginning of the uprising it was all peaceful demonstrations. We had families out, there were no weapons, but soon the military arrived, as did their weapons, followed by the extremists and the radicals. The people saw that the uprising had lost its way and we began to give up and withdraw from the revolution, the military men and extremist began to take our place.
Tell me about your personal journey of escaping the war from Syria to Iraq, and your family.
I come from Telaran, it's a village of 35 thousand people, and a minority of Kurds, who are surrounded by Arabs. There is a militia group – the Kurdish PKK who controlled the village and then ISIS began attacking the town and wanted control. Later, Al Nusra -a Syrian extremist group attacked. The three engaged in battle for control. At this point the Syrian regime started conducting bombardments on the village. There were large number of causalities due to the shelling and then Iranian and Iraqi forces said they were coming to take control so a lot of fighting. When I escaped it was 25 days after I was married and crossing borders, dealing with smugglers, using fake identities, bribing officials plus hundreds of check points of different battalions. Each contact subject to the person questioning you change allegiance and identity, it was a daunting challenge but I had no choice, the regime was after me.
For more than one year my town has been besieged and I have no information on my parents or my youngest brother. We are five brothers, one in Turkey, one in Kurdistan, one in Libya and one was able to cross the sea to Libya, then to Italy, France and is now in Germany. A very dangerous journey. We are all out here, but none of us have contact with the town, there is no communication. My parents and youngest brother are missing. I do not know of their whereabouts.
Assad hasn't stepped down. Where do you think this conflict is headed?
It's going from bad to worse. First, the world was against Assad, now they have started to change their minds. Assad started to appear as the hero, fighting terrorism but really he is a tyrant. Now his forces and militia are advancing everywhere. The rebels, Islamists, are retreating. It is only a matter of time for Assad to take back control of the situation.
So you feel he will remain in power and drive the rebels out of Syria?
Exactly, people are tired of war. They don't care who is in power. They want this hell to stop.
So, the Syrians are better with Assad they know then what they don't know like ISIS?
It is exactly that, Assad or ISIS. As an opponent to the regime, I'll tell you that I want Assad to stay because we are choosing between two devils. Assad is a merciless killer and tyrant who have been responsible for killing tens of thousands and displacing millions. But sadly, there is no alternative.
In May Russia and China vetoed a French backed U.N. Security Council resolution referring the Syrian crisis to the International Criminal Court for investigation of possible war crimes. Why do you think Russia and China keep vetoing these resolutions?
The fact that Syria is the last communist point in the Middle East for Russia, they have their military base in the Syrian shore of Tartous. This is a cold war between the West and East. Sadly, Syria and Syrian people are paying the price of the war.
Do you think eventually the UN will step up to its responsibilities?
Sadly no. It is a war in which no one respects any rules. In January, I was able to talk to Mr. Ban Ki Moon during his visit to a Syrian refugee camp. He said the UN was trying their best to make this war end and reach an agreement. It is not working. Russia, China, Iran, USA, EU, Qatar, KSA; all the players have different interests. Now it is not the Syrian war, part of that original Jasmine Revolution, but the war of all these players at the expense of the Syrian people.
You left Syria for Kurdish Iraq. Do you feel you traded one conflict zone for another?
I had to flee Syria because I was wanted by the regime. There were many issues, like the imposition of Kurds as opponents of the regime. Back in Syria my town has exchanged control over four times. The battle continues and there is still no communication from there. I have lost contact with my wife and not met our daughter yet. She is eight months old. There is no international assistance in locating loved ones. Search brokers have appeared but they are just making money out of the situation. We all use fake identities and that's how we survive. There are many willing to trade information for money, but trust is an issue. Several people are taking advantage, rumors are rife of me supporting different groups and working with foreigners.
Kurdistan was the only point I reached where I could be safe for a period of time. Now there is sectarian violence on the borders of Iraq and Kurdistan. People are fleeing these regions of conflict. There are numerous IDP camps to supply food, shelter, water, medical support, and hygiene kits, allowing these people some respite and working with the central government to relocate them. Most of these IDPs are Shia Muslims and ISIS is conducting bombing, as they are Saudi extremists against the Shias. Being secular decent, I escaped from a frying pan right into the fire but eventually I was able to make it to Kurdistan. It is much safer here than Syria, for the time being. Kurdistan is an autonomous region, part of Iraq, but it is almost a country itself. Kurdistan, Kurdish language, Kurdish media, Kurdish army, is a different Iraq. A referendum for independence will take place in Kurdistan from the embattled Iraq soon.
Now with the rise of ISIS in Iraq, is it difficult to solve Syria crisis?
You can't predict it. It's a complex situation now, many players, many motivations and it is believed that ISIS was established in Syria before the Syrian crisis to create problems for Iraq. Assad allegedly funded them but now they are Jihadists coming from all over the world to establish an Islamic State in Iraq and Syria. They are controlling vast amounts of land in these two countries and their dream is almost becoming a reality.
On May 29 ISIS kidnapped more than 150 Syrian students in Aleppo. What do you see as their aim for this and the Syrian Kurds kidnapping?
They are trying to take advantage of Kurds. They have been trying to attack them for more than one year in my town, Telaran, East of Aleppo. They attacked and slaughtered many Kurdish fighters, men and young civilian. The isolated town of Telaran is surrounded by ISIS and Al-Nusra supporters who were able to take control of it. Things are different in other Kurdish areas in Syria: they kidnap children to brainwash them and recruit them for their own purposes.
Syria is becoming another Afghanistan that has been a war torn country for a long time. It will take years for the country to recover?
The situation in Syria is going from bad to worse. After all this killing and bloodshed people have lost faith in the unity of the country. Other sects and partners are gone now; only military men and secret services will be left to dominate! Being a Kurdish is a very hard reality in Syria since no one is recognizing your rights and all the political bodies are trying to eliminate the role of Kurds.
Has international human rights organisations being successful to help Syrians to any extent?
The Syrian people had been expecting more from the international organisations and they feel let down. The security resolutions are not upheld. There are organisations working on the borders of Lebanon, Turkey, Iraq, Kurdistan and others. Getting inside has been a critical let down as the situation is unstable. There are large parts under the control of the regime. When there is aid arriving, it is being given to the regime's supporters, the loyalists have been selling merchandise to others. The sick and injured are not being attended too; the rebels or civilians are getting little assistance from aid organisations inside conflict areas. Looting, shelling's, bombings and kidnapping are also reasons that have contributed to the lack of internal local or international NGO activities.
What future do you see for yourself and your people?
This is something that goes through my thoughts everyday, over and over and I know I want to leave the Middle East. I considered Europe but a friend who made the journey from Syria to Turkey, and then to Greece, unfortunately he lost his life in the sea.
This changed my mind and one of the reasons I ended up in Kurdistan. I look towards Canada and US now. I won't leave not until I see my family and I know many are like me. Syria suffers and everyday we think of our loved ones, just from my town I hear more than 1000 have crossed into Europe illegally, which requires a lot of money and is very dangerous, many have lost their lives in the sea.
International Refugee or Asylum is getting hard and there is no aid or assistance. Syrians who have escaped are dealing with smugglers, bribes and security to find asylum or if they attempt to gain asylum by official means are being held up by the bureaucracy. Young people like me look at educational institutes and try continuously but to no avail. The situation seems hopeless for us.
---
The Kashmir Walla needs you, urgently. Only you can do it.
We have always come to you for help: The Kashmir Walla is battling at multiple fronts — and if you don't act now, it would be too late. 2020 was a year like no other and we walked into it already battered. The freedom of the press in Kashmir was touching new lows as the entire population was gradually coming out of one of the longest communication blackouts in the world.
We are not a big organization. A few thousand rupees from each one of you would make a huge difference.
The Kashmir Walla plans to extensively and honestly cover — break, report, and analyze — everything that matters to you. You can help us.
Choose a plan as per your location