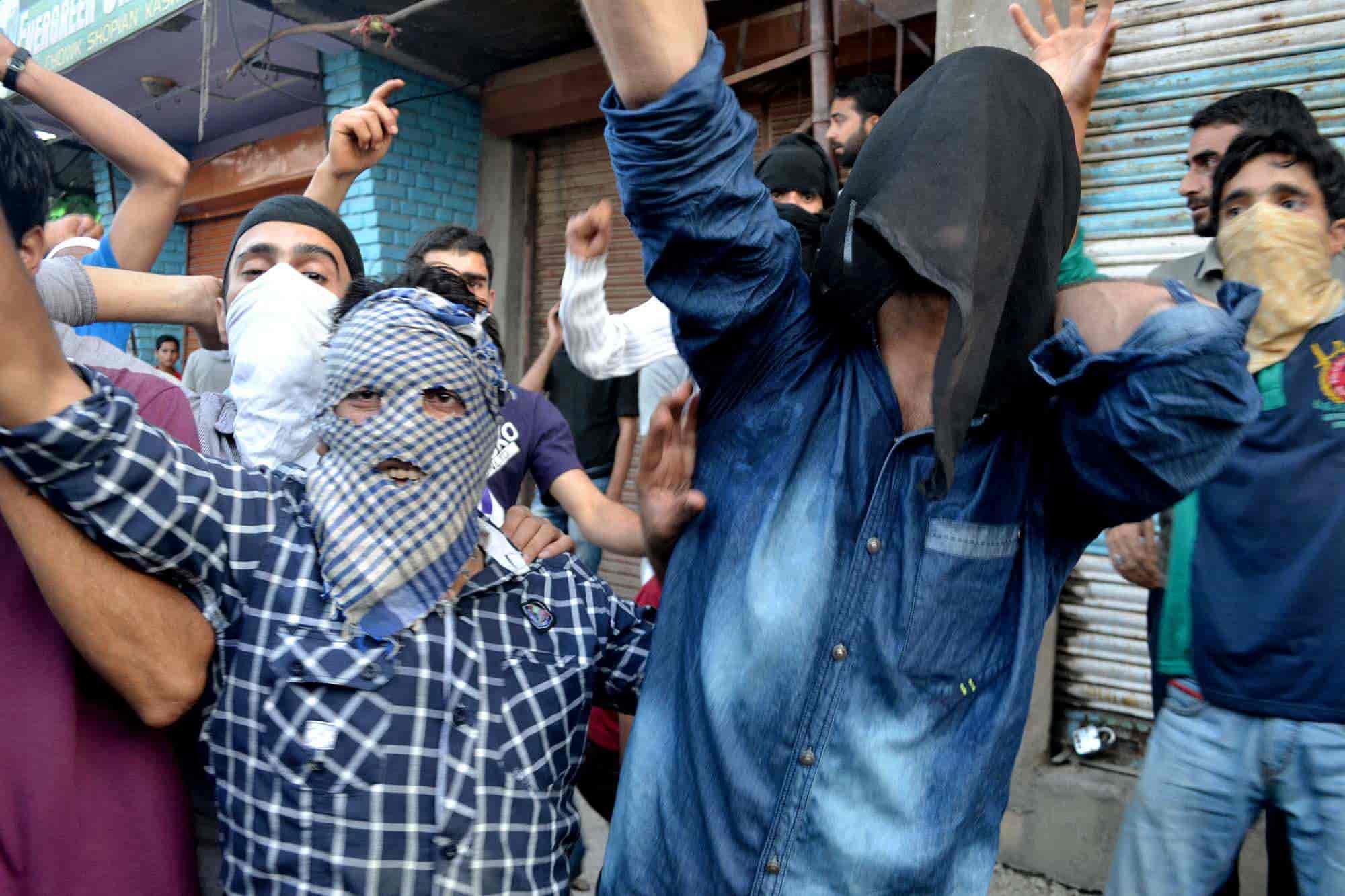 Stones hurled all around the roads, shops and businesses closed. Police and paramilitary forces prowl side streets and lanes that connect to main roads, from where angry protesters attack them with stones, while standing or sitting in the deserted streets of Shopian – 26 miles from Srinagar.
In this southern part of the Indian-controlled Kashmir, people had put themselves under strict civil curfew to mark the protest against the killings of five youth by the Indian troopers of Central Reserve Police Forces' (CRPF) 114 battalion in Gagran village on September 7 and 11, and against the uninterrupted sixteen days long curfew by the government.
"People have decided to stay indoors so that they can show the world what India is doing in Kashmir and what tactics they are using to suppress the freedom struggle in the Valley," said Asif Mushtaq, a local youth. Shopian grew tense during renown music conductor Zubin Mehta's 'controversial' music concert 'Ehsaas-e-Kashmir'. On September 7, the concert was about to begin on the banks of the Dal Lake at the Shalimar gardens in Srinagar, when the reports of killings in Shopian circulated. In protest against the concert some civil society groups oganised  a parallel event, 'Haqeeqat-e-Kashmir'.
According to Adil Rehman Watkchoo, a survival of the September 7 firing, unprovoked firing took place when 5-6 troopers from the CRPF camp stopped them (he and his friend Tawseef) and then made them wait, on their way to college where he was going to appear in his college examination. "We were waiting for a signal to leave or to pay fine as we failed to produce papers of our vehicle when suddenly we heard gun shots. We began to run so as to save ourselves from being hit…but unfortunately we were hit along with three others, who later succumbed to their injuries along with my child hood friend," said Adil.
As the news about the killings spread in the area, men, women and children came out on the streets from every corner of the town and its neighboring areas of Kulgam district. Angry protesters started throwing stones at the CRPF and policemen. There was an attempt to set fire to a residential quarter of the Assistant Commissioner Revenue, Parvez Sajad, but that was foiled by the heavy cordon of forces and teargas shelling.To overcome this anger, the government authorities imposed curfew, thus, forcing residents to sit indoors, mourning the killings.
"On September 11 as the anger was settling down, the troopers of the same CRPF camp, who earlier killed four, shot dead another youth, Mohammad Rafiq, 27, son of Ghulam Qadir. He was on way to his home from the town when they (CRPF men) opened fire at him from a close range," eyewitnesses told The Kashmir Walla.
These back to back killings led to continuation of curfew for longer duration, authorities hoping that it would reduce the anger. An eighteen day long curfew made people sit in their houses, creating problems for them to arrange food and other essential commodities.
"During those sixteen days, my family used to have Gourd and Rajma Dal (Pulses) every alternative day with rice as we had nothing except these at our home," said Owais Ashraf, another youth, sitting with a group of men in a narrow lane.
Another resident of Bon-Bazar Shopian said that he was not allowed to go outside to buy medicine for his ailing mother despite showing them the prescription. "Had I not stepped back instead of continuing to argue for my rights, they would have beaten me to pulp," he added while pointing out with his eye towards a CRPF man.
The continuous curfew did not just affect the middle class but also manual workers like Aijaz Ahmad Rah who earns 200-250 rupees a day to feed his family. "I had made some 3000 rupees to adjust my loan, taken from a friend, but that continuous curfew made me spend that money on food and other essential commodities for the family," Rah told me.
"If didn't have that money, my family would have perished days after when curfew was imposed," he said. Although the authorities later lifted the curfew from every part of the Shopian, people still remained locked in their homes, so as to express solidarity to the killed youth.
However, the youth continued to appear on the streets and take out rallies and chant pro-freedom slogans and then disassemble peacefully. Protestors also continued stone throwing with the police and paramilitary forces for a few days after the curfew.
Locals claim that the government doesn't care about the people, because of the insensitive manner with which the government paralyzes them inside their houses without thinking of the need for food and other essential items. Mohmmad Ayoub Bhat a local resident said that he does not trust the government anymore, because in past they have seen no justice. Referring to the double-rape-murder of Aasiya and Nelofer in the same town, he said, "We know what happened to their case, now how can one expect justice in this case."
People had decided to stay in their homes, demanding the removal of the Gagran camp. "The troopers from the CRPF camp at Gagran also killed a man back in 2004 and if that killer camp is not removed, they will continue to kill people the way they have been killing so far," said Bhat.
After several days of curfews, strikes and protests, on September 20, a "Joint Committee" of hundreds of locals, members of the civil society, representatives of traders federation, fruit growers association, farmers, transporters, Shopian Bar Association, Majlis-e-Masharawatt and others in a meeting decided to call off the indefinite shutdown.
It was also decided that government will be given time till October 10, but if it fails to deliver massive protests will rock the town. On October 8, by the State Cabinet's direction, the entire CRPF camp was shifted to the District Police Lines and was replaced by IRR 18 battalion of the Jammu and Kashmir Armed Police Force.
"One of our demands have been fulfilled, now we want the troopers who were involved in the killing of five persons be identified and booked," said one of the members of the joint committee.
Photographs by The Kashmir Walla
---
The Kashmir Walla needs you, urgently. Only you can do it.
We have always come to you for help: The Kashmir Walla is battling at multiple fronts — and if you don't act now, it would be too late. 2020 was a year like no other and we walked into it already battered. The freedom of the press in Kashmir was touching new lows as the entire population was gradually coming out of one of the longest communication blackouts in the world.
We are not a big organization. A few thousand rupees from each one of you would make a huge difference.
The Kashmir Walla plans to extensively and honestly cover — break, report, and analyze — everything that matters to you. You can help us.
Choose a plan as per your location