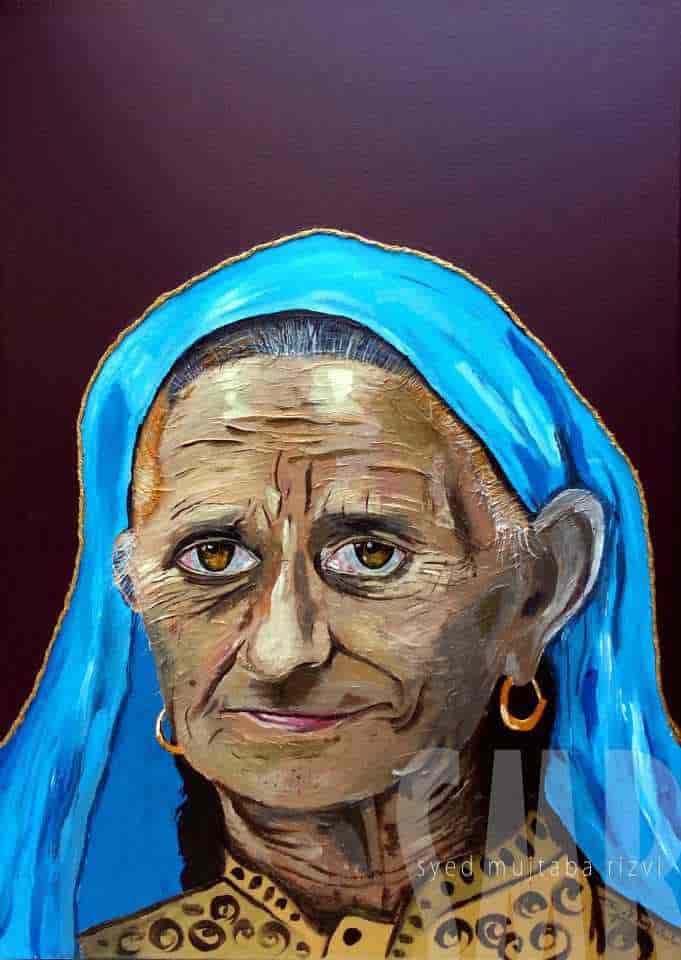 Using portrait as a medium I am trying to re-discover mothers who gave birth to revolutionaries. Women – less celebrated, less remembered – who have been the backbone of movements that uphold human values and reject unjust occupations. We celebrate the heroes and celebrate their death as a symbol of our victory and continuation of a fight for truth, but we fail to celebrate the decay of these Mothers.
What better place to start other than home – Kashmir. The first in series is the portrait of Shahmali Begum, Mother of Shaheed Maqbool Bhat (who was executed in Tihar Jail, New Delhi on February 11, 1984). Two of her other sons were killed by Indian forces, another 'disappeared' and a fourth remains in an Indian prison.
I wanted to achieve an expression of 'decay.' An emotion between a smile and on the verge of wailing. A stare that we do not want to stare back at, somewhat horrifying – probably because it invokes guilt. A portrait of someone familiar, someone forgotten – Pity? or Glorified with the golden lining and dress? Something that feels complete, yet incomplete.
(Inspired by the works of Gary Hume, Lucian Freud, and Gustav Klimt. Based on a Photograph by Showkat Shafi – Al Jazeera)
*
---
The Kashmir Walla needs you, urgently. Only you can do it.
We have always come to you for help: The Kashmir Walla is battling at multiple fronts — and if you don't act now, it would be too late. 2020 was a year like no other and we walked into it already battered. The freedom of the press in Kashmir was touching new lows as the entire population was gradually coming out of one of the longest communication blackouts in the world.
We are not a big organization. A few thousand rupees from each one of you would make a huge difference.
The Kashmir Walla plans to extensively and honestly cover — break, report, and analyze — everything that matters to you. You can help us.
Choose a plan as per your location