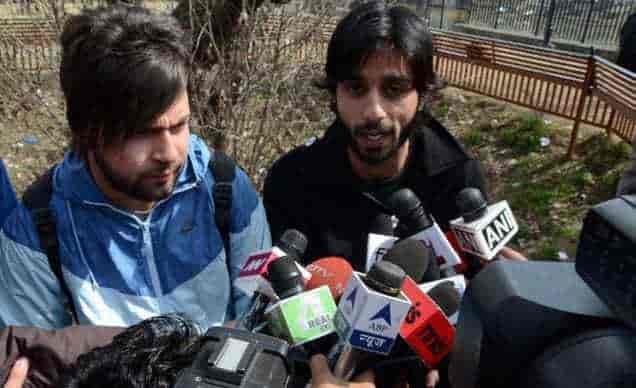 I was walking in the Bloomsbury area of London, far away from home, when I read that more than sixty Kashmiri students were expelled from a university in India. It was not a strange moment for me as there is a history. As soon as Pakistan won the cricket match against India on Sunday, Kashmiri students in Meerut (a city in northern India) at the university halls celebrated the victory. This seems didn't go well with the rest of the students and the varsity authorities, and led to their expulsion and then later being booked under sedition charges. Sedition is a colonial law used by British Empire against Indians during their rule in the country.
I was furious about the sedition charges but later how the international media reacted to this relieved me. Why? Mostly, Kashmir is ignored in the media to avoid annoying India – which is a major market for Western capitalist enterprises. Interests have to be safeguarded! Then the issue such as sedition can't be ignored like that, as it can cut anyone. Twitter was storming with trends like "WeAreSeditious" and more. Media all over the world took up the issue and gave major coverage. India, once again proved being an intolerant country strengthening its ultra nationalism.
This raised debates in the intellectual corners of the media. Everywhere I am reading commentaries and analysis. Some are writing their experiences and a few are generalising single statement as a view of whole Kashmir or of India. Even after reading a few pieces, I felt like fiction is accommodated so well in Opinion sections.
Why do Kashmiris support Pakistan team, and not India? One who knows the history of how British India was partitioned and what happened in 1947 won't ask such a question. In the post-partition era, this is not a question you should ask. It is obvious the history of Kashmir under Indian rule since 1947 answers a lot. Kashmiris support Pakistan team (even I do) for three reasons: one is a section who open heartedly support Pakistan as a country, a nation of Muslims with whom Kashmir will be safe. Second, are the ones who do it in protest against India and third is a section that likes the team without politicising the sport.
One can't depoliticise sports in times when we have been discussing other forms of occupation and imperialism for decades now. Can we move beyond nationalism? Are we post-national? No, we are not. Nothing has changed even if we try to believe that the world is a global village. Globalization hasn't taken away the idea of nationalism from anyone, not in South Asia at least. It is the globalization of the market. Capitalism has deep roots, which multiplies it by using every sector.
When a cricket tournament is organised in Kashmir, by Indian army they show it as if people love India. School children are taken on a tour – Bharat Darshan. Such activities are not only for giving exposure to Kashmiri youth but to dilute the resistance. Cricket shouldn't be politicised but when the Indian rule in Kashmir is using the alternative forms to hold Kashmir by force, then the resistance can be in any form. That is how neo-colonialism works. I'm not arguing that the students at Meerut were resisting against India or judging whether they did right or wrong, but the larger frame of why Kashmiris never support India in any activity.
It will be hypocritical if I ignore the fact that Kashmiris did celebrate the inclusion of Parvez Rasool – a Kashmiri cricketer in the Indian team or the premiere league. There are several Kashmiris who like Indian sportspersons or actors. We can still find pictures of people flocking around Shah Rukh Khan or any other actor when they shoot in Kashmir. Even journalists, whose job is to report the activities of actors, click selfies with them and within minutes post on Facebook. This doesn't change the majority parameters of the situation that the people do resist against India.
We have to agree with both the sides of the story. Indeed, what India is doing in Kashmir is a much larger debate and lies above all than supporting an actor or cricket team. You can't be neutral when choosing something means expressing your political views. It is not that people mix politics with other cultural or social activities. They are already mixed up all over the world. Nationalism is constructed by every form of activity you can. In India, there is an imagined nationalism. If we study all the states of India we may not find one common thread binding them together. It is this imagination of India as a country that is strengthened by cultural nationalism. It goes with Kashmir also, as a few are debating Kashmiri nationalism. There are different opinions and ideas in Kashmir also, even when it comes to politics. That doesn't change the history. One has to give right of agree to disagree to everyone. I don't stop Indians from writing, speaking or expressing anything. There are mentions of Kashmiri Pandits also in recent commentaries. Does anyone stop Pandits from saying what they want to?
I have been in so many Pandit events where they say that 700,000 of them were forced to leave and thousands were killed. These are factually incorrect numbers but I never get up and protest. The latest book by Rahul Pandita on his life and Kashmiri Pandits in general came out last year. I was at his launch so were several other Kashmiri Muslim friends. I do not agree with several things he writes in his book but that doesn't mean I should get up and tell him you're a "Hindu Terrorist". Or we should disrupt his talk. That is not how you debate such issues. On the other hand such things have happened mostly with the events and talks organised by Kashmiris in Delhi. We all know what Arundhati Roy faces when she speaks about Kashmir. Or what happened to students during a protest in Delhi after Afzal Guru's hanging. Pro-freedom leaders from Kashmir have been heckled in different cities of India so many times. By now you may know where intolerance comes from mostly.
Moving on to what I was saying, India is moving towards dark times. The idea of being a tolerant country that aims of being a superpower is a myth. One who understands the relation between power and economics can easily understand this fact. I am not here for India bashing. Let us be rational about what is happening. Sedition charges for supporting a cricket team, banning books, pulping books, banning cartoons, getting arrested for posting on social media or journalists attacked for TV debates are all these factors which rupture the notion "One Tolerant India" or "Incredible India" or "India Shining." I can see it losing shine, tolerance and incredibility. Intolerance has seeped into the society so well that people do not protest banning a book; it is left to a few writers. There will be time, soon, when we will have to show our manuscripts to police or state first, before publishing it. Or perhaps, you will have to register which team you cheer for.
The point to make here is that India is changing, rapidly, as the Hindutva political parties are gaining support. You can easily read the situation – go to any news story online about this sedition charge issue and read comments thread. You will get the answer what are people talking. It is difficult to absorb Kashmir, and maybe more states in future, in this imagined nationalism and the idea of India. India needs freedom from Bharat. As much as Kashmiris are struggling for independence from India, this country itself is in need of a new freedom movement. It took just 67 years for British India to emerge again on the same land with different characters. While we debate the end of colonialism in the world, a neo-colonial India took birth in South Asia.
---
The Kashmir Walla needs you, urgently. Only you can do it.
We have always come to you for help: The Kashmir Walla is battling at multiple fronts — and if you don't act now, it would be too late. 2020 was a year like no other and we walked into it already battered. The freedom of the press in Kashmir was touching new lows as the entire population was gradually coming out of one of the longest communication blackouts in the world.
We are not a big organization. A few thousand rupees from each one of you would make a huge difference.
The Kashmir Walla plans to extensively and honestly cover — break, report, and analyze — everything that matters to you. You can help us.
Choose a plan as per your location