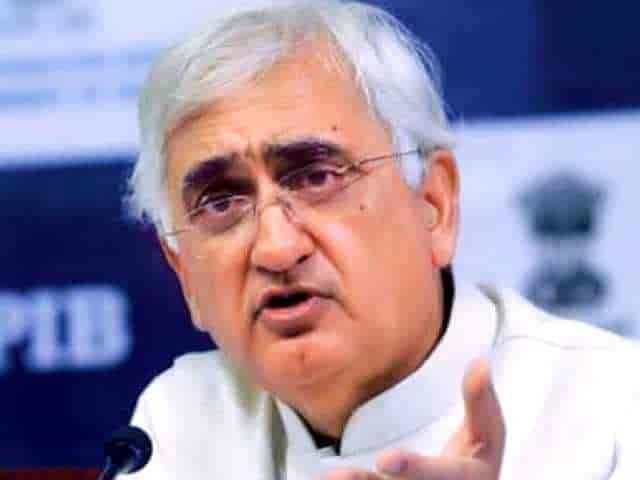 There is no such thing called the right way of expressing dissent. Whenever Kashmiris protest against India, in any form, they are called misguided, radicals, violent, or secessionists. What forms the right way of protest can't be imposed on people who have been protesting for almost seven decades now, and yet nothing has changed. I'm writing this piece to answer some of the people, here in London, who disliked the way the Indian External Affairs Minister, Salman Khurshid, was countered during his lecture last week.
Khurshid was at SOAS, University of London, to speak on "Challenges to the Indian Democracy." Sane people can get the idea from the title of the talk what are the issues that come first in mind. He laid down four problems faced by the democracy in India. He did mention leftist resistance movements and to my surprise compared that to movie Avatar! Most of his talk was election campaign, anti-BJP comments, criticism for Aam Aadmi Party and masking rhetoric into humour. There was no substantial argument he could make, which was even felt by some of the Indian students listening to him.
The lecture had to start at 5:30 pm but started at 6 pm to be concluded by 7. So there was an hour for him to speak and answer questions. In his whole lecture, there was no mention of Kashmir dispute which is the major challenge to the Indian democracy. Not only challenge if one looks at the activities of the state in that region, the democracy fails at every point. Just a few days ago, an eighteen year old school boy was shot dead. So, how can one ignore Kashmir while talking about democracy? I won't believe that he is so naïve that he missed it – he is an Oxford-trained politician, as he himself glorified.
So it was after he finished his lecture and answering first question from audience, I, as a student and journalist, asked him one simple question – why did he ignore Kashmir and mentioned some of the points about India's role in the region for decades.In his lecture, he said that India is an example of bringing peace in the world and soon it will get permamanent seat in the United Nations Security Council. No one is against that but only if India had a clear record. It is not only about Kashmir – central India, North East and other regions have been facing brazen state violence.
Then, another Kashmiri student, Sanaa Sultan, got up and spoke about Kashmir. She didn't want to ask him any question, as she said so too. She only wanted to inform the hall full of people, mostly from India, that Kashmir exists and there are these issues which the minister could have mentioned. Otherwise, clearly the minister had skipped these issues.
The admirers of the minister, or maybe Congress, didn't like this and started bullying the young student. One of the members of minister's delegation told the girl to "get lost," when she was leaving the hall. This is how sensible and tolerant people are in the external affairs ministry. When the girl said, "My country has been waiting for answers for last 67 years," the minister replies, "I am not even 67 years old." And this gets a big laughter and clapping from the audience, the admirers. If this is how a foreign minister is talking to a young girl on a sensitive issue like Kashmir than I don't think the country is in good hands.
After the incident several people, some of my friends too, are questioning that it was not the right way to ask him questions, which led to calling off the event. The moderator, a member of the South Asian Department, was feeling uneasy and called off the event with no more questions. "Let's have the vote of thanks and conclude," he said. Is India influencing the academia also that you can't even talk about Kashmir for five minutes? No one can blame the students or the academics. This can't be even called ignorance. There is not even one week which passes without any news from Kashmir. It is this ultra-nationalism that stops a large number of Indian population to look at India's role in the conflict areas. If the flag of any country becomes so large that it hides the people's dissent, then the flag must be ripped off. I can only say that so many fascists are masquerading as leftists. The debate continues.
Feedback at @pzfahad
---
The Kashmir Walla needs you, urgently. Only you can do it.
We have always come to you for help: The Kashmir Walla is battling at multiple fronts — and if you don't act now, it would be too late. 2020 was a year like no other and we walked into it already battered. The freedom of the press in Kashmir was touching new lows as the entire population was gradually coming out of one of the longest communication blackouts in the world.
We are not a big organization. A few thousand rupees from each one of you would make a huge difference.
The Kashmir Walla plans to extensively and honestly cover — break, report, and analyze — everything that matters to you. You can help us.
Choose a plan as per your location