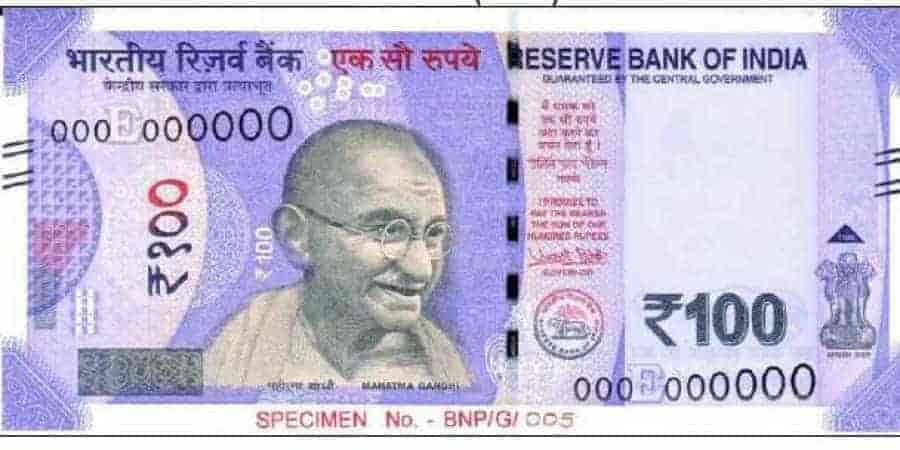 The Reserve Bank of India (RBI) will shortly issue Rs 100 denomination currency notes in the Mahatma Gandhi (New) Series, bearing the signature of the bank's governor, Dr Urjit R. Patel, ANI reported.
However, all the existing notes of the same denomination issued by the Reserve Bank in the earlier series will continue to be legal tender, it clarified.
The new denomination has a motif of "RANI KI VAV" on the reverse, depicting the country's cultural heritage.
The base colour of the note is lavender and contains other designs, geometric patterns aligning with the overall colour scheme, both at the obverse and reverse. The dimension of the banknote will be 66 mm × 142 mm.
The obverse (front) side of the note contains a see-through register with denominational numeral 100, a latent image with the numeral and also a Devanagari version of the same.
It also contains a portrait of Mahatma Gandhi at the centre, with micro letters 'RBI', '????', 'India' and '100', along with a guarantee clause, Governor's signature with Promise Clause and RBI emblem towards the right of Gandhi's portrait.
On the right side of the portrait are an Ashoka Pillar emblem and electrotype (100) watermarks.
For the visually impaired, the note has an embossed printing of Mahatma Gandhi's portrait, Ashoka Pillar emblem, raised triangular identification mark with micro-text 100, and four angular bleed lines both on the right and left sides.
On the reverse side of the note (back) is the year of printing of the note on the left, Swachh Bharat logo with the slogan, language panel, Motif of RANI KI VAV, and denominational numeral 100 in Devanagari script.
---
The Kashmir Walla needs you, urgently. Only you can do it.
We have always come to you for help: The Kashmir Walla is battling at multiple fronts — and if you don't act now, it would be too late. 2020 was a year like no other and we walked into it already battered. The freedom of the press in Kashmir was touching new lows as the entire population was gradually coming out of one of the longest communication blackouts in the world.
We are not a big organization. A few thousand rupees from each one of you would make a huge difference.
The Kashmir Walla plans to extensively and honestly cover — break, report, and analyze — everything that matters to you. You can help us.
Choose a plan as per your location