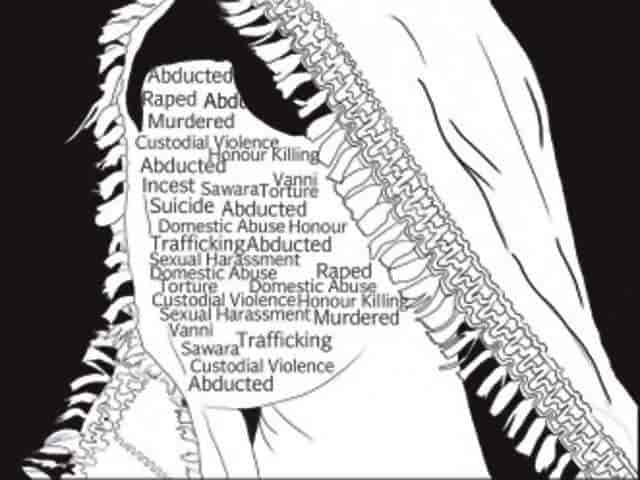 On Sunday, Greater Kashmir – one of the leading English dailies of the Kashmir valley – carried a news report about the rape of a class 9 school girl in Srinagar, allegedly by her forty-year old tutor. The story carried the headline "Student loses honor to teacher's lust".
As I read the details of the incident, it seemed to me ironic that a report published on the eve of the first anniversary of the brutal December 16 Delhi gangrape – and that too, by such a reputed newspaper of Kashmir – should carry a headline as insensitive as the above. The gangrape of a 23-year-old physiotherapy student by six persons, including a juvenile, inside a moving bus last year in Delhi had not just shaken the Indian capital but enraged the entire nation. People from all walks of life – men, women, young, old, working, unemployed – had come out on streets protesting against the heinous crime, demanding death to the rapists and pressing for an urgent change in the security situation as well as laws concerning crimes against women. The incident had led to an immediate setting up of fast track courts (which recently convicted the December 16 rapists) and changed the way women's security was viewed in national politics.
Among other things, the December 16 gangrape had sparked off a series of debates about the societal attitudes pertaining to rape. Feminists and social activists were not the only people lamenting the ways in which society at large perceives rape survivors. Cutting across all barriers of age, gender, religion and region, people had come out strongly to voice their opinions against the patriarchal mindsets that labels rape survivors as "poor souls" – bechaari and lachaar – with no hopes for a future.
An important point that had been raised back then was that rapes and crimes against women were perpetuated because of the societal attitudes. The issue could not be addressed by a change in laws alone till the mindset of the people itself started changing.
One of the most derogatory of these perceptions was and still is consider a woman as "robbed of her honour" just because a man decided to force himself sexually on her. As the headline of the story carried by the Greater Kashmir proves, this mindset is not just limited to the public at large. Media – which prides itself in being the fourth pillar of democracy and many a times considers itself to be more "liberal" and "open" than the very society it represents – also often resorts to the same bogus mindsets that it seeks to condemn.
Of course, one may argue that the media is not exclusive of our society. After all, those who work in our newspapers, magazines, TV, radio channels and news agencies are also a part of the society itself. Still, as the fourth estate, media is expected to be a harbinger of change; an institution that resorts to logic rather than unquestioningly toeing the line of traditional mindsets, values and rhetoric.
When a newspaper like Greater Kashmir decides to carry such a headline for a news report about an incident of rape, what message is it giving out to the society? Is it not trying to reinforce the age-old thought that – as a female journalist friend puts it, "a woman's honour lies in her vagina"? What are this publication's editors and its leadership trying to tell the victim in question? That she has no honour left? In a region, whether Kashmir or Nepal, India or Pakistan, Sri Lanka or Bhutan – where the ideas of honour and varied perceptions of morality play a significant role in the lives of a person, what are we trying to tell this teenager? That she should forget about her studies and quash all her hopes of a career and a bright future, condemning herself forever to a life of self-pity?
It is not just a question of Greater Kashmir. This headline just reveals the tip of the ice-berg. In reality, we often resort to sheer hypocrisy in our daily lives. What else can you call questioning the motives of a woman who raises her voice against sexual assault, as many did in the recent Tarun Tejpal fiasco? Or labeling rape survivors as "dishonoured"? Marrying off young girls to protect their "chastisity"? Worse, judging women by their choice of clothes and preference of relationships such as live-in arrangements. Do not all these run somewhere deep within us?
Of course, the society needs change. But when those expected to be "agents of change" reinstate such hypocritical ideas, it is then that the road to change seems dark and bleak.
*
Sumegha Gulati is a Correspondent with The Indian Express.
---
The Kashmir Walla needs you, urgently. Only you can do it.
We have always come to you for help: The Kashmir Walla is battling at multiple fronts — and if you don't act now, it would be too late. 2020 was a year like no other and we walked into it already battered. The freedom of the press in Kashmir was touching new lows as the entire population was gradually coming out of one of the longest communication blackouts in the world.
We are not a big organization. A few thousand rupees from each one of you would make a huge difference.
The Kashmir Walla plans to extensively and honestly cover — break, report, and analyze — everything that matters to you. You can help us.
Choose a plan as per your location