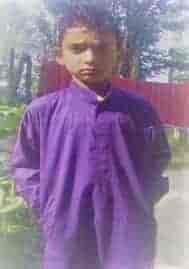 Srinagar: Hundreds of people on Tuesday  took to streets and blocked Kupwara-Tanghdar road at Batergam area demanding  the whereabouts of minor boy who has been missing since yesterday morning.
Reports said that  people are protesting in the area while appealing police to speed up the investigation in order to trace out the  eight -year-old boy.
A class 3rd student, Omar Farooq Malik, 11, Son of Farooq Ahmad Malik of Gulgam went missing after he left home at 4 pm on Monday.
Missing report has been lodged in this regard in P/S Kupwara.
According to reports the protesters meanwhile alleged that the authorities deployed forces in the area to clear the blockade in wake of some former ministers visit through the area.
---
The Kashmir Walla needs you, urgently. Only you can do it.
We have always come to you for help: The Kashmir Walla is battling at multiple fronts — and if you don't act now, it would be too late. 2020 was a year like no other and we walked into it already battered. The freedom of the press in Kashmir was touching new lows as the entire population was gradually coming out of one of the longest communication blackouts in the world.
We are not a big organization. A few thousand rupees from each one of you would make a huge difference.
The Kashmir Walla plans to extensively and honestly cover — break, report, and analyze — everything that matters to you. You can help us.
Choose a plan as per your location