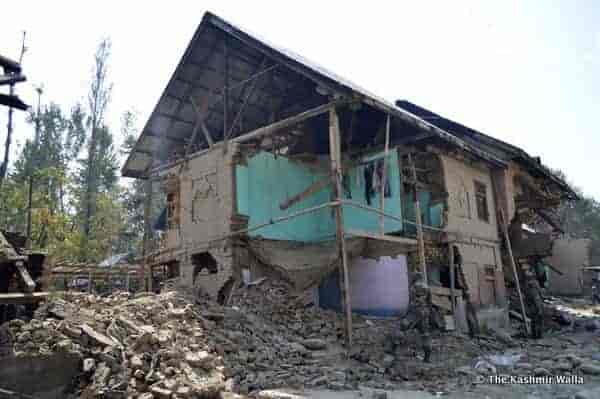 One of the Southern districts of Kashmir Valley, Kulgam, where nine people died in the devastating floods that has claimed more than 300 lives in the whole state so far, has been badly destroyed. This district was one of the first areas that was affected by the floods in the first week of this month. In one of the villages, Kilam Gund, around 40 houses have been completely swept by the floodwater; cutting the roads, changing the paddy fields into water streams filled with cobblestones. The remaining 165 houses in the village are unsafe to live in, locals said. People are living in the tents put up in a nearby hospital premises. "We are requesting the government to provide us land, where we can live now. This village is now completely changed. We can't live here," said Shabir Ah. Sheikh, a government teacher. The Kashmir Walla visited this village and many other affected areas, and its photographer Muhabit ul Haq captured the situation of these affected villages in Kulgam district.
---
The Kashmir Walla needs you, urgently. Only you can do it.
We have always come to you for help: The Kashmir Walla is battling at multiple fronts — and if you don't act now, it would be too late. 2020 was a year like no other and we walked into it already battered. The freedom of the press in Kashmir was touching new lows as the entire population was gradually coming out of one of the longest communication blackouts in the world.
We are not a big organization. A few thousand rupees from each one of you would make a huge difference.
The Kashmir Walla plans to extensively and honestly cover — break, report, and analyze — everything that matters to you. You can help us.
Choose a plan as per your location