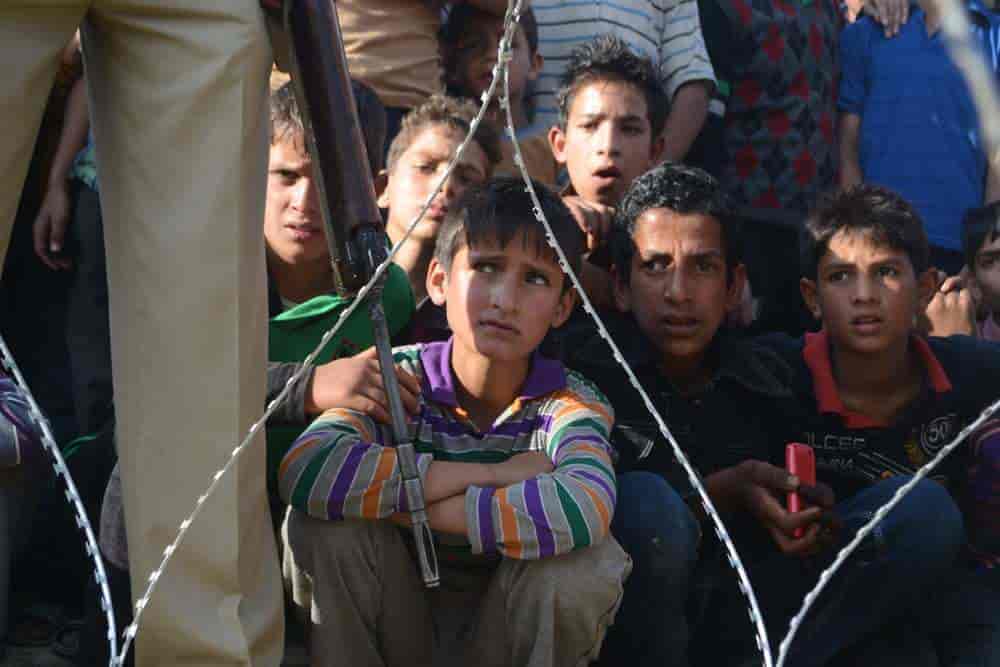 The people of Indian-controlled Kashmir remember October 27 as black day when Indian army was deployed in Srinagar to manipulate the decisive moments of history. India celebrates it as a day of getting Kashmir "legally" integrated to its territory. One therefore must, to demystify these crucial junctures, be lawyerly precise in taking into account the dates, times, places and people.
In 1947, in the process of annexation, under the aegis of Jawahar Lal Nehru and Sardar Patel, Indian state had despotically begun to annex the reluctant-to-accede princely states like Hyderabad, Travancore, Junagarh and Kashmir.
First of all India began to play diplomatically in Kashmir. The dismissal of the then Prime Minister of Kashmir State Ram Chandra Kak, the one who had recommended that Kashmir be an independent state for a transitional period of one year to decide later about its accession to Pakistan or India, is a case in point. Kak saw Pakistan a safe refuge to Hari Singh's autocratic interests and an abode dialectically responsible to tolerate and materialize the coexistence of Kashmiri Pandits. Mohan Das Karam Chand Gandhi offhand anticipated Kak's thoughts jeopardizing Indian interests, and it took him no time to arrive into Kashmir (on August 01, 1947) and get Kak removed from his post on October 15. Kak was replaced with Janak Singh but the replacement didn't prove quite efficient one. Hence, after remaining Prime Minister for a few days, Janak Singh was replaced with Mehr Chand Mahajan, diplomatically a somewhat astute political personality.
On October 26, 1947 India claimed that the Maharaja of Kashmir Hari Singh had signed the instrument of Accession of the State of Jammu & Kashmir in favour of India. Remember the date, October Twenty Sixth Nineteen Fourty Seven.
On October 25, 1947 V P (Vail Panguuni) Menon the then Secretary of Ministry of States in India accompanied by the then Prime Minister of Kashmir Mehr Chand Mahajan, Dwarkanath Kachru, Indian Air Force Col. Manik Shah and Wing Commander Dewan arrived at Srinagar Airport to coax Hari Singh to leave Kashmir[1]. On the morning of October 26, 1947 Menon and Mahajan flew back to Delhi. V P Menon came on record to state that Hari Singh had signed the documents of Accession in the afternoon of October 26, 1947. And this belies the whole story of the accession of the State of Jammu and Kashmir to India.
Facts clearly show that neither was Hari Singh in Jammu on October 26, 1947 to sign the accession deed nor did Vail Panguuni Menon and Mehr Chand Mahajan go there on that very day. The intervening night between Oct 25 and 26 Hari Singh packed, whatever he could from, his property, and late in the morning of October 26 began bumping his way to Jammu. On the same day Defence Committee of the then Delhi Cabinet Ministry called for a meeting. The meeting lasted two sessions till afternoon and in it the decision of military intervention in Kashmir was reached. V P Menon holds that same day he went to Jammu and got the documents signed and returned to Delhi where he submitted these documents to the Defence Committee meeting which was now in its second session.
Menon's claim that Mahajan had accompanied him to Jammu on Oct 26 has been falsified by Mahajan himself. Mahajan in his autobiography Looking Back writes that he went to Jammu on October 27, 1947 after he was informed about the deployment of army at Srinagar airport. This means military occupation of Kashmir took place quite before any accession deed had been reached. He even says that in the evening of October 26, 1947 he was directed by Jawahar Lal Nehru to "go to Jammu with Mahajan tomorrow (October 27)". [2]
Victor Rosenthal, one of the close friends of Hari Singh, who travelled with him from Srinagar to Jammu that day, said that Hari Singh was upset all the day throughout the journey, remained silent and when in the night they reached Jammu Raj Mahal Hari Singh said, "We have lost Kashmir". [3]
The claim, that Menon had presented the signed documents of Kashmir's accession in the meeting of the Defence Committee on October 26 is absolutely false. Maniben Patel, daughter and official secretary of Sardar Patel was waiting for Menon on October 27 at Delhi airport for his return from Jammu. In a letter dated October 27, 1947 written by Jawahar Lal Nehru to Hari Singh, Nehru says, "Menon returned from Jammu tonight and I and Mountbatten have got the papers."
Contrary to this London Times is on record to report on October 28, 1947: "Yesterday Menon, Mahajan and Kachru left for Jammu to discuss the issue of accession with Maharaja Hari Singh." Yesterday, meaning October 27, 1947.
Ian Stephens, the then Editor of Statesman, London, and author of Horned Moon says that on the evening of October 26 he was dining with Mountbatten in Delhi amidst which Mountbatten told him, the same thing that London Times had reported: the issue of accession of Kashmir was being DISCUSSED. "Batten told me that the issue of accession is being discussed with the Maharaja," says Stephens.[4] In a monograph titled The Indian claim to Jammu and Kashmir: A Reappraisal written by Professor Alastair Lamb, which was released to the press in London on February 20, 1993, the author proclaimed, "the ruler of the princely State of Jammu and Kashmir, Maharaja Hari Singh, never did sign the Instrument of Accession to India."
Nayeema Ahmad Mahjoor a former senior Kashmir journalist who worked for BBC attempted consistently to conduct an interview about the issue of accession from Karan Singh, son of Maharaja Hari Singh, in 1999. Despite several of her attempts he told her that he had no time and suggested her to read his autobiography Heir Apparent. The book has nothing to say about the issue of accession.
Also, it is not possible that Hari Singh could reach Jammu by afternoon and that too in the times when there was no tunnel or short cut to curtail the length of the distance form Kashmir to Jammu. Hari Singh had even taken a long rest at Ramban. It is impossible that the distance of 300 kilometers, which would normally take twenty hours to cover in those days when transport and roads were not as sophisticated as of now, could have been covered in four to five hours. Only the track around the Banihaal tunnel named after Jawahar Lal Nehru, build only in 1950's, would take five hours or more to pass.
Everything disproves the claim that any accession was signed. To declare having it happened is like a funny game of experimenting with the Theory of Relativity in readymade Indian Standard Time where men become ghosts, disappear (from one place) and appear (at another place) in clicks.
The legitimacy of the forged documents or the existence of any instrument of accession regarding Kashmir was incisively interrogated in September 1995 by Indian mainstream press after Sahayogi Times a Jammu-based newspaper published that "the missing of the historic treaty is reported to have come to light when it was required for compiling the case to rebut the 'charge' of Pakistan and the doubts raised in the United States of America and some Arab and Western countries about the validity of the Instrument of Accession".
Then Justice Bilal Ahmad of the Jammu and Kashmir High Court had also issued a notice to the chief-secretary of Kashmir and the director of Archives of India to file a written reply before September 28, 1995 to a writ petition, seeking production of the original document of the Instrument of Accession of Jammu and Kashmir to India. The notice also ordered the appointment of a commission, receiver or a sitting judge to take charge of the archives and verify the truth from the original document. The petitioners had demanded that the "Instrument of Accession" "be made public for the satisfaction of the people." A news report The epitome of Dogri, now a forgotten hero by Tejinder Singh Sodhi published in Daily Tribune on September 6, 2008, praising the contribution of B P Sharma the first Director of Radio Jammu who was one of the persons seeking "the original copy of Instrument of Accession", mentioned the missing case of the documents from the archives and the panic it created. It reported, ' "The original copy later went missing in the archives and a Public Interest Litigation (PIL) was filed by someone against the callous attitude of the state government," an official of the State Archives Department said.'
Justice A S Anand argues that Maharaja's signature on the documents are legally enough to prove the legitimacy of the accession because he does so by representing the people he governed. The question is that when the Muslim Raja of Junagarh chose to remain independent Patel justified the Indian invasion of his kingdom by saying that since the majority of his subjects (praja) were Hindus he could not have gone against their popular wish to accede to India.
Therefore, by going through Patel's logic how has been this "accession" of the autocratic Hari Singh considered legal, one wonders.
The farce of "accession" thus holds no meaning. It is a ghost that has been scaring the world, and forcibly making millions of Kashmiris cling to a country they believe they don't belong to.
References
[1] Patel: A Life by Rajmohan Gandhi, Navajivan Publication House, ed.1990.
[2] Kashmir in Crossfire by Victoria Schofield, I.B. Tauris Publishers, ed. 1996, page 149.
[3] Ibid page 145.
[4] Incomplete Partition: The Genesis of Kashmir Dispute by Alastair Lamb, Oxford University Press, ed. 2002, page 158.
Photograph by Zuhaib Muhammad
---
The Kashmir Walla needs you, urgently. Only you can do it.
We have always come to you for help: The Kashmir Walla is battling at multiple fronts — and if you don't act now, it would be too late. 2020 was a year like no other and we walked into it already battered. The freedom of the press in Kashmir was touching new lows as the entire population was gradually coming out of one of the longest communication blackouts in the world.
We are not a big organization. A few thousand rupees from each one of you would make a huge difference.
The Kashmir Walla plans to extensively and honestly cover — break, report, and analyze — everything that matters to you. You can help us.
Choose a plan as per your location