Srinagar: A photograph shows an attendant waiting in traffic jam along with a patient lying on stretcher outside a hospital in Srinagar.
As per the photographer Syed Shahriyar, who clicked the picture today and sent to The Kashmir Walla, said that he saw a patient on the stretcher and was surprised to see it on road.
"I asked the attendant didn't the hospital provide an ambulance to transport the patient. He said no," said Shahriyar. "They had to go from SMHS hospital to another specialty building in Shireen Bagh."
The specialty building is across the road over a few hundred meters from the door of main hospital building. Several patients are often referred to this building for examination or additional services.
In Srinagar, the entrance of hospitals have been mostly jammed by the cars and vendors anyway, leaving less space for free movement during emergencies.
Unfortunately, adding to the misery of this patient today being transported on a stretcher through main road, they were stuck in traffic jam. The patient remained lying on the stretcher waiting for the traffic to move.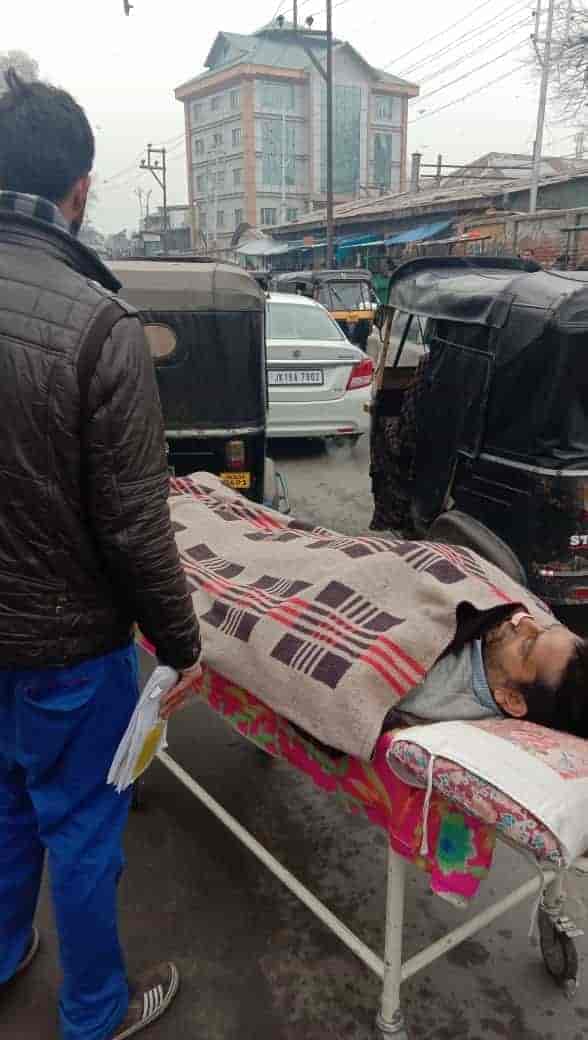 ---
The Kashmir Walla needs you, urgently. Only you can do it.
We have always come to you for help: The Kashmir Walla is battling at multiple fronts — and if you don't act now, it would be too late. 2020 was a year like no other and we walked into it already battered. The freedom of the press in Kashmir was touching new lows as the entire population was gradually coming out of one of the longest communication blackouts in the world.
We are not a big organization. A few thousand rupees from each one of you would make a huge difference.
The Kashmir Walla plans to extensively and honestly cover — break, report, and analyze — everything that matters to you. You can help us.
Choose a plan as per your location