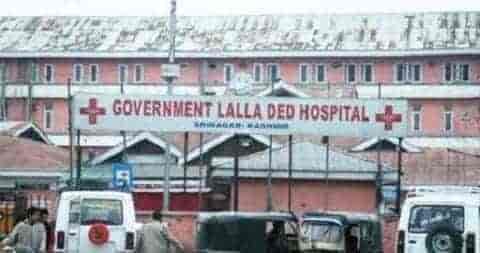 As doctors in various health institutions of the state have gone on indefinite strike since Tuesday, people accuse that it has led to death of newborns at the Lal Ded hospital in Srinagar, while patients continue suffer across the region.  
Protestors at the hospital accused that several babies have died due to absence of the doctors. "Their work is going on because they also have private clinics.," said a protestor, as quoted by Greater Kashmir. "But here babies are dying due to them. We want those who are responsible should be punished. They can't leave patients like this in these times."
On Monday, the Resident Doctor's Association (RDA) of SMHS hospital had announced an indefinite strike from Tuesday onwards, withdrawing all services- emergencies and intensive care units.
"We again reiterate our demands that Senior Residents, post graduates and Junior Residents will be provided same basic pay and grade pay with all the allowances including NPA as is being provided to the Resident Doctors of SKIMS Soura," the doctors said.
As reported by the Greater Kashmir newspaper, another protester at the said that last night one baby girl has died at Lal Ded as there was no doctor to attend the patient. "We come here from far flung areas and it is us the poor people who die every time," she said, while raising slogans against the doctors.
Meanwhile the governor led state government has decided to invoke Essential Services Maintenance Act (ESMA) to deal with the strike.
"The Government can't allow the hapless patients to suffer and in order to ensure that there is no disruption of healthcare services, it has been decided that ESMA would be invoked to deal with the strike called by the medicos," read an official handout by the Health and Medical Education Department.
---
The Kashmir Walla needs you, urgently. Only you can do it.
We have always come to you for help: The Kashmir Walla is battling at multiple fronts — and if you don't act now, it would be too late. 2020 was a year like no other and we walked into it already battered. The freedom of the press in Kashmir was touching new lows as the entire population was gradually coming out of one of the longest communication blackouts in the world.
We are not a big organization. A few thousand rupees from each one of you would make a huge difference.
The Kashmir Walla plans to extensively and honestly cover — break, report, and analyze — everything that matters to you. You can help us.
Choose a plan as per your location