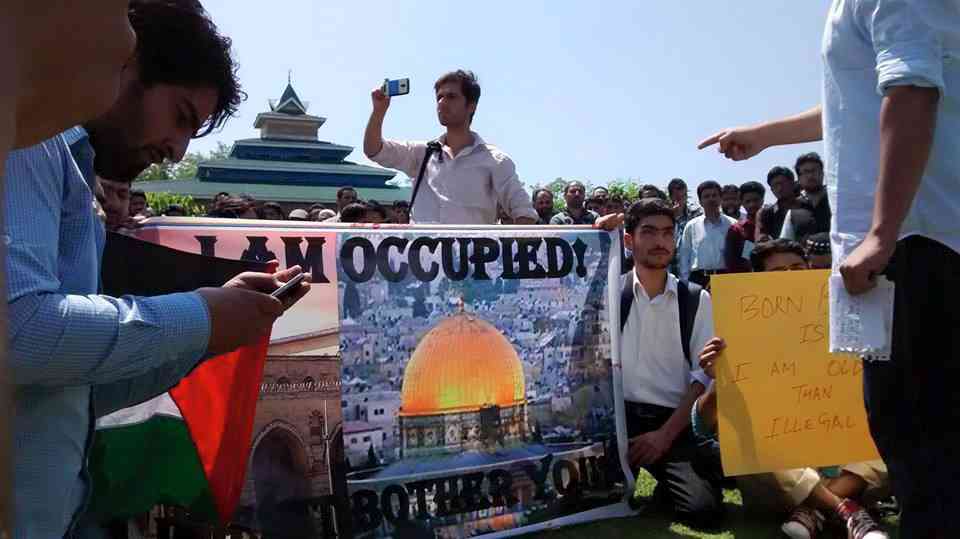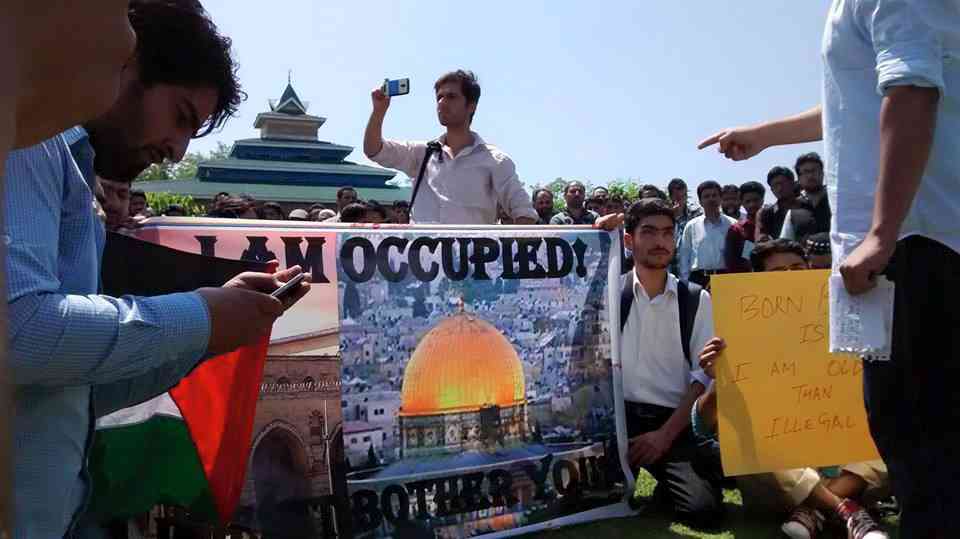 Hundreds of students today participated in 'Nakba Day' solidarity sit-in near Kashmir University mosque on Friday.
Immediately after the Friday prayers students assembled near KU masjid. They were carrying placards and banners in support of Palestinian people and their right to return to their homes as well as a state of their own.
15 May is commemorated as Al-Nakba day throughout the world. Al Nakba is an Arabian word which means catastrophe. 15th May 1948 saw the creation of an illegal terrorist state of Israel in the Muslim heartland of Palestine – the holy land. The creation of the Jewish Zionist state was preceded and followed by relentless massacres of Muslim Palestinians and their displacement by Zionist militia.
Over 7 lakh people were made refugees and to this day they continue to live in refugee camps in Lebanon, Jordan, Syria and other countries. They still hold the keys to their homes and the dream of returning their motherland one day. To mark the displacement, Palestinians annually commemorate the day as Nakba Day, or the Day of the Catastrophe.
Students who spoke on the occasion talked about the similarities between Indian and Israeli aggression tactics they use to occupy the land and control the populations. A speaker said that the recent Indian plan of separate Pandit settlements was also inspired by Israeli model of illegal settlements in Palestine. Although that plan has been dropped for the time being but Kashmiris still have to remain cautious about the nefarious designs of the Indian occupation led by PDP-BJP coalition.
On the occasion KUSU also distributed booklets titled 'Kashmir: Palestine in the making' authored by Dr. Sheikh Showkat Hussain.
---
The Kashmir Walla needs you, urgently. Only you can do it.
We have always come to you for help: The Kashmir Walla is battling at multiple fronts — and if you don't act now, it would be too late. 2020 was a year like no other and we walked into it already battered. The freedom of the press in Kashmir was touching new lows as the entire population was gradually coming out of one of the longest communication blackouts in the world.
We are not a big organization. A few thousand rupees from each one of you would make a huge difference.
The Kashmir Walla plans to extensively and honestly cover — break, report, and analyze — everything that matters to you. You can help us.
Choose a plan as per your location