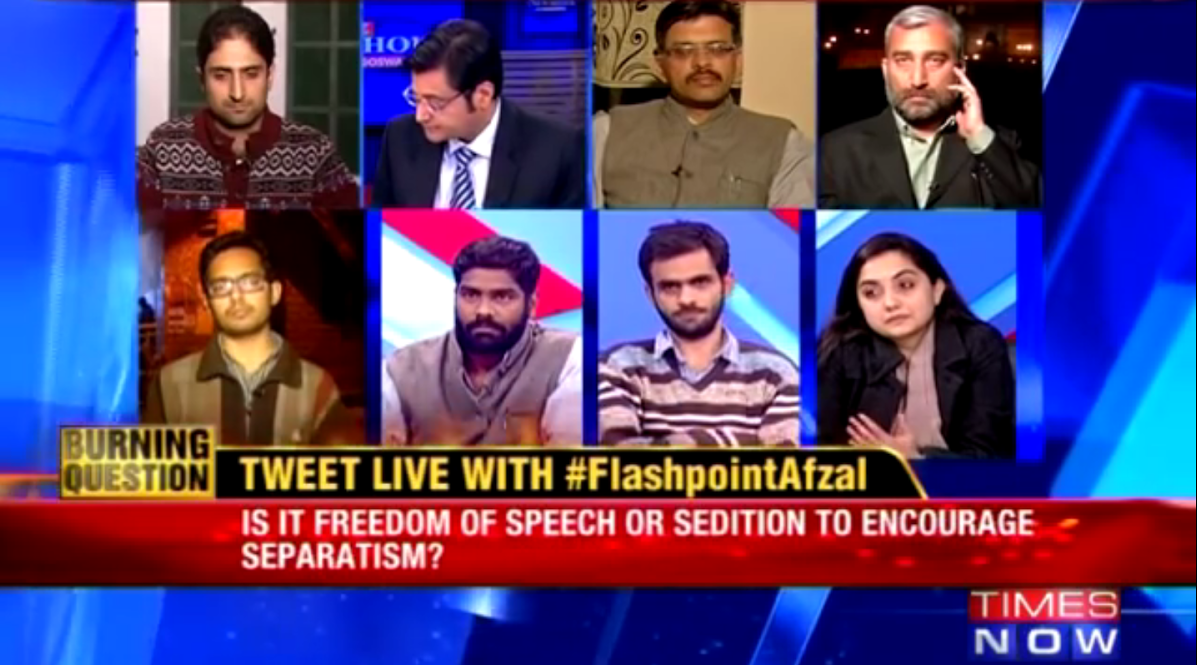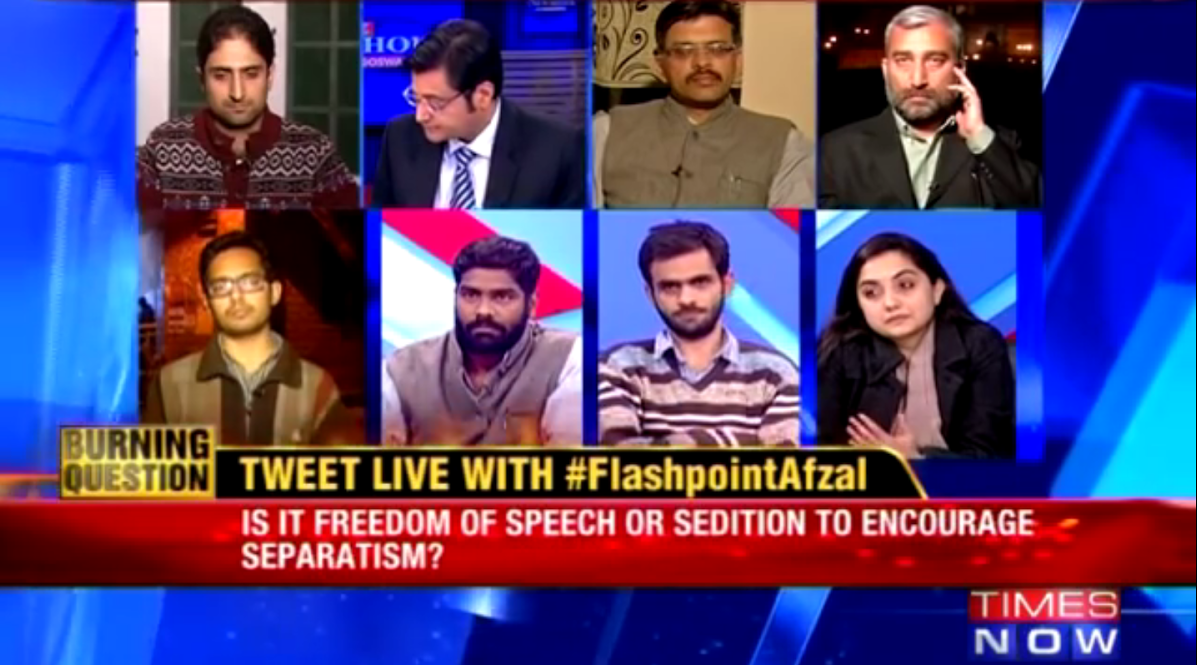 Legions of cultural programmmes are organized every year in which people perform and participate with much enthusiasm. Other than their aesthetic value, such programmes also have elements of entertainment, which make them acceptable to audiences in most of the cases.
"The country without a post Office," a cultural programme organised by the Jawaharlal Nehru University students, may be counted as representing that anomaly which goes contrary to the mentioned public response. This programme organised in JNU did not go down well with the pseudo-Hindu nationalists. In turn, the hyper Indian media got a ready made issue.
The problem with people like Arnabs is that they always wait for such "cultural programmes" to happen so that their TRPs go up, but turn a blind eye when it comes to Kashmir.
The much shouted and lectured news hour programme of Arnab Goswami was aptly described by an Editor in Kashmir.
Kashmir Images Editor-in-chief Bashir Manzar wrote on Facebook, "I stopped watching Arnab Goswami years back when I found what his problem was. The guy needs sympathies not ridicule. He suffers of constipation and what constipation does to a person, watch Amitabh Bachan's Piku. You will never be angry with Goswami anymore."
In July 2015, the unprecedented chaos at University of Kashmir brought it to a standstill. Kashmir University had rarely seen such a volatile situation on the campus in recent times as it witnessed in July 2015. There was aerial firing in the varsity, prompting the KU administration to shut it for nearly a week.
The spate of protests started after a postgraduate student Muzamil Farooq was picked up by the police allegedly for his links with a "militant" organisation. His family and friends always contested these allegations.
The armed forces used every tool to suppress the students through violent means. No one cared about students then. Forget about allowing dissent, the entire space for students was choked.
Muzamil was later released. This was the time when People Democratic Party (PDP) was running a coalition government with rightwing Bharatiya Janata Party (BJP).
When now something similar is happening in prestigious JNU, by arresting JNUSU President Kanhaiya Kumar, the entire "nation" has stood firmly for the students union president. But no one from the "nation" was seen voicing protest when University of Kashmir was locked down for a week.
Within Kashmir, the media fraternity, bar fraternity and some politicians – most notably Independent MLA Engineer Rashid – were on the forefront, protesting for the rights and freedom of students. This is because Kashmiri knows well the meaning of words like rights and freedom.
When KU was locked down for a week hardly anyone in India or Indian media cared or covered the even here. It is evident even after 69 years that Muzamils are not Kanhaiyas, and New Delhi is proving it time and again.
The common perception in Kashmir is that Delhi Police is after the sloganeering in JNU because some Kashmiri students are involved in sloganeering in it. Jammu-based newspaper State Times reported, "Government of India has directed Delhi Police to avoid detaining any student from Jammu and Kashmir "for the moment". This is said to be an attempt to protect the BJP's formative alliance with PDP for the government formation in Jammu and Kashmir. Officials of Union Ministry of Home Affairs communicated verbally to senior officials of Delhi Police that none of the Kashmiris, particularly the students, even if found involved in organising or attending the recent anti-India demonstrations, should not be immediately booked in any FIR or arrested. It was being done only to protect churning out of BJP's possible coalition with PDP."
The impediment in Kashmir has always been its successive governments. When almost the entire nation is speaking up against the BJP, PDP again seems all set to re-stitch the alliance with the communal forces.
It remains to be seen if after again re-stitching the alliance with BJP, PDP will be able to secure the academic life of Kashmiri students, or will allow them to be free fodder for New Delhi's psedo-Hindu regime and Delhi Police.
*
The author is an Op-ed Editor at the Rising Kashmir newspaper. He also writes for the DailyO, The Quint and Youth Ki Awaaz. @DaanishNabi
---
The Kashmir Walla needs you, urgently. Only you can do it.
We have always come to you for help: The Kashmir Walla is battling at multiple fronts — and if you don't act now, it would be too late. 2020 was a year like no other and we walked into it already battered. The freedom of the press in Kashmir was touching new lows as the entire population was gradually coming out of one of the longest communication blackouts in the world.
We are not a big organization. A few thousand rupees from each one of you would make a huge difference.
The Kashmir Walla plans to extensively and honestly cover — break, report, and analyze — everything that matters to you. You can help us.
Choose a plan as per your location