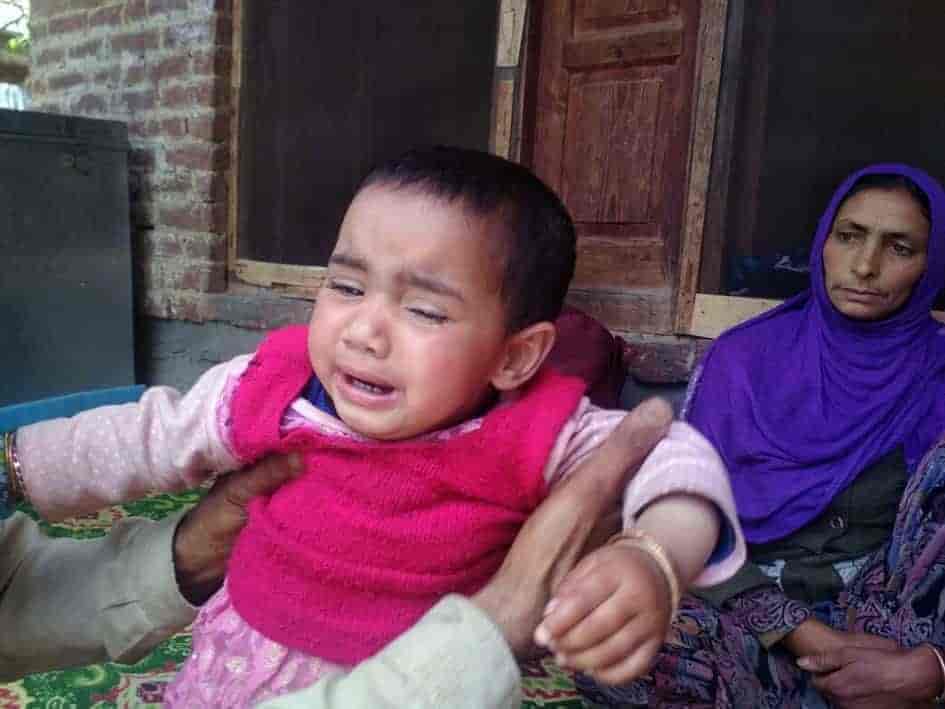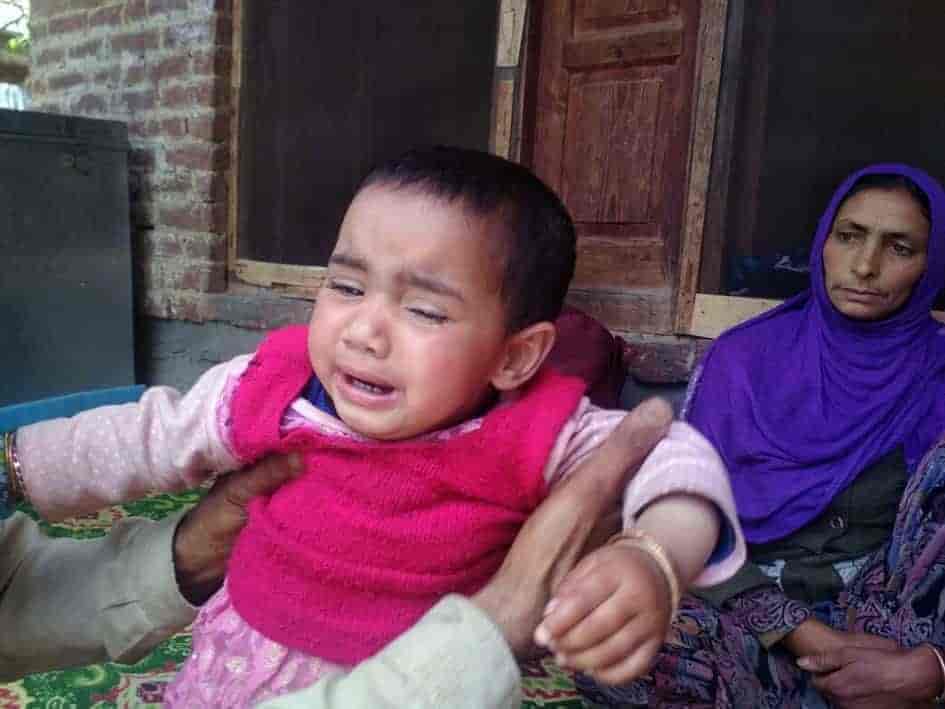 Marium, one-year-old baby girl keeps on crying in the absence of her father Ishfaq Ahmad Wani who has been jailed by police on charges of stone throwing in Handwara village of north Kashmir's Kupwara district. Her mother Misra Bano died when in a "cross firing" during an encounter on December 11, 2017, at Younso, Handwara, that also left three militants dead.
"She (Marium) continues to look for her father and doesn't stop crying," said her maternal grandfather Mohammad Shaban who along with his aged wife now look after the infant.
Ishfaq was arrested on Monday after summoned by police to its post at Chowgal. As he appeared before the police, he was put behind the bars, he said.
A police officer when contacted told a news agency that Wani was held after proper evidence about his involvement in stone-throwing in the area.
"We have procured a video footage wherein Ishfaq is seen leading the stone-throwing youth," he said. "There were protests and stone pelting and he (Ishfaq) along with other people fled from the area but he was not part of any stone pelting protests," said Shaban, holding Marium in his lap.
While talking, Shaban was trying hard to comfort Marium but to no avail as she kept crying. "She is continuously gesturing and wants to see her father," he said.
The locals of the area have urged the Chief Minister Mehbooba Mufti to interfere and order the release of Ishfaq, for the baby girl.
"Holy month of Ramadan has arrived and she (Mehbooba) should interfere and ensure that baby girl is not denied father's affection as her mother has already died in violence," said a local. (GNS)
---
The Kashmir Walla needs you, urgently. Only you can do it.
We have always come to you for help: The Kashmir Walla is battling at multiple fronts — and if you don't act now, it would be too late. 2020 was a year like no other and we walked into it already battered. The freedom of the press in Kashmir was touching new lows as the entire population was gradually coming out of one of the longest communication blackouts in the world.
We are not a big organization. A few thousand rupees from each one of you would make a huge difference.
The Kashmir Walla plans to extensively and honestly cover — break, report, and analyze — everything that matters to you. You can help us.
Choose a plan as per your location