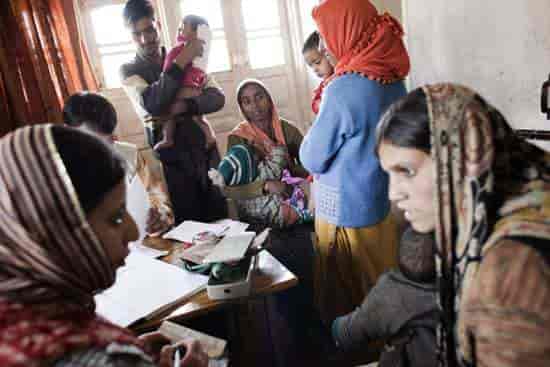 Kashmir, the state once known by the famous epithet, "paradise on earth", has lost its way, due to a critical imbalance in the physiology of its people. Some years ago, it was estimated that Kashmir, being a temperate area, would make an ideal environment for advanced education, which could boost the already thriving fields of science and technology. No doubt Kashmiri's have creative and innovative brains, but what about those whose brains have deteriorated to the point where everything is a struggle, not only for themselves but for their friends and family as well. The temperate climate is not the only factor weighing on our mental adeptness. In this land where everything is pillaged and violence persists, the devastation of human minds, as a consequence of Kashmir's situation, will surely be a heavy loss in terms of the economy and the prosperity of this already debilitated land.
Mental disorders can be found far and wide. They affect many of the world's great personalities, people who have contributed much with their intellectual abilities – the world has not yet forgotten Albert Einstein, Sir Isaac Newton, nor Ernest Hemingway. Mental disorders have handicapped a great number of people, but seldom do we hear of the mental effects they have on the families of those diagnosed, who also bear a terrible blow with the onset these strenuous illnesses. The present so-called superpower, the United States, presently has millions of sufferers from mental disorders putting billions of dollars annually into medication and other treatments, and if the rate of mental illness goes on with the same stride, it is predicted that it will soon gulp this superpower and turn it powerless.
Analysing our own situation, we should reckon what may be the condition of this charming place called Kashmir, which has already trudged through decades in which the common man endures increasing complications, of which every native is well aware. The decades of unrest and turmoil – killings and rapes, disappearances and uncertain futures, commotions and confusions, and the flurry and hubbub – someone rightly named "The Bleeding Paradise", and this bleeding paradise is now giving rise to thousands of mentally ill patients annually, rendering the population from active to passive and from happy to afflicted.
In the 1960s, John F. Kennedy's prediction about the outcome of the growing number of mentally ill patients in the United States was alarming to his whole nation. He made it clear he thought the problem would be debilitating. Is it not concerning that a nation, considered a superpower of its time, fears being crushed by these mental disorders and laid helpless? Mental disorders bring the same power of devastation to Kashmir. Our economy is already on the way to its downfall, and the situation is getting worse, day-by-day, as this state now becomes a breeding ground for more and more sufferers of mental illness. If this terrible situation remains unchecked, we could be extirpated in decades even. If we cannot gain control over the present pace of these mental disorders, within decades I think the name, Kashmir Valley, might as well change to a new name, like Lunatic Valley, where every person has a bunch of tales; some share them with others, and some people's remain unshared and dumped deep into their hearts.
Then, here in Kashmir, we will be prone to having to combat another type of violence: domestic, where conflicts prevail that turn members of a single family against each other. Our new generation – the future of Kashmir – is already at a finish line, a line which shuts off their intellectual circuits, triggers them to think differently, live differently and act differently. There are many reports published that present a bleak account of Kashmir's mental health. In November, 2006, the humanitarian organisation, Medecins Sans Frontieres (MSF), in Holland, released a damning report on the psychosocial and general health situation of the Indian population of Kashmir, with the title, "Valley of Nightmares: Mental Health in Kashmir Needs Urgent Attention" as one of their human rights features. In the same year, an article by Cordelia Jenkins, published 29 March, 2011 on Live Mint and the Wall Street Journal, with the title, "In Kashmir, Years of Unrest Take a Toll on Mental Health", attempted to figure out the mental health situation and treatment problems in Kashmir. The problem has been well-documented.
But how many of us want to help a man with such illnesses? We often claim to wish to join this group or that group or act as social workers, but we have to become full helpers, not just partial ones. People here, besides their physical needs, also need something we find difficult to understand and they difficult to explain. We must stand to help people in our society and try to understand their psychological needs as well as their physical.
For having such a huge number of sufferers, our facilities to combat these illnesses are insufficient: a single psychiatric hospital in poor condition. Most of the people living here with mental illnesses do not receive the care they require. Untreated mental illness in the state can take a heavy tool in the form of lost productivity. By letting mental afflictions go untreated, we consign millions of people to misery and put a drag on our economy. And what about the government of Kashmir? Have they planned to combat this situation or do they not know their vote bank is grappling with an array of mental health problems and the stigmas that come with them? Do they want to curb this psychological debilitation in Kashmir, or do they want to govern it as such for their vested interests, as it makes their corrupted jobs easier? The government in Kashmir, if it really wants to do anything, must strengthen and improve the programs and facilities serving the mentally ill.
The emphasis in addressing Kashmir's scarred mental health should be on timely diagnosis and intensive treatment, training, and rehabilitation, so that the mentally afflicted can be cured and their functionality restored to the extent possible. Services to the mentally ill must be community-based and provide a range of services to meet community needs. This will make it possible for most patients to be successfully and quickly treated in their own communities and returned to a useful place in society. We in Kashmir require organisations that work toward increasing public awareness of the nature of mental illness and toward furnishing community facilities. Physicians, including general practitioners, psychiatrists, and other medical specialists, should all be able to participate directly and cooperatively in the work, and the reward will be that millions of our friends, neighbours and children will have the chance to become healthier, happier, and more productive members of society. If we apply the present medical knowledge and social insights fully, all but a small scrap of the mentally ill can eventually receive invigorating and constructive care, all can be restored to happy lives, and all can join once again in the prosperity of this land. We can spare them and their families much of the misery mental illness now brings. We can save public funds, and we can conserve our manpower resources. This is the twenty-first century, the century of evolution, and we have to be ready to evolve mentally.
*
The author is a Research Scholar at the Aligarh Muslim University and can be mailed at [email protected]
Photograph by Giulio Di Sturco/VII Mentor
---
The Kashmir Walla needs you, urgently. Only you can do it.
We have always come to you for help: The Kashmir Walla is battling at multiple fronts — and if you don't act now, it would be too late. 2020 was a year like no other and we walked into it already battered. The freedom of the press in Kashmir was touching new lows as the entire population was gradually coming out of one of the longest communication blackouts in the world.
We are not a big organization. A few thousand rupees from each one of you would make a huge difference.
The Kashmir Walla plans to extensively and honestly cover — break, report, and analyze — everything that matters to you. You can help us.
Choose a plan as per your location