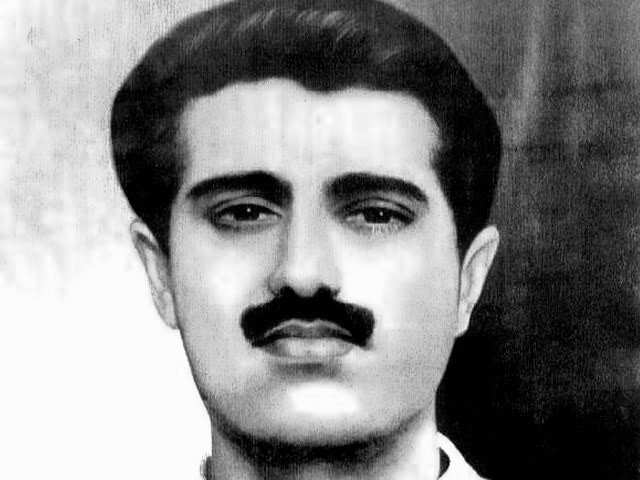 Srinagar: Chairman of Jammu Kashmir Liberation Front (JKLF) Muhammad Yasin Malik
Wednesday
said that father of Kashmiri Nation Muhammad Maqbool Butt is the "corner stone of our resistance against illegal occupation and symbol of freedom and liberty."
According to the statement issued here, Malik who is languishing at the central Jail Srinagar said that his struggle and sacrifices represent every oppressed and subjugated human.
He said that Maqbool Butt was an ideologue, a warrior, a leader and an intellectual who led Kashmiris on all fronts, be it diplomatic front, armed front, political front or intellectual front. "He started alone and strived hard for the liberation of his nation from foreign occupation; perused and followed his dream with action and sacrificed his life with pride and passion," he said.
Malik said that "struggle and martyrdom of Mohammad Maqbool Butt is a glorious chapter of our history that will always guide us through the tough journey of our freedom struggle."
"On 11th February 1984, Indian rulers decided to hang this leader and thus choke Kashmiri voice for freedom on gallows in Tihar Jail Delhi but time has proved that India failed to achieve this goal as thousands of new Maqbool's originated from his sacred blood and came out from every Kashmiri village and town to challenge Indian hegemony and illegal occupation," he said.
Announcing that various programs to be held on Maqbool Day this year, Malik said that various protest programs will be held across the globe on the occasion of Mohammad Maqbool Butt's 34th martyrdom day and Kashmiris living throughout the world will observe this day as a national day.
Malik said that "in Indian held Jammu Kashmir programs announced by the joint resistance leadership(JRL) will be followed in letter and spirit as protest marches, sit-in and submitting memorandums seeking the return back of Mortal remains of the great leader back to his nation, will be held across the major cities of the world on the occasion."
According to JRL protest program complete shutdown will be observed on 9th and 11th February. On 9th February, a memorandum will be read out and passed in every Masjid and protests demanding mortal remains of Muhammad Maqbool Butt and Muhammad Afazl Guru will be held across Jammu Kashmir.
On 11th February, besides a complete shutdown in whole Valley, Kashmiris will march to UN office at Sonwar Srinagar and submit a memorandum to UN secretary general demanding mortal remains of Maqbool and Afzal Guru.
JKLF as per the s statement will also hold different protest and prayers meetings in all districts of Valley.
A memorial meeting will be also held at the birth place of Shaheed Baba-I-Quom at Trehgam Kupwara in which JKLF leaders and activists will pay tributes to Maqbool Butt.
JKLF leaders and activists will hold protests in Islamabad Pakistan, Lahore, Karachi and other cities of Pakistan while as programs will also be held across Europe, UK, USA, Canada, Germany, United Arab Emirates, Saudi Arabia and other parts of Middle East.
JKLF London branch will hold a protest outside Indian High Commission there, reads the statement.
A petition will be handed over to the high commission, asking for the return of mortal remains of Mohammad Maqbool Butt and Muhammad Afzal Guru.
Seminars, protests and symposiums will also be held to pay tribute to father of nation and other martyrs. JKLF will also hold demonstration across Azad Kashmir on 11th February 2018. Protest marches and sit-in will be held in cities like Muzafarbad, Kotli, Mirpur, Rawalakot, Bagh and Gilgit in which the vision and sacrifices of Mohammad Maqbool Butt will be highlighted.
Malik further said that as a living nation "we owe it to the future generations of Kashmir to highlight and spread the vision of Shaheed Maqbool Bhat for which he and millions of other Kashmiris laid down their lives."
Paying tributes to 'great visionary leader', Malik said that as heirs of sacred blood Kashmiri nation needs to focus on its goal and always remain steadfast and wedded to the mission of these great martyrs.
He said that "father of nation Mohammad Maqbool Butt and following his foot prints son of Kashmir Mohammad Afzal Guru laid down their today for the betterment of our tomorrow and thus have made us debtors and it is now our duty to safeguard these sacred sacrifices and make efforts to take the sacred mission of these martyrs to its desired goal."
Malik said that "Indian state not only hanged Maqbool sahib and Muhammad Afzal Guru but have denied these martyrs even an opportunity of proper burial. This is actually a scar on the conscience of international community which has failed to safeguard the very basic human rights of Kashmiris."
He said that Kashmiris will keep protesting and demanding the mortal remains of their sons of soil and no stone will be left unturned in this endeavor.
Meanwhile, JKLF strongly condemned the nocturnal raid on the residence of JKLF zonal organizer Bashir Ahmad Kashmiri. "Police last night raided his house and intimidated his family which is highly regrettable," JKLF spokesman said, adding that these harsh measures can never deter JKLF from pursuing its struggle for freedom. (KNS)
---
The Kashmir Walla needs you, urgently. Only you can do it.
We have always come to you for help: The Kashmir Walla is battling at multiple fronts — and if you don't act now, it would be too late. 2020 was a year like no other and we walked into it already battered. The freedom of the press in Kashmir was touching new lows as the entire population was gradually coming out of one of the longest communication blackouts in the world.
We are not a big organization. A few thousand rupees from each one of you would make a huge difference.
The Kashmir Walla plans to extensively and honestly cover — break, report, and analyze — everything that matters to you. You can help us.
Choose a plan as per your location