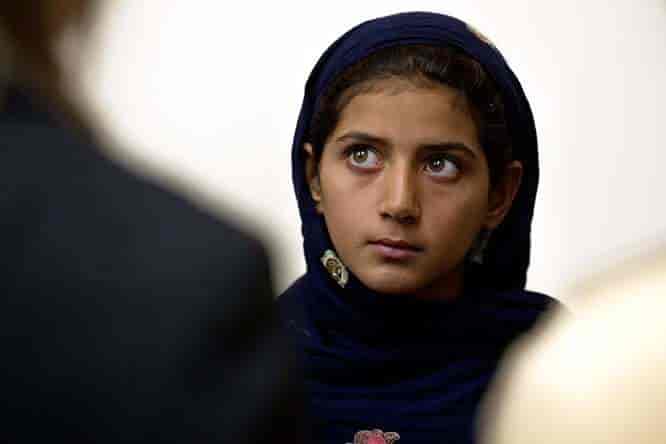 Earlier this week, a young girl from Pakistan addressed a Western audience on a life-threatening situation she faced in her homeland. Dressed in a loose headscarf, the nine-year-old traveled more than seven thousand miles to the United States' capitol in hopes of communicating a first-hand insight into a U.S. program that has terrorized her village community. When she arrived in Washington D.C. and addressed Congress on October 29, only five Congressmen attended her hearing.
Earlier this year, another young girl from Pakistan addressed a Western audience on a life-threatening situation she faced. She too wore a headscarf, and she too belonged to a rural village community. But when she spoke about the deadly obstacles she faced, the whole world was there to listen. She was honored by heads of state, ambassadors, and, of course, the Western media, who put her on the covers of their magazines and amplified her voice in their headlines.
The first girl, Nabila Rehman, came to inform American policy-makers of the psychological and physical effects she and her family had experienced as victims of American drone attacks. The second, Malala Yousafzai, spoke about her experience of being shot by members of the Pakistani Taliban because of her involvement in promoting girls' education. In other words, Nabila is a victim of Western policy and Malala, whose cause has gained the support of Western governments, is a beneficiary.
Critics of the media's "overexposure" of Malala claim that she serves as a distorted symbol of oriental backwardness, and more importantly, a victim whose troubles can be alleviated by Western involvement, namely from the U.S., in weakening the Taliban and funding education in Pakistan. A number of articles have accused Western politicians of harboring a "white savior complex" and using Malala as a P.R. instrument. These judgments were passed not to belittle Malala, the tragedy she faced, or the movement she has started, but rather to point out the insincere motives of our leaders and our media.
Of course, nothing could be more convincing of the West's deep-set hypocrisy than the way Congress received Nabila Rehman. The low turnout in Congress and the lack of media attention given to the young girl, who, like Malala, has suffered mentally and physically due to the political instability of Pakistan, is shameful. It is embarrassingly obvious how hollow our commitment to the safety of children is, not only in Pakistan but all nations in which the United States is militarily or politically involved. Glorifying the tragedy of a child, whose story we exploit to convince ourselves that our increased presence in Pakistan is a truly humanitarian effort, is a blatant act of deceit.
Although it is easy to dismiss such claims of duplicity in our own media and society and adapt selective amnesia, we cannot expect the people and government of Pakistan to be as forgiving. These moments of heightened American insensitivity and blatant disregard polarize American-Pakistani relations. It is vital that we demonstrate our commitment to protecting civilians from both the Taliban and our own drones. Drones and their threat to Pakistani sovereignty has already become a hot topic in Pakistani society, and acts that suggest a brazen indifference to civilian deaths further aggravate local sentiments. As our 2014 withdrawal from Afghanistan approaches and our dependence on Pakistan to stabilize the region grows, it is important that we broaden communication and become more cognizant of the threats to the nation's stability, whether the Taliban or our own misplaced involvement.
Beyond just becoming more receptive to the sentiments of the Pakistani people, the United States must also become more active in stopping drone attacks. The skewing of civilian, children, and militant death tolls has created a fog of uncertainty around the success of the drone program. Most Pakistanis today would cite drone attacks as the driving force behind society's collective anti-American stance, and this growing mistrust is something on which the U.S. needs to act.
Of course, the United States could also accuse the Pakistani government of being duplicitous. The clearest example would be the national government promising support to the United States while continuing to fund and provide intelligence to the Afghan Taliban, as well as the Haqqani network. Both sides will need to take serious measures to regain a trust that is vital to both of their agendas in South Asia. The growing unease between the nations' leaders, illustrated by Prime Minister Nawaz Sharif's visit to the White House last week, is something that can greatly hinder both the U.S. ability to stabilize Afghanistan and the Af-Pak border as well as the Pakistani government's ability to weaken the growing threat of the Pakistani Taliban. Nevertheless, it is clear from a comparison of Pakistani and American military and police death tolls — roughly 15,000 Pakistanis versus 2,289 Americans — that Pakistan remains just as, if not more, committed to stabilizing the region. The least the United States can do in return is increase transparency in its drone efforts and respectfully receive a little girl who traveled more than seven thousand miles to express the tragic consequences American policies have had on her life.
Photograph by AFP
---
The Kashmir Walla needs you, urgently. Only you can do it.
We have always come to you for help: The Kashmir Walla is battling at multiple fronts — and if you don't act now, it would be too late. 2020 was a year like no other and we walked into it already battered. The freedom of the press in Kashmir was touching new lows as the entire population was gradually coming out of one of the longest communication blackouts in the world.
We are not a big organization. A few thousand rupees from each one of you would make a huge difference.
The Kashmir Walla plans to extensively and honestly cover — break, report, and analyze — everything that matters to you. You can help us.
Choose a plan as per your location