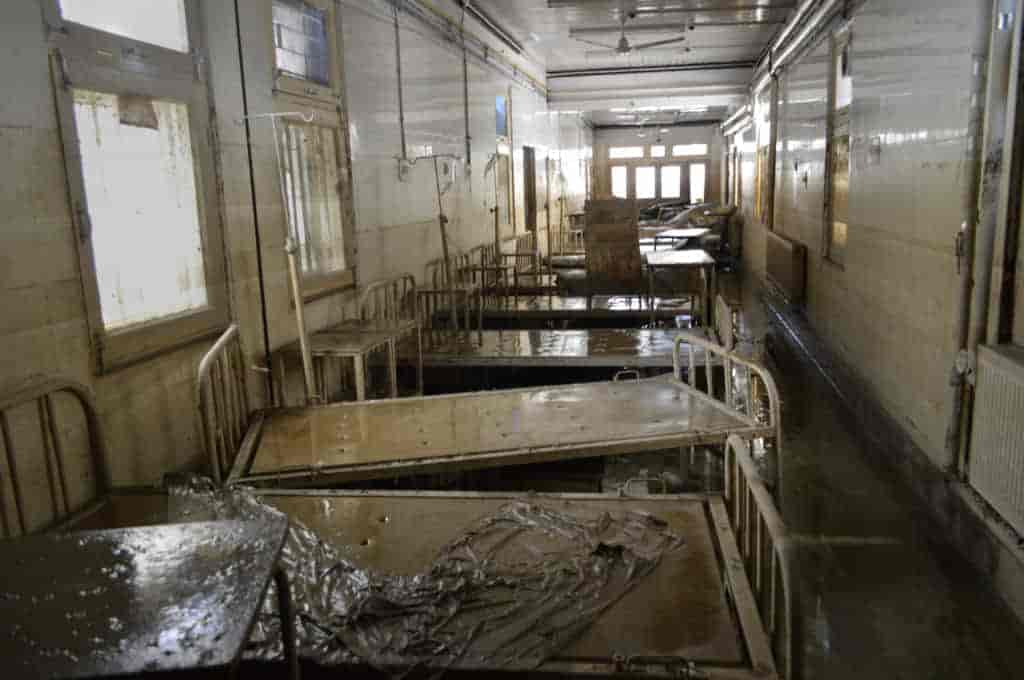 On most of the days Shri Maharaja Hari Singh hospital (SMHS), one of the main hospitals in the heart of Srinagar city, in Kashmir, is filled with patients, who queue-up here every morning jostling to get inside the doctor's cabin for an appointment. But as of now, all one can see are beds, medical equipments and ambulances covered with a thick layer of sludge that has been left behind by the floodwater.
On the intervening night of September 7 and 8 of this month, massive floods in Jhelum River that have been described by many as worst in over a century submerged most parts of the city. The SMHS hospital was also flooded, forcing doctors, patients and their attendants inside into a frenzy to get out, but not every-one could. Some of them took refuge on the first floor of the two storey hospital building, while water levels below kept rising with every passing minute.
"As water started gushing inside, we evacuated the ground floor as quickly as we could. But when the water level reached on par with windows of the ground floor, we decided to shift patients who needed immediate medical attention to other hospitals in the city that had not been hit by floods, on boats," says Dr. Ifat, Head of  Dermatology department, who was present in the hospital at the time.
While floodwater has finally receded after almost a fortnight, the stench inside the hospital is unbearable. Animal carcasses could be seen lying around, and the water that remains logged in the premises has turned murky with human excreta floating on top of it.
Mumtaz Fatima, is one of the only few faces one could find in the hospital other than a handful of cleaning staff who are trying hard to rub dirt off the floors. She along with few of her family members had returned to collect some of their personal belongings they were forced to leave behind on the day of the flooding.
Fatima was accompanying her father who had been admitted to the hospital after having fallen off the roof of their house in Nishat area of Srinagar, a day before deadly floods swamped through the city. She describes all that happened on that night as wrath of God.
"My father, brother and I were already here (on the first floor) when water entered in the hospital. At first, we thought we were safe but as water level reached first floor I thought we were all going to drown," she recalls. "I was crying and praying, thinking about my mother and sisters who were at home."
There were at least 100 people, including doctors and patients stuck on the first floor of the hospital with nowhere to go. The boat that had taken some of the patients to safer locations earlier had not returned. It was only locals, who cracked open the rusted tin-roof of the hospital and rescued people on their shikaras.
"They came in and took us to Nawa Bazar bridge, from there we were taken to Sher-i-Kashmir Institute of Medical Sciences in ambulances that were already present there," she says.
It could be weeks or even months to make the hospital fully functional again. Most of the equipments in the hospital are defunct and need to be replaced. The hospital administration, however, have setup a camp inside a building on the other side of the hospital premises and are looking after some patients that still keep trickling in.
"Some of our staff members have also been badly affected by the floods, but all of them have reported back to their jobs, which is a commendable effort. We are attending as many patients as we can but those who need more care are being referred to other hospitals," says Nazir Ahmed, Medical Superintendent of SMHS hospital.
---
The Kashmir Walla needs you, urgently. Only you can do it.
We have always come to you for help: The Kashmir Walla is battling at multiple fronts — and if you don't act now, it would be too late. 2020 was a year like no other and we walked into it already battered. The freedom of the press in Kashmir was touching new lows as the entire population was gradually coming out of one of the longest communication blackouts in the world.
We are not a big organization. A few thousand rupees from each one of you would make a huge difference.
The Kashmir Walla plans to extensively and honestly cover — break, report, and analyze — everything that matters to you. You can help us.
Choose a plan as per your location