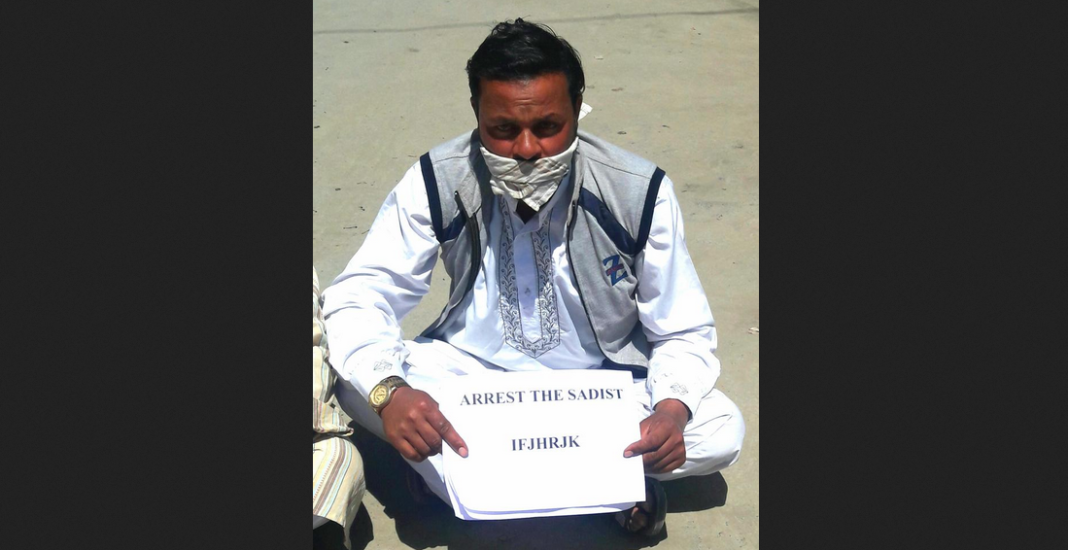 A silent protest was held today by Farooq Ahmad Dar – who was used as human shield by Army's Major Leetul Gogoi, by tying him to an Army jeep and paraded him through a dozen villages during elections last year in Budgam.
The protest was led by human rights activist Ahsan Untoo, who has also filed several petitions in the human shield case, in Srinagar's Lal Chowk area. Dar was holding a placard reading "Arrest the sadist" and had a piece of cloth sealing his mouth. Father of 24-year-old Tanveer Ahmad Wani, a civilian killed in Beerwah in July last year, was also present at the protest.
Untoo said that they had gathered to protest against Gogoi, who is a habitual offender. "In the case of Tanveer's killing, even the person who shot at has been identified and in Dar's case the Gogoi has accepted that he tied him to a jeep but still he is roaming free," said Untoo.
Wani was shot dead, according to the locals, when a group of Army's 53 Rashtriya Rifles – the same unit that Major Leetul Gogoi belongs to, mistook the bang of a juice pouch to be a blast and started firing in the direction of civilians. But the army had claimed an army patrol came under heavy stone throwing and some of the people "tried to close in on the patrol and snatch weapons from the soldiers."
According to Untoo, he has filed eight petitions (one at the High Court (HC) and seven at the State Human Rights Commission). "Strangely, the latest response from the police in Dar's case is that the investigations are still going on. The SHRC had asked the government to give 10 lakhs (1 Million rupees) to Dar but it hasn't been done. We are demanding that the Major should be punished for his crimes," added Untoo.
Untoo said that the protest was as a question to police, "how much they are under the army that they can't arrest the Major? They should arrest him and put in jail."
---
The Kashmir Walla needs you, urgently. Only you can do it.
We have always come to you for help: The Kashmir Walla is battling at multiple fronts — and if you don't act now, it would be too late. 2020 was a year like no other and we walked into it already battered. The freedom of the press in Kashmir was touching new lows as the entire population was gradually coming out of one of the longest communication blackouts in the world.
We are not a big organization. A few thousand rupees from each one of you would make a huge difference.
The Kashmir Walla plans to extensively and honestly cover — break, report, and analyze — everything that matters to you. You can help us.
Choose a plan as per your location