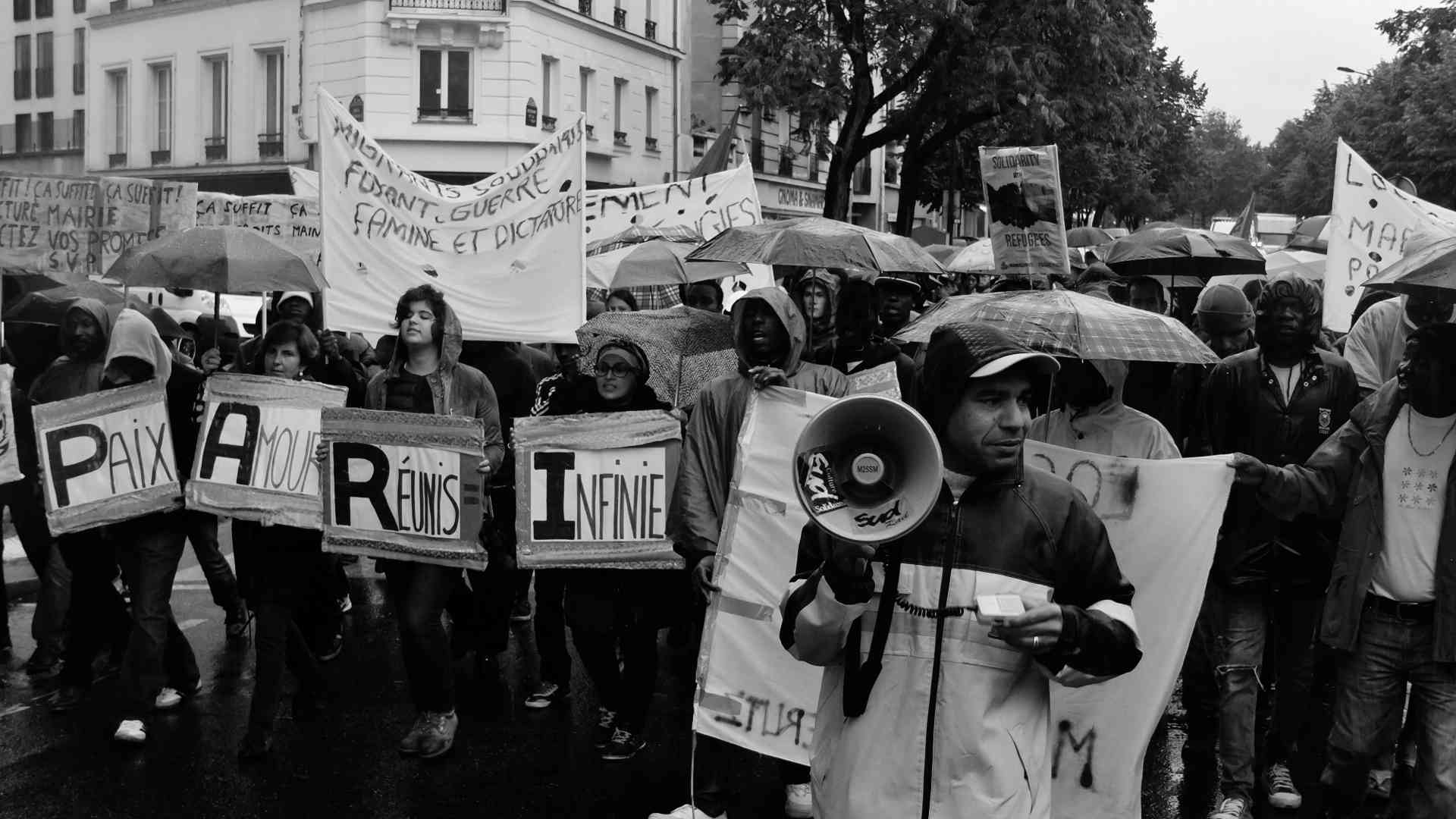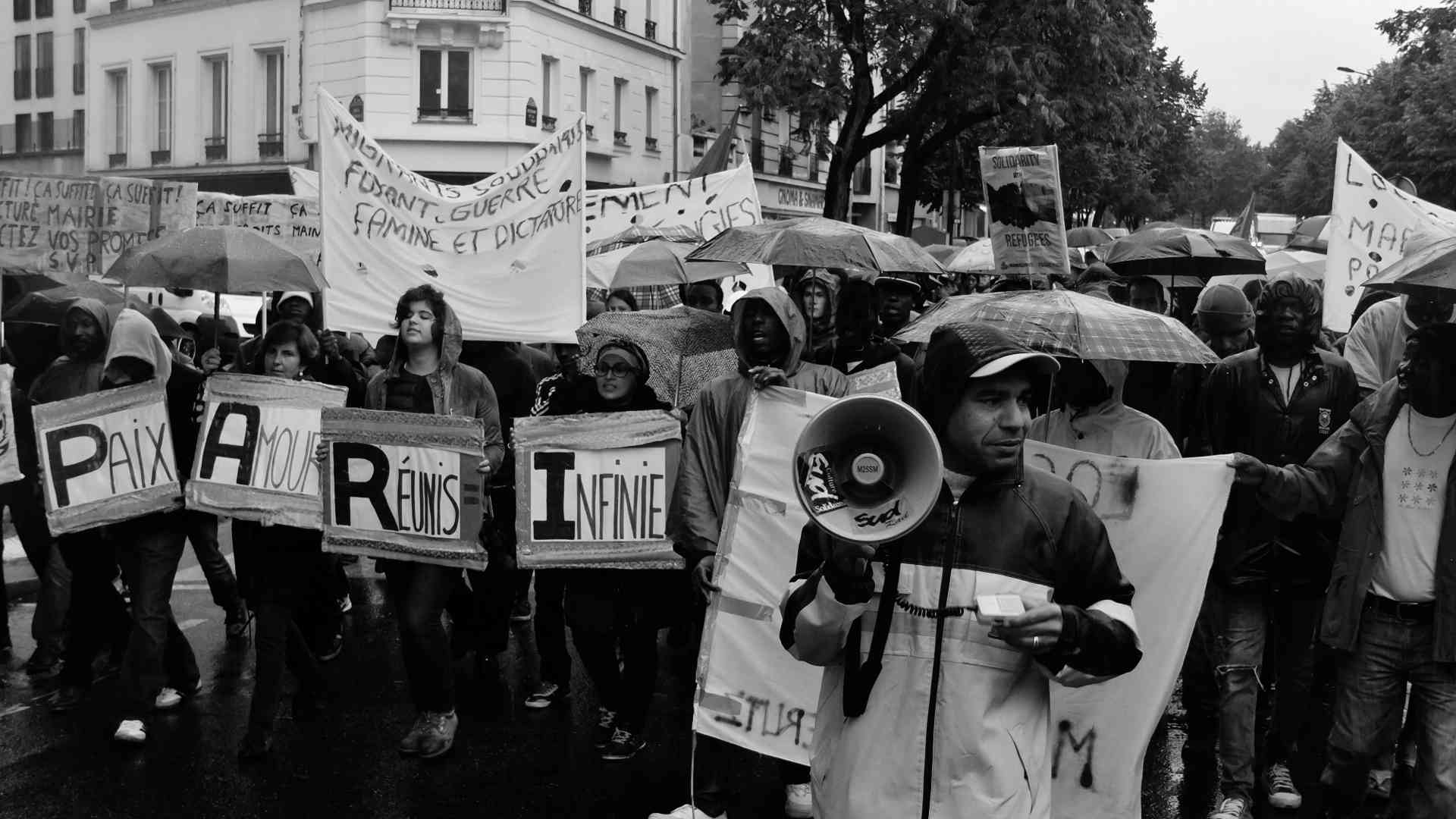 Summer in Paris is synonym of fantasy for visitors. For locals, apart from the weather, the city still has the same face. The air is still warmly polluted, as usual cars are stuck in traffic jams, and locals confront their stubborn routine while siding with amazed tourists from every corner of the world. Not much changes here but the seasons.
On the other hand, the change of season, from sunny days to pouring is life changing for the hundreds of migrants and refugees who are bordering the river Seine in Paris along with luxury boats and fancy night clubs. They sleep in tents under the Charles de Gaulle Bridge near the Austerlitz train station. For them, there is no point in venturing away from the bridge in rains. This camp is in majority occupied by south Sudanese refugees, Eritreans and other former inhabitant from countries near the Horn of Africa.
Today was supposed to be a day of demonstration, a call for awareness on their deprived living conditions. It now seems rather compromised. A few associations joined them in order to march with them in the streets of Paris. Hortence, a volunteer from the organization 'Soutiens aux migrants du quai d'Austerlitz' (Support for the migrants from the Austerlitz dock), comes here every day.
"Children and women are always prioritized to be allocated a place to sleep, but for men it can take much longer," she tells The Kashmir Walla. "In the camps along the river Seine, there are hundreds of male migrants waiting to be allocated a home. Our association managed to help find dozens of shelters, but the process is always slow, and the city hall along with the prefecture are not always keen on helping. They rather pass the buck for whose turn it is to help."
Hortence adds this bridge is a new spot as the other camps along the river are now overcrowded. While apartments are being found for migrants to move in, the new arrivals have to pitch their tents wherever they can. All the dry spots under the bridge have been taken, and a few tents are getting wet.
Osman, a South Sudan refugee, arrived here 15 months ago. He does not have to worry about where to pitch his tent as his spot is permanent now. He is one of the few who agree to talk to outsiders coming to the camp. His joyful attitude is in contrast with his life condition. In his basic French, he says that there is no way for him to go back to his home country now. After months spent in Libya and Italy, he wishes to stay in Paris.
Whenever the name of his native region comes up, his smile comes off his face. "No Sudan, Sudan finish, No Sudan," he says. He lost his relatives during the war and now there is nothing left for him back home. He wants to stay here, hoping for a relocation in a shelter soon. Like many in his situation, he too hopes that the association will manage to eventually find him a shelter.  "Some don't even want to stay in shelters when we do find them some space," says Hortence, from the association. Sometimes overcrowded, unsafe or dirty, certain migrants find peace with the outdoor life.
As the time passes, more volunteers arrive the camp. Most of them are in their sixties or older. An organizer from an association is shouting through a megaphone. "Do you want to go or no? You are the one to decide!"
It is now 6.30 pm. Like the week before a demonstration was originally planned at this time. The response of the migrants is rather passive and demotivated. Only a couple of hundred people have gathered for this march, and the rain certainly does not help.
Zoltan, a Hungarian migrant, is not going to join the march. He has only been here for a month. As he doesn't speak French, he says that he couldn't get any help to find a job. He does not want to wait in such conditions anymore. "Too much outside sleeping, no good," he says. His family needs him back home now for his sisters who have got some health issues. He now waits for his repatriation to be taken care off by the French office in charge of such, but no date of return has been decided for him yet. So like many others here, he continues to wait.
A couple of hundred meters away, another camp has been established, right under a night club. This camp has been here for months now and is known to journalists. They often come here to take explicit pictures of the youth, partying over the migrants. The population of this camp is mostly from North and sub-Saharan Africa. The people here have seen too many photographers taking their pictures and leaving, so our presence is not welcome. When we try to speak to them, they refuse. "The situation!? Don't you see it?' one Arab-looking man says, pointing bitterly at the tents. "What else do you need?"
Back at other camp, people are getting ready to make a move. At last, there will be a demonstration. Migrants and volunteers, along with a few students, start walking toward the renown Bastille place. A few months ago, millions of people were gathered here for the Charlie Hebdo attacks. Today, they are only a few hundreds to chant for the right of the refugees to get a roof.
The crowd chants  'Un toit c'est un droit!' (Having a roof is a right), 'Solidarité avec les réfugiés!' (Solidarity with the refugees). Cars slow down to see what is going on, and move ahead, while a few curious pedestrians stop to watch. The rain does not push them to stare for long, and slowly they walk by. The loud noises of city promptly overtake the voices from the small crowd.
The next day, little response was given by the media to such unattended event. Some French newspapers mentioned it, emphasizing on the lack of attendance rather than on the lack of help provided by the state for the desperate situation of the people of the Austerlitz docks. They are just a small, one section, from the hundreds of thousands people living in extremely precarious conditions, who have arrived in France and Europe in the past recent years. For now, the refugees and migrants of Paris only wait for the associations to successfully pressure the local authorities to find them shelter, as well as hoping for the rain to stop soon.
On Friday, 11 September 2015, the French ministry of Justice announced that the camp will be evacuated. It has been announced that in the coming week, the necessary will be done to find shelters for the 400 people of the Austerlitz dock in Paris.
---
Raphael Godechot is a Staff Writer at The Kashmir Walla.
In Paris: Photographs by Dorian Iseux. Additional reporting by Marie Trinh Khanh.
---
The Kashmir Walla needs you, urgently. Only you can do it.
We have always come to you for help: The Kashmir Walla is battling at multiple fronts — and if you don't act now, it would be too late. 2020 was a year like no other and we walked into it already battered. The freedom of the press in Kashmir was touching new lows as the entire population was gradually coming out of one of the longest communication blackouts in the world.
We are not a big organization. A few thousand rupees from each one of you would make a huge difference.
The Kashmir Walla plans to extensively and honestly cover — break, report, and analyze — everything that matters to you. You can help us.
Choose a plan as per your location