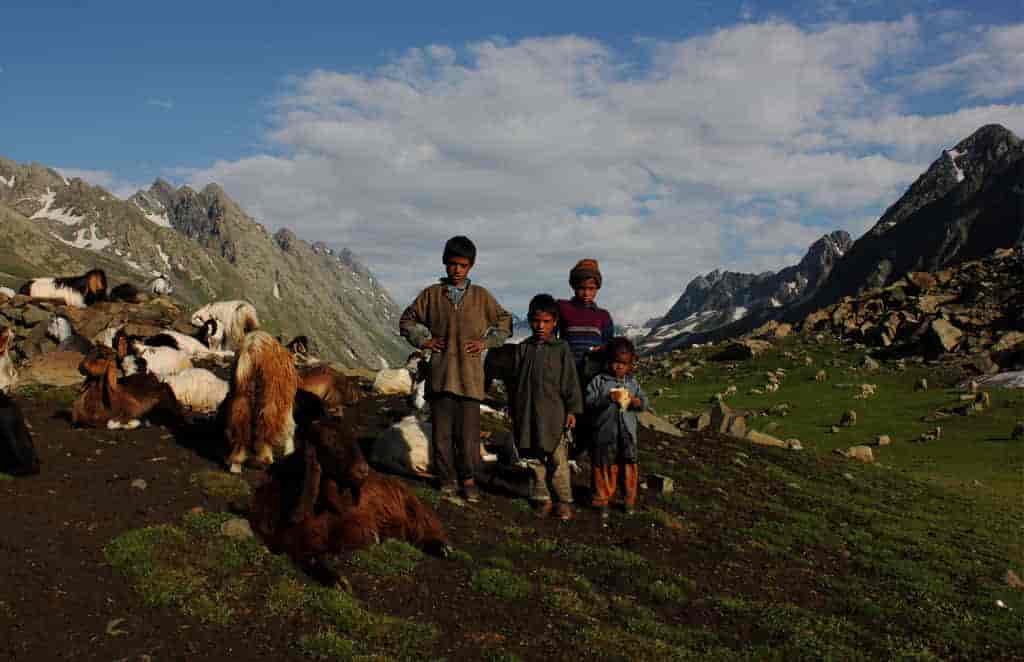 Kousarnag – one of the highest altitude springs of Kashmir Valley situated at a height of 12,140 feet above the sea level, some 120 kilometers from Jammu and Kashmir's summer capital Srinagar is in a controversy after a group of people from the Kashmiri Pandit community last month claimed it to be their holy pilgrimage before the turmoil started in the Valley in late 80s.
Gujjar and Bakarwaal nomad's who have been visiting the area for centuries completely disagree with the statements made by Pandit groups that the spring used to be a pilgrimage. In his early 50s Baji Miaan Showkat, a nomad whose family has been visiting the spring for centuries believes that the controversy revolving around the spring erupted because of the Narendra Modi's led Bhartiya Janta Party (BJP) government so as to strengthen the Indian rule in Jammu and Kashmir.
"I haven't seen any single person belonging to Hindu community visiting this place since my childhood nor have I heard about it from my ancestors. Had there been any such kind of thing my grandfather and other elders of our community would have definitely informed us," he says, sitting in his Dhoka (a small hut made of mud and rocks) accompanied by his family members. "The newly created government plans are dangerous and they want to disturb the peace and communal harmony in our motherland. This will lead to destruction, mostly to nomads who don't have homes, and they should not promote it for the sake of humanity," he added.
The Bakarwal community believes that Kousarnag has a Muslim background as the name of the spring is derived from Abi-Kousar which according to Muslims is a spring in heaven. They also claim that many saints have performed Chilla (a special 40 day prayer) here at the spring and some of them have also witnessed saints performing Chilla on the banks of the crystal clear lake.
Abdul Rasheed, another Bakarwal from Poonch who travels every year with his family and spends three months of summer around the spring to graze their cattle said, "My father has witnessed a Pakistani saint Fakhru Ud Din and others including Baji Ismail Sahib, doing a chilla on the banks of lake during his life. Apart from him, I have myself seen many saints including Moulvi Moin-ud-din from Ashmuqam performing chilla here in 70s."
Rasheed also said that he has seen a mosque here that was constructed by his community elders before 1947 which got damaged during that war and was reconstructed time to time so as to perform their religious rights. "Those who claim there was a temple or there is a temple I want to tell them who are fooling? We are here since centuries and will die here the way our ancestors died and are laid to rest in the nearby graveyard," he said, while pointing towards a graveyard.
Mohammad Ud Din, another community member said that the glaciers of Kousarnag serve as a source of drinking water for the people of South Kashmir including some areas of Poonch also. And if they come here whole system will change, the water of the spring will be polluted the way it has happened in Pahalgam.
The Kousarnag pilgrimage was also opposed by the members of civil society who termed it as a "cultural aggression" by India in the region to weaken the demography of Muslim majority state.
---
The Kashmir Walla needs you, urgently. Only you can do it.
We have always come to you for help: The Kashmir Walla is battling at multiple fronts — and if you don't act now, it would be too late. 2020 was a year like no other and we walked into it already battered. The freedom of the press in Kashmir was touching new lows as the entire population was gradually coming out of one of the longest communication blackouts in the world.
We are not a big organization. A few thousand rupees from each one of you would make a huge difference.
The Kashmir Walla plans to extensively and honestly cover — break, report, and analyze — everything that matters to you. You can help us.
Choose a plan as per your location