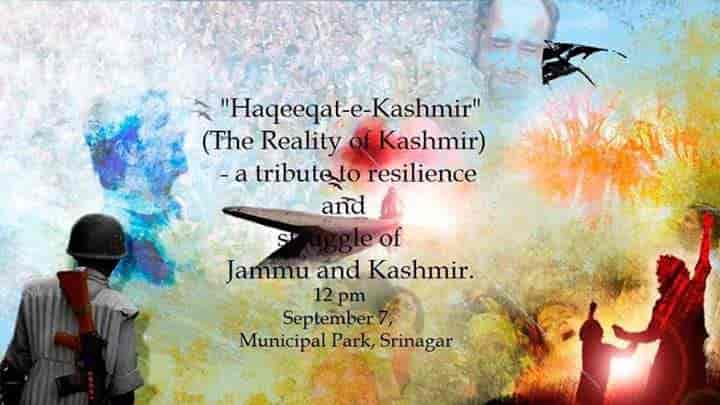 Srinagar, Kashmir: The civil society of Indian-controlled Kashmir is holding a cultural event Haqeeqat-e Kashmir (The Reality of Kashmir) on September 7, the day which coincides with Zubin Mehta concert scheduled to be organized by Germany along with 100-member orchestra team.
In what can be termed as clash between culture and cultural aggression, the organisers say that this is in response to Mehta's concert. While talking to a local news gathering agency GNS, Programme Spokesperson, Khurram Parvez said that the event is aimed at to pay tribute to Kashmiris who have sacrificed a lot during the past 23 years. "It will portray the real plight of Kashmir," he said.
He said that India is trying to cover up its crime by supporting Zubin Mehta's concert which will not depict the ground reality of strife torn Kashmir. "There will be a huge gathering of international media and we will aware them about the reality of this beautiful prison," Khuram added.
Zubin's Ehsaas-e-Kashmir, a 90-minute concert would be telecast live in over 50 countries with around 1,500 invitees expected to be the part of it. He is scheduled to arrive in a special plane along with his orchestra on September 5.
Khurram further added that it is a people's event and a tribute to the resilience and struggle of Jammu and Kashmir. "The event will feature music, poems, paintings, performance art, photographs and many other programs," he elaborated.
Noted poet, historian of Kashmir and member organizing committee of Haqeeqat e Kashmir, Zareef Ahmad Zareef while talking to GNS said if Germans are trying to heal wounds they should visit the homes of victim and families who have lost their kins in the ongoing battle.
"India is trying to represent false image of Kashmir and they think we (Kashmiris) only need music now. Zubin's program is a well-planned conspiracy of India in which all the audience is anti-Kashmir," Zareef said.
It is worth to mention here that on September 7, Zubin Mehta's concert is going to held at Srinagar's famous tourist spot Shalimar Garden while as Civil Society Kashmir is also organizing cultural event in a public park at Srinagar.
Earlier, senior pro-freedom leader Syed Ali Shah Geelani had opposed the concert of Zubin Mehta considering the political overtones involved in it.
Digital Art (Backdrop) by Moonis
Updated: 12:05 / 01/09/2013
---
The Kashmir Walla needs you, urgently. Only you can do it.
We have always come to you for help: The Kashmir Walla is battling at multiple fronts — and if you don't act now, it would be too late. 2020 was a year like no other and we walked into it already battered. The freedom of the press in Kashmir was touching new lows as the entire population was gradually coming out of one of the longest communication blackouts in the world.
We are not a big organization. A few thousand rupees from each one of you would make a huge difference.
The Kashmir Walla plans to extensively and honestly cover — break, report, and analyze — everything that matters to you. You can help us.
Choose a plan as per your location