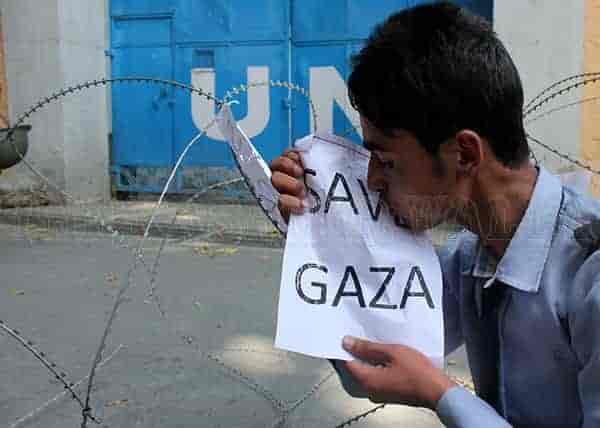 The Israeli air assault on Gaza in response to the killing of three teenagers by as yet unidentified perpetrators has sparked protests around the world, with thousands marching in London, Oslo and Paris in recent days.
Away from the gaze of international media, hundreds of Kashmiris have been adding their voices in consecutive days of protest at the continued bombardment, which has caused more than 160 deaths (at the time of writing). Around three quarters of the reported Palestinian deaths are innocent civilians, according to the UN.
Kashmir remains disputed territory between India and Pakistan; the two nuclear-armed countries have fought at least three wars over the region and former US President Bill Clinton infamously described it as the 'most dangerous place on earth.'
Among Kashmiris there is a strong sense of solidarity with Gazans, as many of the Valley's inhabitants view their predicament as comparable to the Israeli occupation of disputed Palestinian lands. Indeed, both conflicts owe their origins – in part, at least – to British colonialist meddling (Sykes-Picot in the case of Palestine, and the 1947 Partition of India, which created Pakistan). Worshippers at the Jamia Masjid in Srinagar's Old City paraded the Palestinian flag after Friday prayers last week, the second in Ramadan.
Like their counterparts in Gaza, young people in Kashmir throw stones at security forces, who all too often respond with deadly force. There are also parallels between Indian and Israeli security forces; both remain accused of human rights abuses, and attempts at seeking justice often founder as a result of judicial/official delay and obfuscation.
Shops shut on Saturday in Maisuma, a restive area of Jammu and Kashmir's summer capital, owingto alleged police heavy-handedness in dealing with a pro-Palestinian, anti-Israel (and anti-India) rally the previous day. The area, home to JKLF leader Yasin Malik, is known locally as Kashmir's Gaza Strip.
If Narendra Modi's newly-installed Indian government has its way, shared experiences between oppressed Palestinians and Kashmiris look set to increase. Last week India's Finance Minister Arun Jaitley presented the first budget of the new administration, which provided 500 crores for the return of Kashmiri Pandits to the Valley. Pandits – Brahmin Hindus – fled the Valley in their hundreds of thousands fearing for their safety during the fiercest period of the insurgency in the 1990s.
Now New Delhi is citing the same security concerns as the reason behind its aim to establish three new cities exclusively for Kashmiri Pandits, in direct contrast to calls from separatist and civil society leaders who are keen for them to re-assimilate among the Valley's Muslim population.
The Indian government's plans could help to fuel communal tensions in a region that is already renowned for violence. Fears exist within the Indian security establishment that an unstable Afghanistan, prompted by US withdrawal, could increase militant activity within India's borders. Furthermore, Prime Minister Narendra Modi's background as a campaigner for the right-wing RSS, an Indian Hindu nationalist movement, means that many in the Muslim-majority Valley view his move with suspicion and have accused him of seeking to 'ghettoise' Kashmir.
The majority of India's 170 million Muslims, 12 per cent of the country's total population, remain wary of Modi's involvement in the 2002 Gujarat riots. More than 1,000 Muslims died after communal tensions turned violent. While subsequent investigations have absolved Modi of responsibility in the killings, as Chief Minister at the time many still believe he did not do enough to stop the attacks once they began. Internationally, it's worth noting that both US and UK only rehabilitated their contacts with the former chai-wallah turned self-styled strongman once it became obvious he would be the frontrunner in this year's general election. India's status as the world's largest arms importer meant that he became impossible to ignore, no matter how murky his background.
There are more than 500,000 Indian security forces in Kashmir, and where protests are largely banned by the authorities who routinely cite the need to prevent 'law and order issues' as the reason for restricting freedom of assembly. Last week academic Mridu Rai, author of an important book on Kashmir's history, 'Hindu Rulers, Muslim Subjects', was prevented from giving a speech at a hotel in Lal Chowk, Srinagar, after the venue's owners were contacted by police claiming the correct permissions had not been sought. Meanwhile, Kashmiri separatist leaders, including octogenarian Hurriyat (G) leader Syed Ali Shah Geelani, were yesterday under house arrest as state security forces sought to stymie Kashmir Martyrs' Day celebrations, which commemorate the killing of 22 Kashmiris in 1931 who protested against the then Dogra rule outside Srinagar's Central Jail. Tens of thousands more Kashmiris have died since in their struggle for self-determination, though this is where similarities between Gazans and Kashmiris end, as the likelihood of the thousands protesting in European capitals in their name is slim.
---
The Kashmir Walla needs you, urgently. Only you can do it.
We have always come to you for help: The Kashmir Walla is battling at multiple fronts — and if you don't act now, it would be too late. 2020 was a year like no other and we walked into it already battered. The freedom of the press in Kashmir was touching new lows as the entire population was gradually coming out of one of the longest communication blackouts in the world.
We are not a big organization. A few thousand rupees from each one of you would make a huge difference.
The Kashmir Walla plans to extensively and honestly cover — break, report, and analyze — everything that matters to you. You can help us.
Choose a plan as per your location