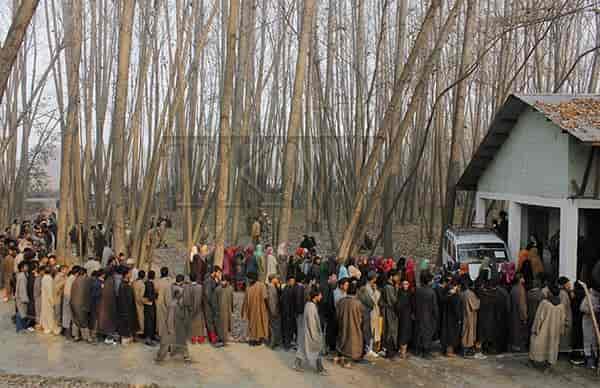 KW-12
In the first phase of the assembly elections, Jammu and Kashmir went to the polls on Tuesday with thousands braving the winter chill and boycott calls from separatists to vote in the twin districts of Ganderbal and Bandipora amid tight security. Polling started at 8 a.m. amid tight security in 5 constituencies of Ganderbal and Bandipora.
Barring a few clashes between workers of National Conference and Peoples Democratic Party (PDP) in the neighbouring Sonawari, Kangan and Ganderbal constituencies, balloting progressed smoothly.
Polling had to be suspended for few minutes at Tulmula, Gund, Kulan, Ganiwan and Kurhama Ganderbal after workers of NC and PDP clashed over counter-allegations of booth capturing, forcing the authorities to suspend voting. Activists of both parties tried to manhandle one another in the premises of polling booths while some of them hurled fire pots (kangris) at each other.
Notwithstanding the freezing cold and the fear of the separatists, the trickle of voters at polling stations across the 5 constituencies in Kashmir Valley continued. The crowds were increasing as the day progressed. The statistics too spoke of the voter enthusiasm.
A police official told a news agency that the high voter turnout was significant given the boycott call of the separatists and the fear of violence in the region. People clad in woolens and holding kangris (traditional earthen firepots woven over with willow reeds) were seen queuing up outside polling stations in Bandipora and Sonawari in the Valley right since the morning.
Separatist leaders, many of them jailed during the run-up to the vote, along with thousands of other people, had asked people in the Kashmir Valley to boycott the polls. Hurriyat Conference, the main separatist group, had even called for a shutdown in Bandipora and Sonawari against the elections. But adequate security at all polling stations ensured there was no effect of shutdown call.
Dotting every road in the Kashmir valley were armed paramilitary troopers and policemen. All entry points to these five constituencies were under check. There was a lot of enthusiasm among voters in Sonawari, Kangan and Ganderbal Constituencies. "I cast my early in the morning with a hope that this time a better government gets formed which could address the problems of the people," said Muhammad Ahsan, a resident of Gund Kangan.
Till afternoon, most of the voters who were standing in the queue were mostly women. "We want change. We will vote for change," a group of women voters told the news agency at Kurhama pooling booth. Another group of voters however added that their vote is not against Hurriyat but for change only. "Please don't misunderstand us. We are with Freedom Struggle while our vote is only for change and to get our daily problems addressed," they added.
Details:
Elections in: 15 Constituencies
Total voter turnover: 70 percent
Gurez: 77%
Bandipora: 70%
Sonawari: 80%
Kangan: 76%
Ganderbal: 53%
Nobra: 75.6%
Leh: 66%
Kargil: 60%
Zanskar: 71%
Kishtwar: 68.83%
Inderwal: 72.54%
Doda: 79%
Bhaderwah: 70%
Ramban: 68%
Banihal: 70%
– Given by the Chief Electoral Officer – Umang Narula.
---
The Kashmir Walla needs you, urgently. Only you can do it.
We have always come to you for help: The Kashmir Walla is battling at multiple fronts — and if you don't act now, it would be too late. 2020 was a year like no other and we walked into it already battered. The freedom of the press in Kashmir was touching new lows as the entire population was gradually coming out of one of the longest communication blackouts in the world.
We are not a big organization. A few thousand rupees from each one of you would make a huge difference.
The Kashmir Walla plans to extensively and honestly cover — break, report, and analyze — everything that matters to you. You can help us.
Choose a plan as per your location