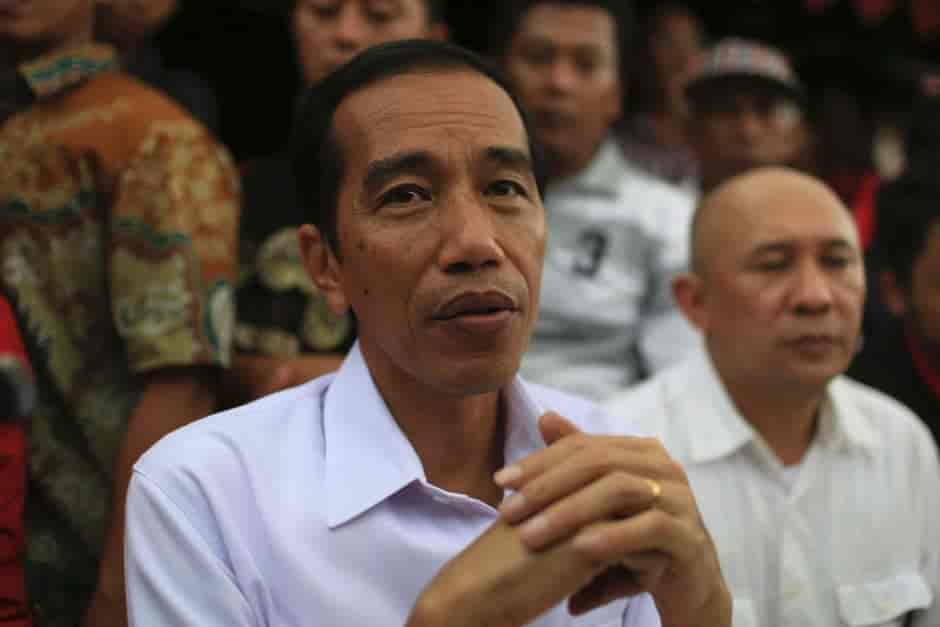 Joko 'Jokowi' Widodo was declared Indonesia's president elect on July 22, winning almost 71 million votes and 53 per cent of the count. He represents the country's first President from an ordinary background without elite political lineage and the first genuinely post-Suharo political figure. For many observers, a Jokowi-led government represents an Indonesia whose time has finally come.
Jokowi grew up near a slum area in the central Javanese city of Solo where he would later become mayor at the beginning of his meteoric political career. His rise from humble beginnings has been his greatest political achievement so far, showing that Indonesian democracy is ready to elect a leader "from the people" rather than someone "born to rule." He is a leader who embodies the hopes of ordinary Indonesians.
While his constituents and many observers hold high hopes for the man, in reality it may be difficult for Jokowi to live up to expectations of him as a reformer able to lead Indonesia beyond the period of democratic stagnation that has marked the end of Susilo Bambang Yudhoyono's reign.
Leading the world's third largest democracy will also be made particularly difficult owing to the reality that Jokowi only holds a third of the seats in the parliament.
In a nation as complex as Indonesia with a political culture reflective of that complexity, steering the country towards greater prosperity, is an expectation that successive post-Suharto leaders have failed to live up to.
Following the fall of the Suharto regime in 1998, Indonesia had three successive post-Suharto Presidents: B.J. Habibie, Abdurrahmad Wahid, and Megawati Sukarnoputri.
Throughout this period, Indonesia had been characterised as a nation at a critical turning point, and the world had high hopes that Indonesia would emerge as a dominant regional power. But in the turbulence of the transition to democracy, these presidencies are now characterised more by their failure to steer Indonesia to its expected ascendency, rather than their successes.
In the wake of successive leadership failures, rather than rising from the ashes of the Suharto regime, Indonesia instead faced a multitude of new problems and had to turn to international donors for economic rescue.
From 2004 under the two-term presidency of incumbent President Susilo Bambang Yudhoyono (SBY), Indonesia was on the way to getting back on its feet.
The 2004 election gave a popular mandate to SBY and saw the country emerging as politically stable state in a consolidated democracy. At the end of Yudhoyono's first term, he could claim a degree of economic success.
But Yudhoyono leaves office less popular than he was at the beginning of his second term, with many criticising democratic rollbacks across human rights, corruption, and electoral management. As Marcus Mietzner explains, the end of the SBY era has been marked by "democratic stagnation and, in some areas, partial regress."
The Economists' Intelligence Unit's Democracy Index also reflects this bleak picture of the nation, classifying Indonesia as a 'flawed democracy' in its 2006 and 2008 surveys, with the country's score and overall ranking on a downward trend.
Mietzer points to conservative factions within Indonesia's elite who tried hard to roll back democratic reforms during SBY's term "leading to a moderate but noteworthy decline in Indonesia's democratic quality."
It is against this backdrop that we have seen the ascendancy of the populist figure of Jokowi and his political opponent Prabowo.
Throughout their campaigns, these politicians have stood for everything Yudhoyono proved not to be: Staunchly nationalistic, decisive, practical, and invoking the hopes of little guy (orang kecil) in creating a brighter future for all Indonesians, rather than the elite few.
When Jokowi won Indonesia's presidential election with a margin of 6.3 percent points, in his victory speech he again invoked the hopes of ordinary Indonesia, calling on his constituents to look to the future with optimism and enthusiasm. He said:
"This presidential election has provoked fresh optimism in the Indonesian nation. An independent soul and sense of political responsibility blossoms in … It's now our responsibility to prove to ourselves, to other nations and especially to our children and our grandchildren, that … politics is freedom."
Jokowi's party, the PDI-P (Indonesian Democratic Party – Struggle), and their coalition's manifesto also evokes a call for optimism and change, a politics based on the principles gotong-royong (an Indonesian expression about working together to solve problems), and a socially and economically progressive platform. But the party's early challenges will definitely prove unpopular.
Jokowi's first major reform will be to cutting into the country's fuel subsidies, which currently distort the economy and consume around a fifth of the annual budget. An important and necessary reform, however when there was a small increase in the cost of fuel last year, Jakarta was shut down for a day by the protests that ensued.
The leader is also expected to make further difficult reforms which are needed to restore Indonesia's growth and set the country on the path to greater, and more evenly spread prosperity. But as Gareth Leather, Asia economist at research firm, Capital Economics, pointed out to Time, "It is clearly too early to tell whether Jokowi will be the man to get Indonesia's economy back on track. There is no magic bullet to reviving growth."
As there is no magic bullet to reviving growth, there is also no guarantee that Indonesia's representatives will be inspired to unity and support Jokowi's progressive mandate, and Jokowi's coalition of parties presently only holds around a third of the seats in the Indonesian parliament. His rival Prabowo's coalition has around two thirds of the seats.
Considering the incumbent Yudhoyono held a 70 percent majority parliament, he still found it extremely challenging to pass legislation. His inability to enact reform paralysed his last term.
Having seen what factionalism and internal politics can do to leadership groups in the country even when conditions in the DPR (House of Representatives) are in the government's favour, those hopeful for a "new Indonesia" under a Jokowi presidency must remain mindful that elements within the regime may not necessarily work together cohesively in his favour. Even on a good day, government factions even within parties can and will undermine each other, compete for leadership internally, and engage in plots and counter-plots which would disrupt every day decision making.
Jokowi proved his ability to solve major problems presented to his office during his time as Mayor of both Solo and Jakarta. He was efficient in addressing the cities' long neglected flood problems to his firm approach to transforming the region's massive bureaucratic inefficiencies.
However, the idea that he will prove to be a reformer who will ruffle feathers, deal with Indonesia's massive graft problems, and do on a larger national scale what he did so effectively in Solo and later he starting doing in Jakarta, is likely unrealistic. After all, back in 2004 SBY was elected in an atmosphere of similar optimism with expectations that he would be the reformist leader the country needed. Within five years Indonesia has instead been left thoroughly disappointed by leadership.
There probably won't be a great deal of meaningful progress under a Jokowi Government in Indonesia. But for now, that doesn't matter much. There is still an atmosphere of hope in Indonesia, and a feeling that with the election of Jokowi, Indonesia has been accorded an administration more consonant with its present.
Photograph courtesy: abc.net.au
---
The Kashmir Walla needs you, urgently. Only you can do it.
We have always come to you for help: The Kashmir Walla is battling at multiple fronts — and if you don't act now, it would be too late. 2020 was a year like no other and we walked into it already battered. The freedom of the press in Kashmir was touching new lows as the entire population was gradually coming out of one of the longest communication blackouts in the world.
We are not a big organization. A few thousand rupees from each one of you would make a huge difference.
The Kashmir Walla plans to extensively and honestly cover — break, report, and analyze — everything that matters to you. You can help us.
Choose a plan as per your location