By News Desk | Srinagar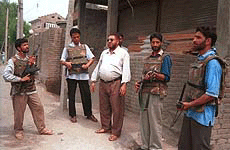 In yet another twist to Papa Kishtwari case, slain man's son Zahoor Ahmad Mir Tuesday alleged that Kishtwari, a counter-insurgent of Kashmir, resorted to abusive language against him inside the court and threatened to kill him. Mir said that irony is that all this was going in front of the Judge and no action was taken against the SPO.
While talking to a news agency, Mir said that Kishtwari threatened him of facing exactly the same fate which his father was made to face by him. "He told me that the way my father's corpse was not to be traced, my corpse will disappear exactly in the same way," said Mir.
According to Mir, earlier also one of the convict in the case and a close associate of Kishtwari, Mohammad Maqbool, through a letter had also threatened him of dire consequences if he continues to pursue the case.
Maqbool is still absconding in the case and Police has failed to produce him before the court.
It is to be noted that in 1996, Ali Mohammad Mir was allegedly abducted and then assassinated by self styled Commander Papa Kishtwari. Till now police has failed to trace Mir's body.
Mir's lawyer today pleaded before the court that all members of the 'Unified Command' which was an association of Government gunmen run by Kishtwari at that time shall also be brought in the jurisdiction of this case.
The state High Court today directed Senior Superintendent of Police, Srinagar for presenting himself before court on 24 and 25 April for filing Compliance Report in contempt case filed against him by Mir.
CNS
---
The Kashmir Walla needs you, urgently. Only you can do it.
We have always come to you for help: The Kashmir Walla is battling at multiple fronts — and if you don't act now, it would be too late. 2020 was a year like no other and we walked into it already battered. The freedom of the press in Kashmir was touching new lows as the entire population was gradually coming out of one of the longest communication blackouts in the world.
We are not a big organization. A few thousand rupees from each one of you would make a huge difference.
The Kashmir Walla plans to extensively and honestly cover — break, report, and analyze — everything that matters to you. You can help us.
Choose a plan as per your location