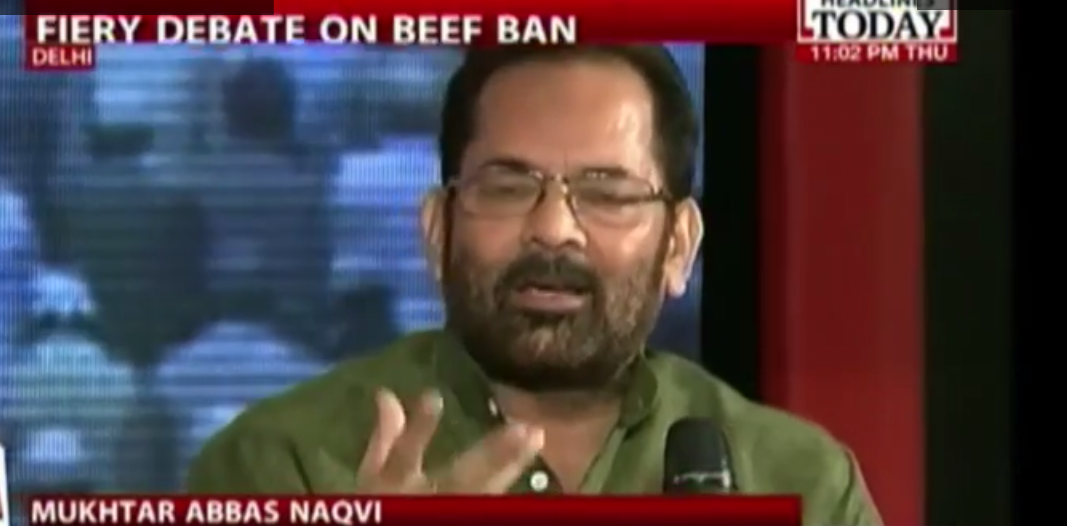 Indian Minister of State for Parliamentary Affair, Mukhtar Abbas Naqvi on Thursday  caused a stir by declaring that those who cannot survive without eating beef, should go to Pakistan.
The union minster in Narendra Modi's government made the comments responding to a question by India Today Group consulting editor Rajdeep Sardesai  at 'Manthan' conclave organised by TV channel Aaj Tak. He said "If you can't resist eating or sell beef, you should go to Pakistan or any other Arab country. There is no place for you in India."
All India Majlis-e-Ittehadul Muslimeen, leader Asaduddin Owaisi who was also present at the panel quickly questioned the minister if he was indeed asking his Goa Chief Minister Laxmikant Parsekar to leave the country.
In March, this year President Pranab Mukherjee granted assent to the bill banning the sale or possession of beef in the state with stringent penalties, which will rendered about 25 lakh people without a livelihood in the state.
The BJP government has been pushing for a nationwide ban on beef because of considered sacred in Hindu religion.  Many in the minority community the beef ban as evidence of an assault on secularism.
Beef is widely consumed in various states across India. Infact, India is the largest exporter of beef in the world for last two years. In 2015, it exported 2.4 million tons.
---
The Kashmir Walla needs you, urgently. Only you can do it.
We have always come to you for help: The Kashmir Walla is battling at multiple fronts — and if you don't act now, it would be too late. 2020 was a year like no other and we walked into it already battered. The freedom of the press in Kashmir was touching new lows as the entire population was gradually coming out of one of the longest communication blackouts in the world.
We are not a big organization. A few thousand rupees from each one of you would make a huge difference.
The Kashmir Walla plans to extensively and honestly cover — break, report, and analyze — everything that matters to you. You can help us.
Choose a plan as per your location