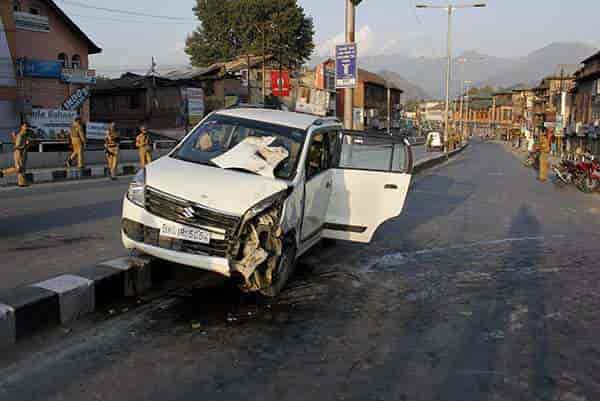 Srinagar, Kashmir: One civilian received injuries when the paramilitary forces, deployed for the security of the high-profile Zubin Mehta concert in the summer capital of Indian-controlled Kashmir, opened fire at a car, around 10 kilometers away from the concert venue.
A Central Reserve Police Force (CRPF) personnel of 132 battalion opened the fire, injuring one on spot, police sources said. The heavy deployment of police and paramilitary forces had restricted the people to reach to the parallel cultural event, Haqeeqat-e-Kashmir (Reality of Kashmir) – a protest event against the Zubin Mehta concert. The firing occurred just 2 kilometers away from the venue. "We were stopped at five times by the police. We finally reached here by walking through different lanes and by-lanes," said a student, attending the parallel event.
The Wagan R car (JKO1R 5054), carrying two men and two women, was fired open near Budshah Bridge. The local residents came out to protest, raising anti-police, anti-India, anti-Zubin Mehta slogans. The police tried to remove the vehicle from the spot but the locals protested against it.
An eyewitness told The Kashmir Walla that the CRPF fired at the vehicle, injuring one person. "Police put a liquor bottle in the vehicle to show that they were drunk," eyewitness, protesting near the spot, said.
The Jammu Kashmir Liberation Front Chairman, Yasin Malik rushed to the spot and said that the CRPF men opened fire unprovokingly at the vehicle, injuring one. "This is because of the strict restrictions for VIPs visiting the ongoing Zubin Mehta concert," he said.
---
The Kashmir Walla needs you, urgently. Only you can do it.
We have always come to you for help: The Kashmir Walla is battling at multiple fronts — and if you don't act now, it would be too late. 2020 was a year like no other and we walked into it already battered. The freedom of the press in Kashmir was touching new lows as the entire population was gradually coming out of one of the longest communication blackouts in the world.
We are not a big organization. A few thousand rupees from each one of you would make a huge difference.
The Kashmir Walla plans to extensively and honestly cover — break, report, and analyze — everything that matters to you. You can help us.
Choose a plan as per your location