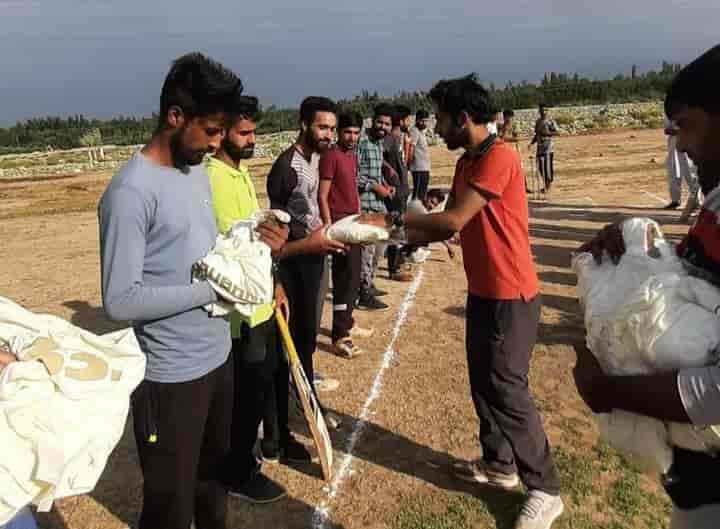 The Jammu and Kashmir police have arrested nine young men of a local cricket team in south Kashmir's Shopian district under the anti-terror law, Unlawful Activities (Prevention) Act (UAPA), after their photographs wearing jerseys with the name of a killed militant appeared on social media. Police says that arrested men had "glamourized militancy." 
Syed Tajamul Imran, the brother of Syed Ruban — a militant affiliated with Al-Badr and was killed in 2019 in a gunfight with the government forces — had organised a match "loving memory of his brother" and distributed cricket jerseys in his name. 
Mr. Tajamul is currently under detention with eight other men, who played at the match. His father, Syed Hussain, told The Kashmir Walla that the cricket ground, where the men played, was close to graveyard where his son, Mr. Rubaan was buried; "so the team had offered prayers for him when someone had clicked their picture and uploaded it on social media," he said. 
"These boys have been in jail since [1 September]," he said, adding that Mr. Tajamul was arrested by the police two days later, on 3 September. 
Speaking to The Kashmir Walla, the senior superintendent of police (Shopian), Amritpal Singh, confirmed the arrest of nine men, in the first information report number 206/2020, under the UAPA in Keegam police station of the district. "They have glorified militancy in the name of his [Syed Tajamul] brother and have also spoken about militancy. They wore jerseys and also went to his graveyard. Nine people have been arrested under the UAPA," he said.
The UAPA was amended last year to give more powers to the police to book individuals under the provisions, which provides for imprisonment upto seven years.
After distributing the jersey, on 6 August, Mr. Tajamul had said, "In memory of my brother Shahed Syed Ruban, I distributed some 70 cricket uniforms as of now among the young talented and aspiring cricketer of Shopian district to fulfil the dreams of my brother, as he was also a brilliant cricket player of the district."   
He had also added that Kashmir's young men must "understand the importance of remaining healthy and fit and "the engagement of youth towards sports is highly commendable citing the growing drug addiction in the valley."
Now among the nine arrested men is 24-year-old Syed Shahid of Babanaar village in Shopian. His elder brother, Syed Irfan, told The Kashmir Walla that Mr. Shahid was called by the Station House Officer (SHO) of Keegam police station of the district on 1 September. 
"He was at a wedding and went to the police station because he knew that he had not done anything wrong," said Mr. Irfan. "They had clicked a picture around twenty days ago."
The family of Mr. Shahid, who has a masters in economics from IGNOU, was told by the police that he has been arrested "for involvement in unlawful activity". "We have to get his bail done from the TADA (Terrorist and Disruptive Activities Prevention Act) Court and that will happen only on the basis of how they present the report," said Mr. Irfan.
The family of the third arrested man, 24-year-old Sajad Ahmad Dar, an engineering student, also told The Kashmir Walla that he was arrested on 1 September and remains in Keegam police station since then.
Mr. Sajad's brother, Marouf Ahmad Dar said that the brother of a militant had come to the playing ground and gave them a uniform, which had a militant's name on it. "Whosoever has taken the uniform from him, has been arrested," said Mr. Marouf.  
Referring to Mr. Ruban's killing and further arrest of Mr. Tajamul has left their father, Mr. Hussain in disarray. "You can say that I was only left with one kidney now," he said. "[Now] they took that also. It is all up to god now. He belongs to god; and god will take care of my son now."
---
The Kashmir Walla needs you, urgently. Only you can do it.
We have always come to you for help: The Kashmir Walla is battling at multiple fronts — and if you don't act now, it would be too late. 2020 was a year like no other and we walked into it already battered. The freedom of the press in Kashmir was touching new lows as the entire population was gradually coming out of one of the longest communication blackouts in the world.
We are not a big organization. A few thousand rupees from each one of you would make a huge difference.>
The Kashmir Walla plans to extensively and honestly cover — break, report, and analyze — everything that matters to you. You can help us.
Choose a plan as per your location