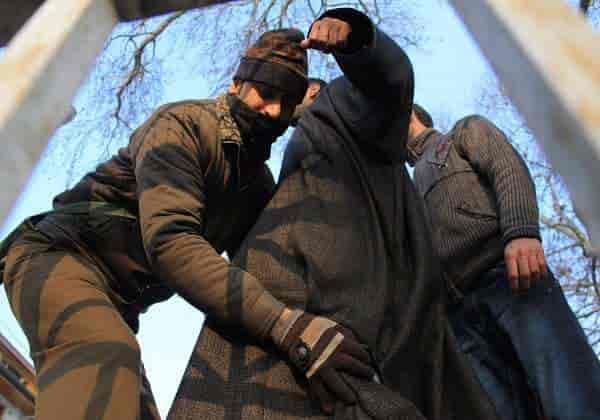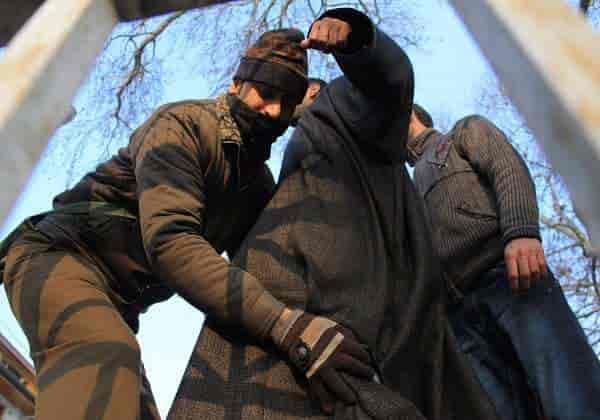 While being away from home, it is not rare to find fragments of foreign experience reminiscent of moments lived at home. These déja vu of similar taste, smell or situations can not be predicted. Their instantaneous familiarity proves that you experienced that feeling before. One will keep wondering until their origins can be identified. I cannot say that in Kashmir many moments occurred which reminded me of my native, quiet, suburb of Paris. But surprisingly, one situation certainly did. It wasn't the most expected one.
Along with my Kashmiri friend, I was pulled over by the army forces (and police) while driving in the southern countryside of Kashmir. Once stopped, the two soldiers gave us a rather unpleasant full body search, followed by a close inspection of our vehicle. Their guns and the brutality of their manners added nothing to the fun of the experience. After a short while, the army men decided that we were good to go. My friend then told me that I just had lived a truly inherent moment of a Kashmiris life. To his surprise, I answered him that it was not the first time that I was frisked. Indeed, the experience occurred to me at several occasions as a teenager, when I was living in the Parisian suburb. My experience is not isolated from others.
In 2012, Human Rights Watch (HRW) exposed the French police for its abusive methods. As French laws do not specify that an individual must have first committed an infraction in order to get checked by police forces, such operation often happen on the basis of ethnic profiling or other appearance and surface related 'reasons'. For instance, based on fashion or through the identification of local slung, policemen are able to get clues about the social origins of a person, and therefore can base their suspicions on such groundless evidences to control a certain type of youngsters, mostly guilty of walking by at the wrong moment.
[quote_center]In the case of Kashmir, where soldiers are omnipresent, such abusive use of authority might translate into the push necessary to commit violent actions, rather than seeking for other means of expressing this accumulated anger. [/quote_center]
The fact that military and police control occurs in both places does not mean that there is a comparison to be made about the livelihood of Kashmiris and inhabitants of the Parisian banlieues. It is however representative of a certain preventive security logic, where everyone is a suspect. Such controls and arrests can only lead to an increase of tension between locals and security forces, likely to have disastrous consequences. In the case of Kashmir, where soldiers are omnipresent, such abusive use of authority might translate into the push necessary to commit violent actions, rather than seeking for other means of expressing this accumulated anger. In France, aside from the acknowledged banalised hatred that such police acts have generated, extreme outcomes from routine police controls have been observed as well.
For instance in 2005, in the infamous case of Zyed and Bouna, teenagers of 17 and 15 years old, who ran away from the police forces in order to avoid the usual frisking and other routine humiliations. They ended up dead in a electric transformer where they were hiding from the officers. As a reaction, riots all around France followed the events. It has been proven that the officers actually knew that the two youngsters were hiding in the transformer, and did not do anything to get them out of there. To this day, they still remain unpunished by the law, among many other similar police brutalities, rarely condemned by the French judicial system.
The killing of innocents, not even condemned, and brutality acts committed by police are far from being unknown in the context of Kashmir. When I was in Kashmir, on 3 November 2014, two youngsters (aged 21 and 14) were killed by army as they could not immediately stop their car at an army checkpoint. More than 100 bullets were fired at the car.
In France, police abuse, mostly targeted at descendant of immigrants from French colonies, has been continuous, and even more so in the suburb of Paris and other sensible neighborhoods. Recently, the Charlie Hebdo events have reminded us of that. In their youth, perpetrators of the attacks had all faced troubles with the French legal system, but never for major delinquent offenses. However, it is likely that they had the usual youth of most descendant of immigrants of sub-Saharan and Arab origins from popular classes, which lead to their radicalization. It does not seem unthinkable that years of social segregation and racial profiling leading to unjustified arrest and controls might have pushed them towards committing the known crimes of January 7. Especially when we know that in the suburbs, black and Arab people are 6 to 7 times more likely to get stopped by the police than a white person.
Even giving that context, their act remain unjustifiable, however not necessarily unexplainable. As long as such methods remain common among security forces who are meant to represent our states, we can be sure to have more horrific outburst to come. In Kashmir and France also.
---
Raphael Godechot is a writer at The Kashmir Walla, based in London.
---
The Kashmir Walla needs you, urgently. Only you can do it.
We have always come to you for help: The Kashmir Walla is battling at multiple fronts — and if you don't act now, it would be too late. 2020 was a year like no other and we walked into it already battered. The freedom of the press in Kashmir was touching new lows as the entire population was gradually coming out of one of the longest communication blackouts in the world.
We are not a big organization. A few thousand rupees from each one of you would make a huge difference.
The Kashmir Walla plans to extensively and honestly cover — break, report, and analyze — everything that matters to you. You can help us.
Choose a plan as per your location