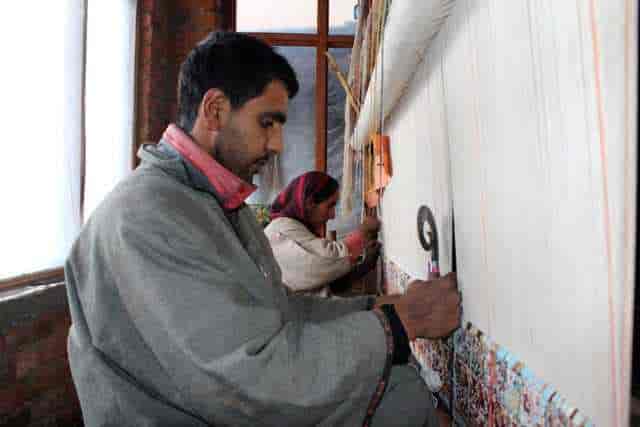 He walks out slowly from a single storey house, made of mud and C-grade bricks, wearing a ragged woollen cloak and a dark blue trouser. Ghulam Nabi Najar, twenty-eight, swings his head and goes into his brother's shop some ten feet away from his house and takes a seat there. Few minutes later he stands up, steps outside, and moves back to his house while looking at the stream that passes nearby. The snow is covering half of the rocks in the stream.
Dragger Khansahab, the upper region of Budgam district, is thirty-five kilometers away from city center, Lal Chowk, in Indian-controlled Kashmir. During the 90s, when armed insurgency was at its peak, the upper regions of Budgam witnessed heavy deployment of paramilitary forces, making locals suffer time and again due to search operations and crackdowns.
On 12 December 1999, the Rashtriya Rifles (RR) – a regiment of the Indian Army, tortured Najar during the three-day-long crackdown. He was fourteen years old. "I was at my uncle's place when troops arrived in their vehicles and made an announcement on the loudspeaker of the Jamia Masjid in our area," Najar recalls.
On hearing the announcement, villagers, including women and children, moved outside and assembled in the nearby field where they were made to sit for some period of time till army officers approached them and told villagers to separate themselves from the rest if they did not have Identity cards. "I, along with nine others, stepped aside and watched men in uniform frisking them. Later they came to us and asked to whom we have given I-cards," he says, as his family accompanies him in a broken room, sitting on a sheet made of nylon cement bags.
The army had accused them of handing over I-cards to the rebels, who were active in the area, so as to recruit them in the various rebel organizations fighting against Indian rule. "They told us to name the rebels whom we had given our I-cards, but when we replied, 'How can we give I-cards to anyone when we had no I-cards.' But they didn't listen and told us, 'You bastards won't answer this way.' They started assaulting us. They pulled our hair, kicked us with their jack boots, and beat us with the bamboo sticks in front of everyone for thirty minutes," Najar recalls.
The constant negative answers to the allegation made by the troops made them angry and they took all ten men one-by-one to a nearby house, belonging to Ghulam Muhammad Peer Shah, a few meters away from the field where villagers were waiting for further orders. "When I was taken inside, they told me to show hideouts of the rebels and the place where they dump their weapons in a forest. The moment I told them I had never been to the forest, as I was just a fourteen-year-old boy, they slapped me so hard that blood started oozing out from my nose. They broke four or five bamboo sticks on my legs and never stopped till my legs turned violet," he says.
"When I tried to stop my torturers, because my legs ached due to continuous beating, they made a huge noise, due to which seven-eight men came running in the room. Moments later, they brought chilli water and dipped my head in it for several minutes," Najar says, while moving his head to show how he was dipped. "Moments later, they pushed me onto the floor, removed my clothes, tied my hands, and beat me with bamboo sticks for ten to twenty minutes. I fell unconscious for around thirty minutes. When I regained my senses, they brought a two-inch-thick stick and inserted it in my anus. I cried loudly, begged for mercy, but they didn't stop until they rotated the stick ten-twelve times for around ten minutes. It caused internal injuries to my intestines, and I finally collapsed due to the whirl," he says, looking at the wall on other side.
After some time, two men on their shoulders took out Najar from the house-turned-torture-centre. His grandmother went near to see him and noticed Najar bleeding. She called his father, Ghulam Muhammad Najar, and told him to shift Najar to hospital. "When we tried to shift him to the hospital, they didn't allow us. They told us that he was fine and needed a little bit of care at home. We reached home so as to feed him, but we found that the RR had urinated on our utensils and food too," says Najar's mother, Zaina Begum, as Najar's wife, Rubeena, sitting in the room was crying on listening to this.
After spending three days and two nights in acute pain till the troops were in the village, Najar was taken to the SKIMS (Sheri Kashmir Institute of Medical Sciences Hospital) Soura in Srinagar for treatment. "Before they left, they fired some shots into the air and told villagers not to file FIRs against them or else they will return and destroy the entire Village," Najar's mother adds.
He was admitted at the hospital for six months, and his family was running from pillar to post to seek the money required for his treatment. "We sold four kanals of land for a bare thirty thousand rupees. In those days, moreover, his father used to beg at the hospital. Almost seventy thousand rupees were spent on his treatment," she says.
Najar and his family went to the Social Welfare Office at Budgam to seek compensation from the government through a scheme, but officials there made them to run from one place to another. "Fist they told us to get an FIR copy. How was it possible to show them the FIR copy when the police didn't register it? The police told us that they could not register the FIR when they were not involved in that crackdown," she adds.
Social welfare officials also took his medical report and gave them a handwritten letter, on which it was written that that the medical documents related to the records were with them and to report next month. "On reporting, they said that the letter they had given was written but not valid."
Rubeena attributes the adverse condition of her husband's health as an outcome of the unjustified torture by the troops and believes that to be the reason he cannot work properly. She says, "It is me who earns for the family. I earn thirty thousand rupees annually after weaving a carpet."
Najar's children don't go to school. "It's painful to see my children sitting at home while neighbors' children go to school. I too want both my daughters, Ruhi (7) and Sabreena (5), to study but it's possible only if we get any compensation," Rubeena adds.
---
The Kashmir Walla needs you, urgently. Only you can do it.
We have always come to you for help: The Kashmir Walla is battling at multiple fronts — and if you don't act now, it would be too late. 2020 was a year like no other and we walked into it already battered. The freedom of the press in Kashmir was touching new lows as the entire population was gradually coming out of one of the longest communication blackouts in the world.
We are not a big organization. A few thousand rupees from each one of you would make a huge difference.
The Kashmir Walla plans to extensively and honestly cover — break, report, and analyze — everything that matters to you. You can help us.
Choose a plan as per your location