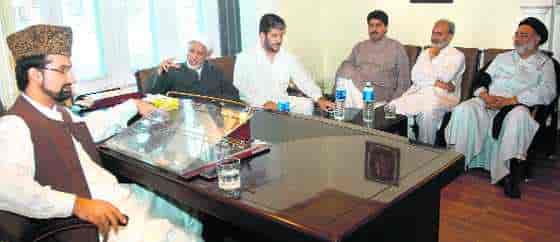 The 'Kul Jama'tei Hurriyat Conference' or the 'All Parties Hurriyat Conference' [APHC] came into force as a conglomerate in 1993. Only a decade after its inception the amalgam split into two, as the octogenarian Geelani Sahib initiated 'tatheerei amal' or 'purification process' levelling accusations that a constituent of the Hurriyat had fielded proxies in the 2002 assembly elections. One more decade down the line we have a third Hurriyat in 2014.
No wonder another assembly election is just round the corner.
The Urdu word 'Hurriyat' when translated into English language means 'freedom' or 'liberty'. Hurriyat — as an amalgam of various political, social and religious organisations – was formed 21 years ago to spearhead the struggle for Kashmir's "freedom". Its main objective was to fight for Kashmir's freedom from the Indian rule. Hurriyat leaders still want freedom. Not from India, though. From one another, each other!
In early 1990s, the Hurriyat was a force to reckon with. In 2014, it remains a confusion to be wary of.
Hurriyat leaders have perhaps understood the meaning of the word Hurriyat too literally. They have made sure that every single leader in the erstwhile 'Kul Jama'tei Hurriyat Conference' enjoys complete freedom from introspection and accountability. Now they enjoy so much of freedom that they don't talk to each other. Instead, they talk at each other.
The word 'Kul' in Urdu means 'all' in English and 'tree' in Kashmiri. 'Jama'tei' stands for 'parties'. After two major splits one is at liberty to forget about 'all', 'tree' and 'Parties', and focus on the individual wings and branches alone.
Yes, it is all about the individuals now. Not the parties. Not even the mission. Only I, Me, and Myself!
Seminars are generally held to hold a debate on vital issues. And to exchange views without acrimony in an intellectual atmosphere. In some Hurriyat seminars however people have witnessed exchange of blows, not views.
Yes, there is nothing wrong in healthy and meaningful difference of opinion. No problem in competing narratives either. But when narratives become contrasting and destinations different, we are then perhaps talking about different goals and objectives as well.
The word 'Hurriyat' can now be used as prefix like 'Haji'. Hurriyat Geelani Sahib. Hurriyat Mirwaiz Umar. Hurriyat Professor Bhat. Hurriyat Abbas Ansari. Hurriyat Bilal Lone. Hurriyat Shabir Shah. Hurriyat Azam Inqilabi. Hurriyat Nayeem Khan, etc.
Professor A G Bhat has lost romantic affair with the United Nations Security Council resolutions on Kashmir dispute. Both he and the resolutions, according to him, it seems, have grown old. Or obsolete, you never know. You can beat your rivals, not age.
Bilal Lone has to soon decide whether his brother Sajad Lone-led Peoples' Conference is the real one. Or perhaps is it the right time for him to forget about the proxies, as was the case in 2002, and field real candidates in the upcoming assembly elections in 2014. Time is fast running out.
Inqilabi Sahib must realise that there is a world of difference between the life on the 14,000 feet high mountain peaks and ground zero. 'Inqilab' is only possible with 'inqilabi soch', not 'infiradi' approach.
Shah Sahib too has to grasp that to emulate late Nelson Mandela, the prisoner of conscience, being imprisoned for years together is not the only criterion.
Mirwaiz Umar Sahib should perhaps seriously consider his role as head priest on a permanent basis. Some of his die-hard admirers want to see him only delivering Friday sermons at historic Jama Masjid rather than becoming a fulltime politician.
And it is too late for Geelani Sahib to forget his geography lessons which taught him 'Kashmir is a natural part of Pakistan' from a very young age. And as Professor Bhat has had a break-up with the UN resolutions on Kashmir, Geelani Sahib bases his argument of dissent on those very resolutions. It is a battle between break-up and romance.
Abbas Ansari Sahib Ab—bas!
In 2014, the All Parties Hurriyat Conference of 1993 has lost 'All, Parties and Conference'.  Only Hurriyat has survived. And so has the confusion.
It is pitiable that Kashmir has been reduced to versions and factions. Present generation has a job on its hands. Kashmir is in urgent need of an injection of youthful exuberance, visionary leadership and statesmanship. And change. Not confusion. Not chaos.
Disclaimer: No offence intended. The piece is written purely in the spirit of unity and Kashmir's genuine struggle for change in status quo.
---
The Kashmir Walla needs you, urgently. Only you can do it.
We have always come to you for help: The Kashmir Walla is battling at multiple fronts — and if you don't act now, it would be too late. 2020 was a year like no other and we walked into it already battered. The freedom of the press in Kashmir was touching new lows as the entire population was gradually coming out of one of the longest communication blackouts in the world.
We are not a big organization. A few thousand rupees from each one of you would make a huge difference.
The Kashmir Walla plans to extensively and honestly cover — break, report, and analyze — everything that matters to you. You can help us.
Choose a plan as per your location